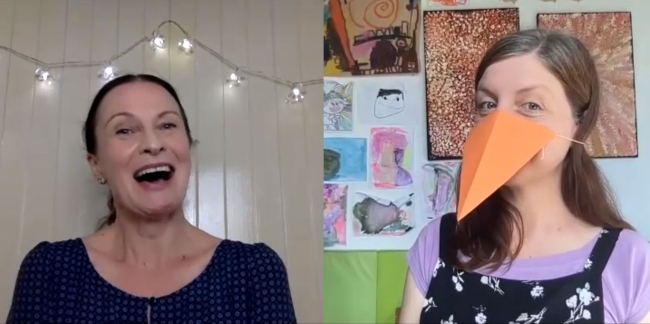 Spark their imaginations with School Drama Virtual: fun, interactive and free videos for primary students, based on our highly-acclaimed School Drama™ program. Each video delves into the world of some of Australia's favourite children's books, with drama activities to engage imaginations, improve literacy and get everyone up out of their seats.
Explore the much-loved children's book Amy and Louis, where imagination turns boxes into skyscrapers, clouds morph into dinosaurs – and true friendship can span even oceans.
Over three short videos, STC Teaching Artists Kate Worsley and Tara Morice will take you into the world of Amy and Louis. Learn alongside Kate and Tara as they read the book, model exciting drama activities and bring these unforgettable characters to life.
Designed for Stage 1 learners, this series is accompanied by a resource for teachers, illustrating curriculum links, and showcasing follow-up activities for each video. Watch the series here.
Join STC Teaching Artist Branden Christine for a fun, interactive look at how drama helps young people build resilience and wellbeing.
Together, you'll read Where Happiness Hides, the beloved tale of hope, joy and silver linings. Watch the video now.