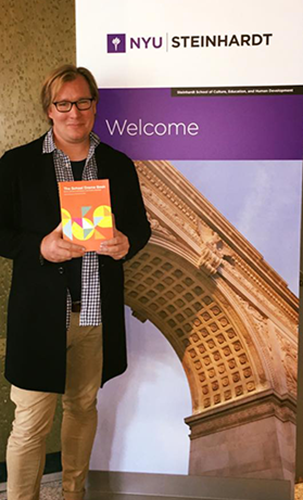 John Saunders in New York
Our Education Manager John Saunders is just back from New York, where he launched The School Drama Book at New York University (NYU).
Having developed a relationship with NYU and their theatre education department, John was asked to launch the book at a conference there by Associate Professor of Educational Theatre Dr Philip Taylor.
John says the international exposure for the program is a significant step..
"Profiling our work on an international stage is really important. We already take our theatre work abroad and it's great to be taking our education work abroad too," he said.
"It cements our leadership in the international landscape of arts education and theatre companies' role in supporting teachers and students. What started in 2009 as a tiny little pilot is now having a reach far beyond Sydney, far beyond NSW, and now far beyond Australia. I think it's really exciting to see the impact of the program and that people all around the world think that it's useful and interesting as well."
"Through sharing our work at international conferences such as this, we have now begun talking about potential partnerships over the next few years and setting up pilots of School Drama outside of Australia, which is really exciting."
The School Drama Book
The book was developed together with The University of Sydney's Professor Robyn Ewing, following requests from teachers who had engaged with the School Drama program and wanted more information on how to continue with the pedagogy.
"Robyn and I wrote the book for Primary Teachers specifically, as a resource we could direct them to for more information," John said.
"The book is broken into two parts. The first part is the research and theory behind the program, which is very rigorous. It's not just something we think works – we know it works and there's data to support that. And the second part of the book is 22 units of work from kindergarten up to year 8 that teachers can pick up, teach straight from the book, or play with and use as a starting point."
"I think it's rare for a theatre company to be involved in publishing a book about drama education, particularly in primary schools. Actually, I don't know of any other company that has done that," he said.
Find out more about The School Drama Book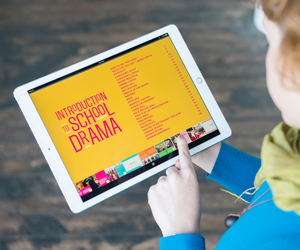 The School Drama Book Companion
The School Drama Book Companion
Along with The School Drama Book, John worked with Apple in creating The School Drama Book Companion, a multi-touch app that contains the drama strategies detailed in the book along with images and videos that showcase how the strategies can be set up in a classroom setting.
John says the companion is a great tool for teachers who would like to utilise the School Drama pedagogy but wouldn't necessarily have access to the regular face-to-face nature of the program.
"It's one thing to read about the School Drama strategies and devices, but it's another thing when you can see it in action – which is the great thing about the Companion app," he said.