The initial colonial reaction to the area that will become Surry Hills is disappointment. Australia's first governor, First Fleet Commander Arthur Phillip, describes the region as "a kind of heath – poor, sandy, and full of swamps". The fish, eel and birds that inhabit it are an important food source for the local Indigenous population, the Gadigal people. An enormous sandhill known as Strawberry Hill separates what is now Devonshire and Cleveland Street.
1793
Captain Joseph Foveaux (namesake of Foveaux St) is granted 105 acres, his property, known as 'Surrey Hills Farm' covers most of the area.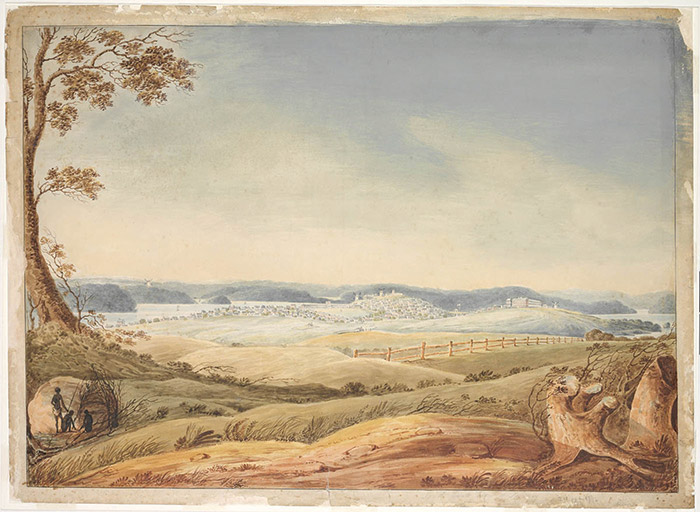 1795
Captain and commissary John Palmer also accepts land and creates the other main farm in the Surry Hills area.
1814
Palmer's farm is sold off to a large number of private buyers to settle his debts. The abrupt division of land contributes to the shambolic development of the suburb.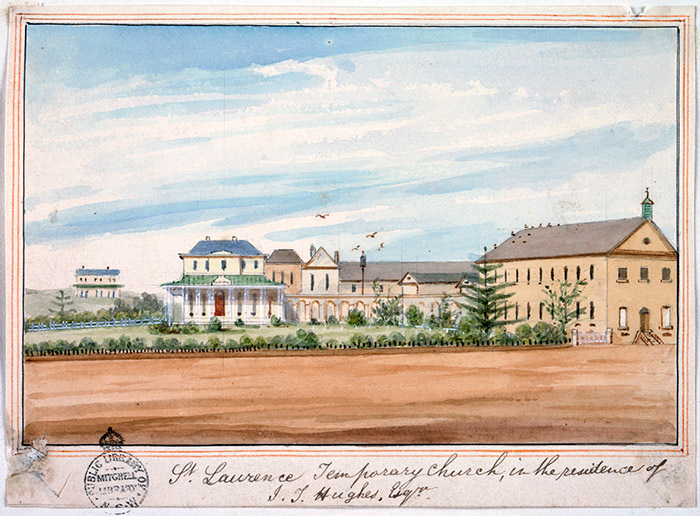 1820s
Wealthy ex-convicts and colonial gentry are attracted to the area and erect large homesteads and breweries. Landowners are encouraged to grow produce and set up industries. By the mid-20s stone quarries, woodcutters, turf cutters and grazing stock have already dramatically altered the natural landscape.

1834
Surveyor General Thomas Mitchell draws road plans for the suburb, but landowners affected besiege the government with letters for compensation and counter-plans. So, for the next 50 years, streets are laid and relaid in haphazard, overlapping and counter-intuitive networks.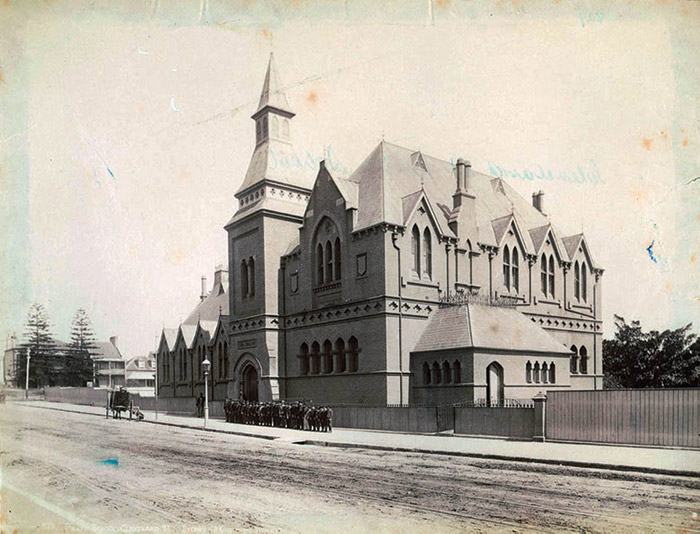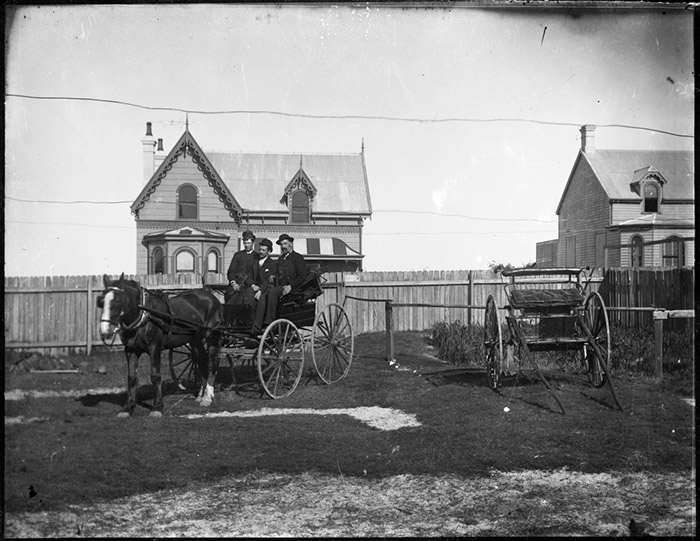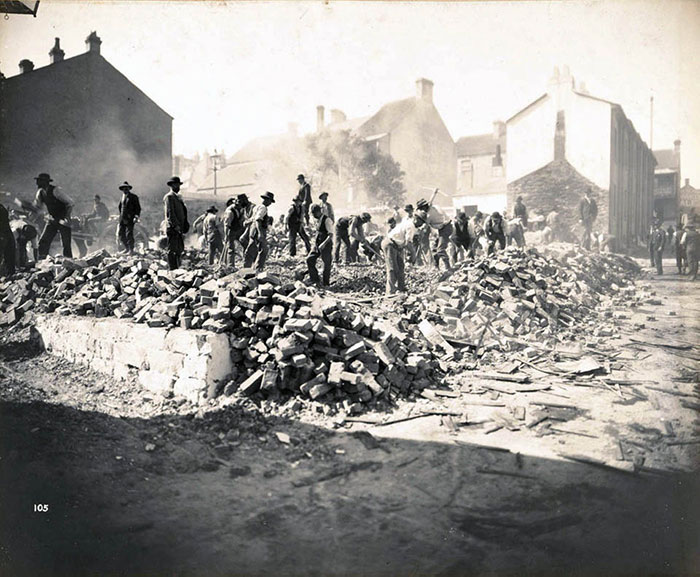 Demolition of Exeter Place, 1900. Part of the Big Cleanse to battle Plague
1905
Sydney Municipal Council is granted powers to rebuild large areas of Sydney, for street widening, and 'cleansing' of the inner city. Hundreds of workers' dwellings will be demolished over the next 25 years, and replaced with inner city warehouses, factories and shops.
1906
Central Railway Station is opened.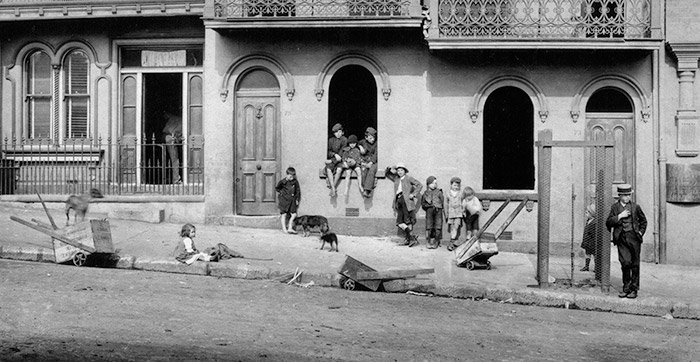 Children outside Foveaux Street terraces due to be demolished, 1913
1914
Outbreak of World War I.
1920s
Driven to transgression by poverty, Surry Hills has become well known for its criminal activities. Its infamous neighbourhood, Frog Hollow, is known as "a haven for some of the most desperate and dangerous criminals that police could recall". Organised outfits such as Jewey Freeman's Riley Street gang dominate the area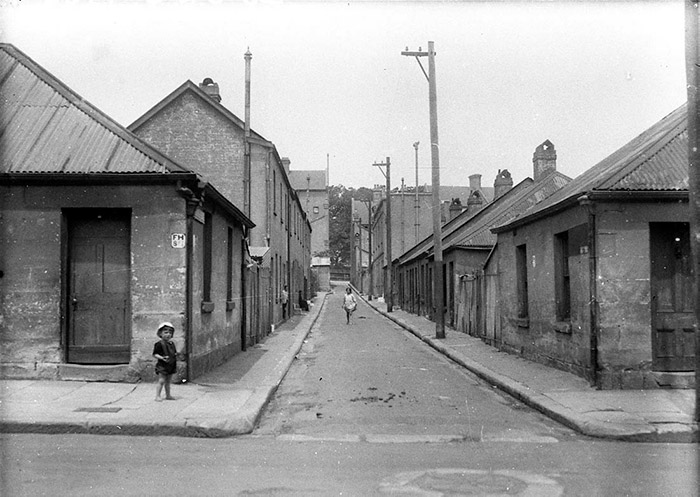 Children outside McElhone Place slums, 1930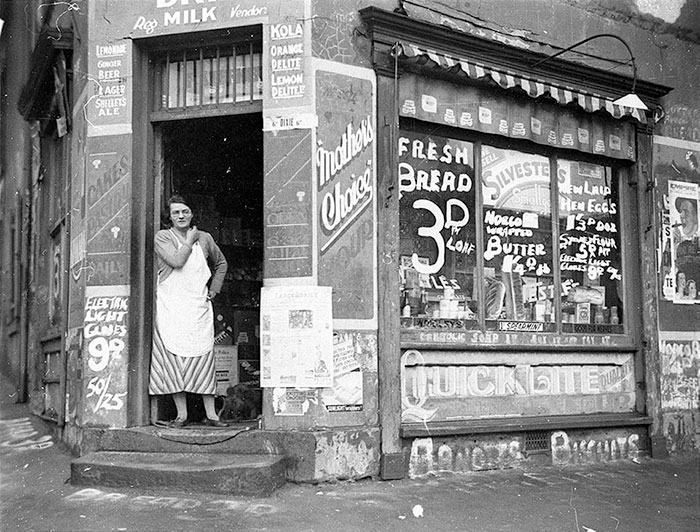 Grocery store on the corner of Riley and Fitzroy Streets, during bread price wars of the Great Depression, 1934
1929
The onset of the Great Depression.
1939
Outbreak of World War II.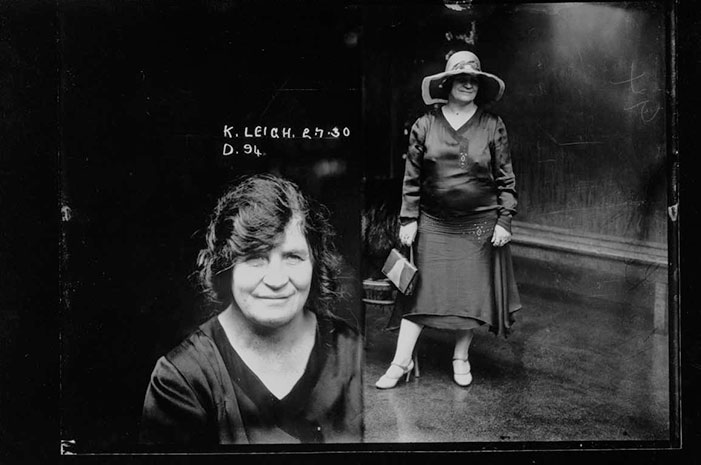 The infamous underworld figure Kate Leigh, c1940s
1942
Ruth Park moves to Sydney, lives in Surry Hills for her first year. Her experiences there will become the main inspiration for The Harp in the South.
Also in this year, the first shipload of American servicemen arrives, "oversexed, overpaid and over here". And, soon, some of Surry Hills' most nefarious industries are flourishing. African-American troops are barred from venues in the city, but accepted into the bars and brothels of Surry Hills, because "Riley Street knew an underdog when it saw one". Figures like madam, sly grog operator and drug trafficker Kate Leigh, the so-called "queen of the underworld" become well known far beyond Surry Hills.
1947
Responding to a city-wide housing shortage, the state government's housing commission takes over redevelopment of Surry Hills. Once more, its terraces, viewed as 'slums', are targeted for demolition, to be replaced with large public housing blocks or factories. Ruth Park's home during her time in Surry Hills is among the terraces reduced to rubble.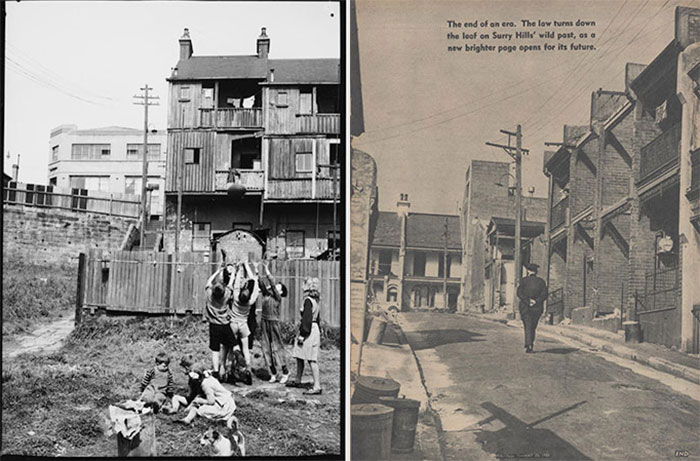 Children play in Frog Hollow, 1949 / PIX Magazine documents the slum clearances, 1950

Many families leave, or are forcibly relocated. This exodus to the suburbs dismantles many of the old social networks that have sustained generations of residents.
1950s and 60s
A post-war influx of migrants boosts the dwindling Surry Hills population, and saves Surry Hills from encroaching industrial warehouses, ensuring its future as a residential area.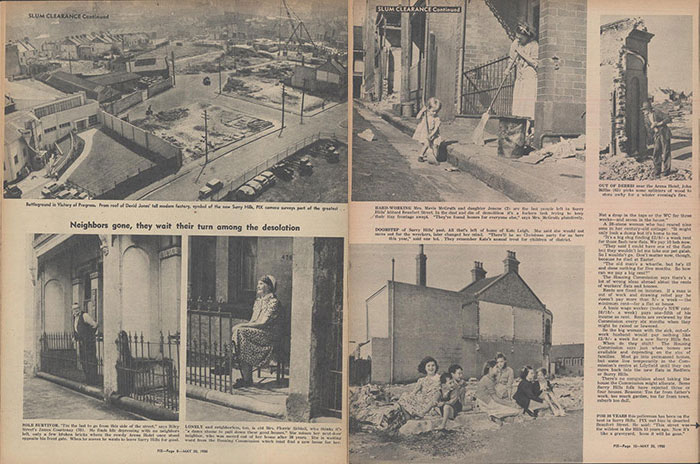 PIX Magazine documents the slum clearances, 1950
Late 1960s
The gentrification process begins, as students and young professionals flock to the area, its proximity to the city a desirable alternative to suburban living.
1972
The Whitlam Government is elected, marking a change in Australia's political consciousness, felt all the way down to a community level. Many resident action groups are formed in Surry Hills during this decade, aiming to protect the area's history and local culture.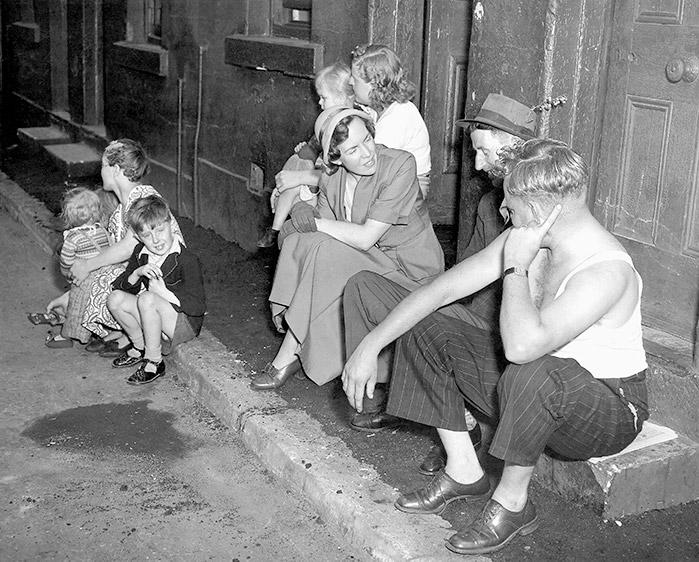 Ruth Park talks to Surry Hills residents, c1950s (image: Fairfax)
1980s
Well-heeled yuppies take over many of the terraces in the now desirable location.
1990s
Many contemporary apartment buildings are added to the streetscape of historic terraces.
21st century
Surry Hills is a coveted residential area for the upper middle classes, a professional hub for media and design industries and a cultural hotspot of restaurants, galleries, clothing stores and historical pubs.
All images from the NSW State Library collection unless stated otherwise.
A special thank you to dictionaryofsydney.org for their help in sourcing historical imagery.
The Harp in the South pt 1 & 2, 25 Aug – 6 Oct 2018, Rosyln Packer Theatre.
Seeing the show? Let us know your thoughts. Tag @sydneytheatreco and #sydneytheatreco