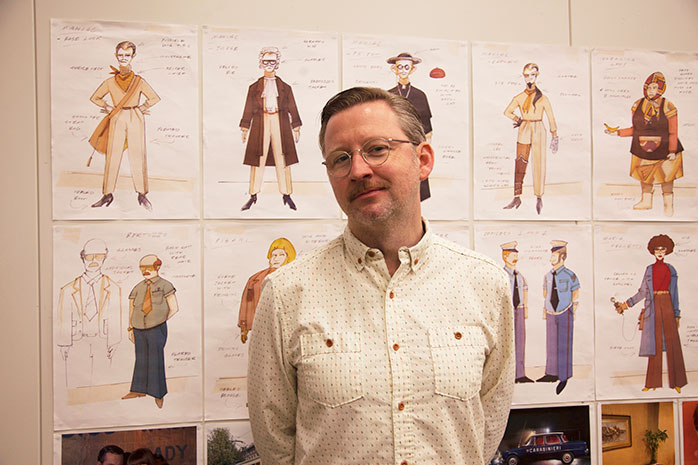 Jonathon Oxlade in front of his costume designs for Accidental Death of an Anarchist
What were the very first ideas and emotions that came to you after reading the script with the knowledge you would be designing for STC's interpretation?
The play is essentially about a madman, or rather a perceived maniac, entrapping crooked cops into revealing themselves and sending them mad in the process. So we wanted the space to reflect that madness, and all of our characters to embody it too. That was the feeling that Sarah [Giles] and I were first excited about playing with... the insanity of it all! Because that madness is so close to reality. We listen to people like Donald Trump say things that on the one hand we consider absolute madness, and yet it's in the real world vernacular. We're so used to people in power trying to prove that they're on top of what's happening when they really aren't, that we often just suck it up. The Maniac, however, challenges it.
The set of Anarchist is essentially an office, but hardly a regular one. We're in a police station in late '60s Milan – how have you referenced that in the design?
Anarchist is set in Italy in the 1960s/70s, so we've gone to town with that era. Our office is a heightened and anachronistic world; there are things in there from other eras but ultimately it should feel clearly of its time. The costumes are very much late 60s early 70s in style; there are some seriously wide pant-legs and flares in there.
There's a lot of slapstick, movement based comedy in this play and my understanding is the set is very much involved in that. What has it been like designing a set that has its own gags?
That's a good question because the set works kind of like a secondary character. It has personality and influence, with bits and pieces that The Maniac can use for his own benefit. There are theatrical rules and an element of magical realism: the cops are trapped in a very mundane space - rules apply to them here that don't apply to The Maniac, who can use the set to slip between time and appear in different places.
So you're still very closely involved in rehearsals?
I try to be in the room as much as I can, and if I'm not I'm out looking for costume items and prop items and set pieces. There's also a fight choreographer in there, Mike Finch, who is the ex-director of Circus Oz, so he's got lots of clowning and slapstick history and technique. And we've been working together to find, for example, the perfect tin tray to smash over someone's head so it doesn't hurt them but makes a great sound. Most things that get used in the set have very specific requirements, which means lots of testing and lots of options.
The panoramic window is the centrepiece of your design. How are you using this feature and why?
The window is quite essential to the mathematics of the storytelling. It's a very important element of the plot – basically a piece of evidence. The Maniac is trying to prove that the crooked cops actually threw someone out of this window. The window is definitely a centrepiece in the design and Sarah and I talked early on about making it quite prominent. The theatre space that we're in is really widescreen, so we were able to make it large to fit. The play also spans from morning to evening, so we thought it would be a really beautiful thing to show through that window the Milan landscape as the light changes, coming to life with lights in the evening. It's just a very picturesque thing which frames the space. There's also some fun activity that happens in the exterior... look out for flying objects!
So you're weaving a lot of humour into the set and props – have you carried that playfulness over into costuming?
We have – some of the references that Sarah and I looked at for costuming were Seinfeld, Fawlty Towers, Get Smart… These characters have to play the truth but we can still give them elements of caricature and, with the help of some padding here and there, turn them into recognisable stereotypes.
How did the gender-swap element factor into your costume design?
The task is to transform them into men, so we're aiming for full authenticity, including body shape, facial hair and wigs, so you might even see someone that's quite bald. We're aiming to convince people that these characters are men, and the actors are really helping with that as well through the portrayal of really idiosyncratic alpha male physicality and stances. Sometimes we like to go over the top with it – like how wide can a man-spread spread?
Accidental Death of an Anarchist, 14 Sept – 27 Oct 2018, Sydney Opera House Drama Theatre.
Seeing the show? Let us know your thoughts. Tag @sydneytheatreco and #sydneytheatreco