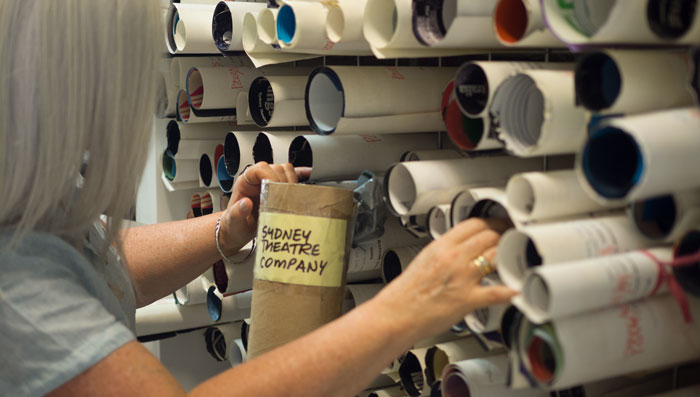 Judith Seeff browsing some of the hundreds of production posters in STC's archives (Photo: Carl Nilsson-Polias)
In the second half of this year, major renovations will begin on STC's home base at The Wharf. So, for the first time in three decades, we're relocating our rehearsal rooms, workshops and offices. One of the first parts of the company to be moved off The Wharf is our repository of company archives – a treasure trove including production photos, programs, marketing materials and archival recordings that stretch back to our inception.
Archivist Judith Seeff has been with the company since STC's archives were first given a dedicated home back in 1996. Over the 22 years since, Judith has catalogued and managed the materials relating to over 1,900 plays, workshops, play-readings and events that STC has put on. The archives are used on a daily basis by the company and have been an invaluable resource to theatre scholars, independent researchers and students alike.
While The Wharf Renewal Project is underway, the archives will be housed in Lilyfield, in a precinct that will also house our Costume Store, and Lighting, Sound and Mechanist Departments. Given the archives are a valuable and fragile collection, creating a purpose-built space for them has been essential. Judith explains that, "Archives need to be kept cool and dry. The ambient environment should be a temperature of 19 to 20°C, with no more than 50% relative humidity. The shelves need to be made of metal and up off the floor, if possible, so if there is a flood the water washes under them. Direct light is also not a good thing, so we use blinds to cover the windows. It's ideal if it's a sterile environment, that's easy to clean, free from dust, pests and mould. All types of media, from paper, to pre-digital photographs, to electronic storage disks, magnetic tape and even fabric make up the collection."
Ensuring that the archives are well cared for in their new home, Judith oversaw the painstaking piece-by-piece disassembly and reassembly of the archives when they were trucked across to Lilyfield. "I numbered each box and shelf," Judith recalls, "and the movers did a fantastic job of matching all of them up, so that the archives are as easily and quickly accessible at Lilyfield as they were here at The Wharf."
One downside of the move to Lilyfield has been that public access to the archives and to Judith's research assistance has had to be temporarily halted – an inconvenience hopefully allayed by the knowledge that this valuable historical resource is being properly preserved before it returns once more to The Wharf renewed.
Find out more about the Wharf Renewal project here.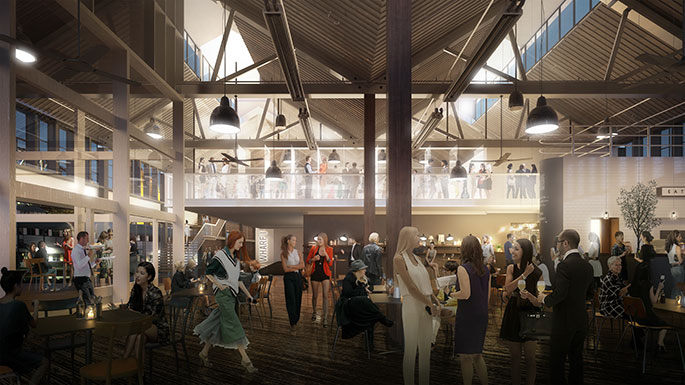 Artist's impression of bar and multi-purpose spaces at the end of The Wharf