Cat on a Hot Tin Roof takes place over one hot evening at the 12,000 acre Pollitt family estate in the Mississippi Delta, where a wealthy Southern family has gathered to celebrate the birthday of its patriarch, Big Daddy. Not everyone knows it yet, but Big Daddy is dying.
The favoured son, Brick, is a has-been football hero drinking away a hidden pain, who can't seem to care about anything but his bottle. His wife Maggie has passion enough for the both of them and is desperate for her husband's love, but Brick preserves a distance and the couple remains childless.
The overlooked son Gooper and his wife Mae, meanwhile, are waiting on child number six and parading the other five in front of Big Daddy in an attempt to win his attention, affection and eventually, his estate.
There are plenty of secrets flying around this big old house, and it's going to take a bit of friction, more than a few drinks and some harsh revelations to bring out the truth.
Cat on a Hot Tin Roof, 29 Apr – 8 Jun 2018, Rosyln Packer Theatre
Seeing the show? Let us know your thoughts. Tag @sydneytheatreco and #sydneytheatreco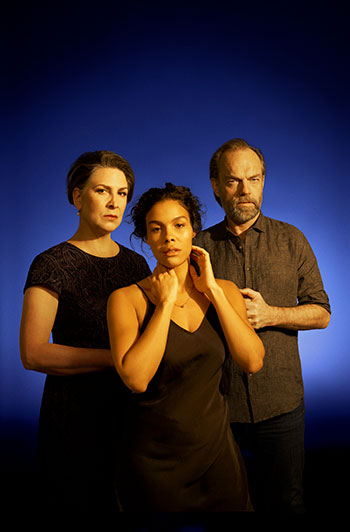 Pamela Rabe, Zahra Newman and Hugo Weaving