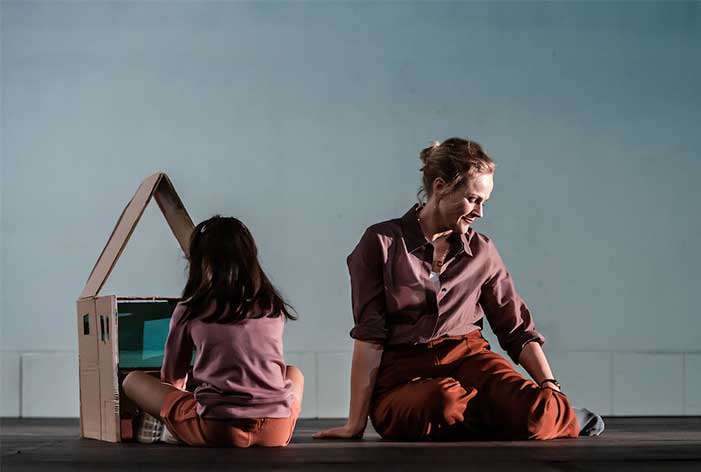 Direct from a hit season in London, Avalanche: A Love Story is a deeply personal story inspired by playwright Julia Leigh's own personal memoir. Hear from the creative team as they discuss the world behind this insightful production.
JULIA LEIGH (WRITER)
This is a very personal story for you. What does it feel like to adapt it?
The background is that I wrote a memoir that I'm now adapting for the stage. It feels very strange but it's also exciting. The main character is really the 'Woman' so I don't think of her as directly myself. She's a creation. But at the same time I am transforming and transmitting my own personal experience. I wrote the book shortly after I stopped fertility treatment and I felt it was very necessary. And I feel the time is now right for this kind of story in the theatre.
What do you hope people take from this show?
I went through fertility treatment and it's a difficult time and quite a lonely time. I'd like to offer a form of solace or, let's say, a shared aloneness to anybody whose life has been touched, directly or indirectly, by fertility treatment. For those who aren't successful, I hope to give name to our kind of loss. For those who were successful – or still trying – I want to honour what it takes to get there. But much more broadly, I found the experience raised so many questions around mysteries of the body, the vagaries of science, the uneasy marriage of commerce and medicine – and on a more tender note, it raised big questions for me around ways of loving. Ways of loving, ways of being... the perennials.
MAXINE PEAKE (PERFORMER)
Can you describe the experience of doing a one-woman show?
The thing for me about a one-woman show – what attracts me to it – is that the other character is the audience. And you have that direct contact. It doesn't mean you have to be at the front of the stage speaking to them, but it's about telling an entire story and having a connection and hoping that the audience go with you, follow you on that journey. That's really exciting and a real challenge.
And I think that's what theatre is – it's about an exchange of energy between performer and audience. Where does that line start and where does it end?
Can you tell us about the rehearsal room and the process of working with Anne-Louise Sarks?
We've never worked together before – we met over Skype. We did a little bit of a chat to see what we felt and whether our ideas, I suppose, 'mirrored' each other. It's such an exposing piece. Theatre is exposing anyway, whatever you do. But Anne-Louise has created a really lovely atmosphere in there. She just has a very gentle way of coaxing and she understands how difficultthe piece is, which obviously attracted us both. If you think anything is easy, then you wouldn't do it. But it feels like a nice, fun, safe space. And there's a lot of laughs and that's not being disrespectful, I think in any good rehearsal room you've got to have fun because acting is play, at the end of the day, and especially with such heavy subject matter. We keep it light because we know once you get into the piece it goes to very dark places.
ANNE-LOUISE SARKS (DIRECTOR)
How has it been working one-on-one with Maxine Peake?
Rehearsing a one-person show is very different to rehearsing a normal show. It requires a very particular focus. It's just Maxine and me in the room working our way slowly through the story. It's great, we laugh a lot, we're actually having a lot of fun! She's an incredible actor, and so brave. I feel very lucky.
What do you hope audiences will feel when watching the show?
One of the things that really drew me to Avalanche, the book, before it was made into a script, was how relatable the story is. I don't have kids, I've never been through IVF but there was something about that determination to make your dream possible and the raw honesty of it that was really compelling.
If you have a family you can relate to it, if you want a family you can relate to it, if you've ever had your heart broken or been in love it's relatable. I want the audience to go on that ride with this woman and I think Maxine's the perfect actor for this piece because she's so warm and compelling and generous. I want the audience to be moved, that's why we go to the theatre, to get inside an experience, to put yourself in someone else's shoes, to learn something about the world that maybe you didn't know before; or maybe you had a sense of it but now you're seeing it named here, and you are a part of that – that's very powerful. There is hope at the end of this story. This woman is a heroine. She's gone on this difficult journey and she's endured.
MARG HORWELL (DESIGNER)
Can you describe the staging and costumes without giving too much away?
Design-wise, we've approached this production as what I would describe as a very delicate balance between something that is very clinical, almost mechanical, and something that is inherently human. It's a space that shifts over time and it should hopefully be something that highlights how human our actor is and how real that person is within the story.
STEFAN GREGORY (COMPOSER & SOUND DESIGNER)
What sort of sounds can we expect?
At first I was very nervous about using too much instrumentation and too much musicality. So a lot of what I started with was very ambiguous. But then I discovered there was a need for something more than that so I've composed very simple choral music that's going to be sung by a soprano. It should weave itself in a few times and provide emotional release at specific moments.
What has your process been?
I've been doing what I always do which is to watch rehearsals and figure out what the show is and what the show needs. And in this case the text is so real and, I want to say, raw. But it really speaks for itself and so I'm very conscious of not trying to do too much to manipulate the audience and trying not to be sentimental in any way because I feel like a hint of sentimentality would be too much for the show. So I've been trying to find a language that I can use which isn't overblown and isn't overly sentimental but at the same time can carry through this very intense and very real story.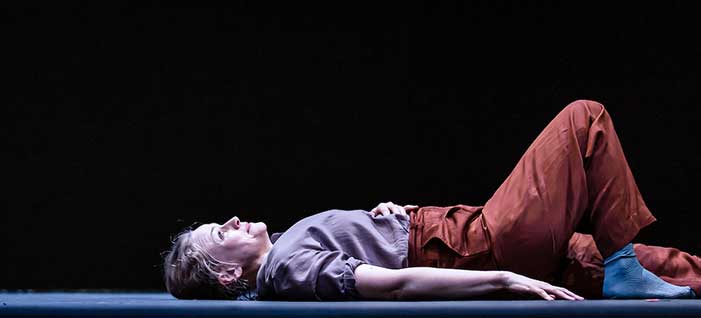 Maxine Peake in Avalanche: A Love Story, 2019
INTERESTED IN TICKETS?
Avalanche: A Love Story plays at Roslyn Packer Theatre, 29 Aug - 14 Sep 2019.
Seeing the show? Let us know your thoughts by tagging @sydneytheatreco and #sydneytheatreco