Feature: Our Resident Artists
Date posted: 11 Dec 2019 Author: STC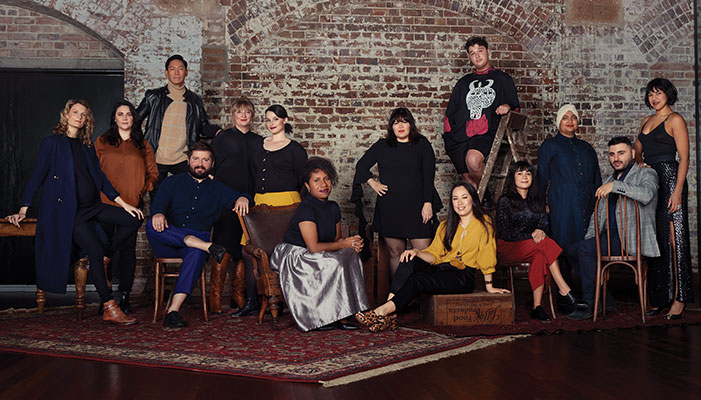 "Our Resident Artists are an inspiring and supremely talented group of individuals, some of whom have already been instrumental in directing the course of Australian theatre – and others who will shape its future." Kip Williams
Supported through the generosity of our donors, Sydney Theatre Company's Resident Artist program emphasises new writing, diverse voices and a collaborative creative environment that encourages artistic excellence. Having forged his own career at STC as a Resident Artist, Artistic Director Kip Williams has assembled an incredible group of directors, playwrights and designers to play a central role in the day-to-day artistic life of Sydney Theatre Company and shape the work on its stages.
Resident Director Jessica Arthur (Mosquitoes, Banging Denmark) found her way into the company through a string of Assistant Director roles including Endgame in 2015 and Chimerica in 2017. Previously a Richard Wherrett Fellow (a directorial position in memory of our founding Artistic Director), she'll go on to direct three mainstage plays for STC in 2020, including Angus Cerini's Wonnangatta with Hugo Weaving and Wayne Blair.
"Being a Resident has had a huge influence on my artistic practice. While I've learnt really practical things, the residency at STC has also built my confidence. It was initially daunting being an emerging artist working with seasoned professionals, but in my few years at the company I've been able to slowly work on bigger and bigger projects and meet – and pick the brains of – experienced artists."
Partnerships based on trust are key to the creation of new work. Paige Rattray, our Associate Director and also a former Richard Wherrett Fellow, plays an integral role in developing home-grown plays for the STC stage. "Paige is a truly exciting director and has an innate gift in the development of new Australian work" says Kip. With close collaborator Nakkiah Lui, an award-winning writer and our current Patrick White Playwrights Fellow, Paige has created a number of exceptional productions including 2017's smash hit Black is the New White (for which Nakkiah won the NSW Premier's Literary Award - Nick Enright Prize) and 2019's biting political satire, How to Rule the World. "I think so much of great theatre comes from good relationships," Nakkiah says. "I love working with Paige because she is able to take my words and characters and create the world they exist in, which is a really special gift. It's like we're both parents of the production."
A Gamillaroi/Torres Strait Islander woman, Nakkiah is a young leader in the Australian community, whose plays deal with central questions about Aboriginal identity and the politics of reconciliation and racism in contemporary Australia. For our current Richard Wherrett Fellow, Shari Sebbens – herself a proud Bardi, Jabirr-Jabirr woman – the Resident Artist program has a responsibility to ensure Indigenous stories continue to be told: "STC's investment in my development as a director is also an investment in the future of Indigenous storytelling on our stages. It's nice to be a part of a company that understands you cannot talk about Australia's cultural identity without Indigenous people at the table."
The CAAP Directors Initiative works towards a similar responsibility – discovering and nurturing Asian Australian directors for the stage is also critical to exploring Australia's cultural identity. STC's partnership with Contemporary Asian Australian Performance (CAAP) began with a series of masterclasses and workshops over a number of years, and has developed into a two-year tailored training program for selected directors, which was launched in 2019 with its first group of directors.
For Kenneth Moraleda, a participant in the initiative as well as a regular on the STC stage (Muriel's Wedding the Musical, Talk), the program has been a motivating dialogue. "Having had access to the resources and people of STC has encouraged me to be more proactive. It doesn't seem so impossible to get a show up, or to plan for bigger and better things. The company shows us how the industry works on all levels, and gets input from us about the kind of theatre we want to make as artistic practitioners and as people of our culture."
STC also offers developing writers a friendly creative space and a raft of skill-building opportunities through the Emerging Writers Group. STC Literary Manager Polly Rowe explains: "There are some wonderful creative conversations that go on between our Fellows and the Emerging Writers. They talk about ideas, each other's plays, theatre that they have seen or things they have read. It's great for company culture to have playwrights working alongside us, forming part of the company 'brains trust'."
STC's Resident programs aim to give artists time, space and opportunity to create the best theatre they can, but the programs are merely the starting point of a lifetime of creative exchange. As CAAP Director Jennifer Rani says, "With the support of STC I have been able to invest in myself and learn to trust in my skills, so I can share them with others and give back."