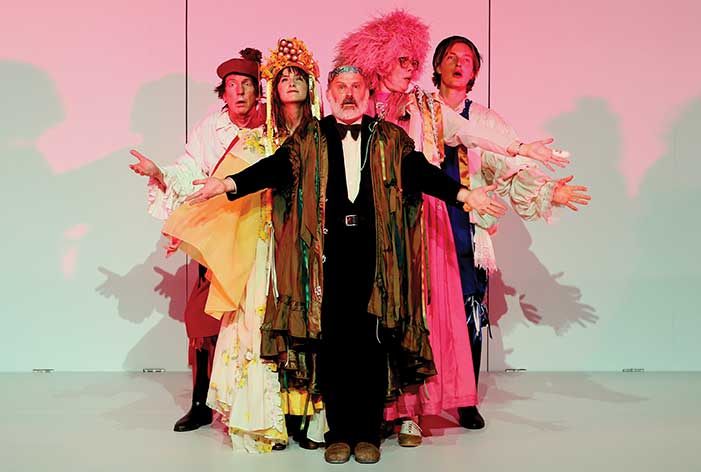 It was a glorious reunion coming back to the wonderful world of Louis Nowra's Cosi at the Sydney Opera House after a four and half month break since the season at Melbourne Theatre Company.
My deliciously talented cast mates and I gathered on the stage of the Drama Theatre bedecked in our '60s inspired costumes, exquisitely designed by Jonathon Oxlade. Seeing our motley troupe of characters together again was a delight for the whole team. The parade of colour and fabric was so evocative, whether a burgundy lounge suit, an orange velveteen tracksuit, body hugging polyester, a shag pile cardigan, or another perfectly rendered design. I became immediately overwhelmed by the joyous sensation of falling into the arms of old friends.
Within minutes we're all back under the spell of director Sarah Goodes' delicate and charmingly considered vision, unanimously agreeing that Dale Ferguson's burnt-out set has never looked better. Everyone is buzzing in anticipation of bringing our funny and heart-warming tale to STC audiences.
Following days of re-rehearsal, and technical tinkering, we're ready for our first preview. We've worked hard and well, and feel steady. In a pre-show ritual, we play a ball game behind the set. It lifts our spirits, gets the blood flowing and focuses us on our mutual objective - to enchant theatregoers with passion, love and humanity. Half an hour later, the houselights are dimmed and Cosi brightens up the stage. Over the next six weeks this will be the moment the show is brought to life through the audience who sit just metres away, including many donors who have made it all possible.
For many in the cast, this will be their debut appearance at the remarkable Opera House. Esther Hannaford remembers coming up from Melbourne at age eleven to do a fashion show for Bonds and making a special trip to see "the amazing white building inspired by a sculpted orange". Katherine Tonkin, reflected on the first show she ever saw in the Drama Theatre. "It was the STC's co-production (again with MTC) of Great Expectations the year I graduated from WAAPA. Before that, I remember my mum bringing me up to Sydney for a holiday in the '80s. We went to the Rocks where I bought a Ken Done t-shirt and then we headed over here to see the Opera House. I thought… yeah, this is living!".
There is a poignant sadness in that in just six weeks' time we will take our final curtain call and our wonderfully evocative costumes will be finally washed, packed and transported back into storage. I will miss these fictional friends and the actors within them… the rich tapestry of our passion and labours archived henceforward in the memory of the audience who shared it all with us. And that's a wonderful place for it to be preserved.

INTERESTED IN TICKETS?
Così plays at the Drama Theatre, Sydney Opera House, until 14 Nov, 2019.