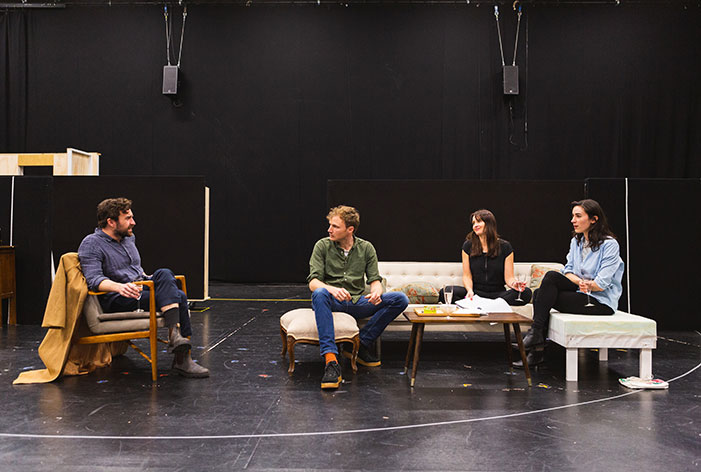 The cast of The Real Thing, 2019. Rehearsal photo by Hon Boey.
"I love love. I love having a lover and being one. The insularity of passion. I love it. I love the way it blurs the distinction between everyone who isn't one's lover." Henry, The Real Thing

At the Pier Group Lunch for The Real Thing the cast and creatives dined with theatre lovers and gave insight into Stoppard's treatise on the nature of love. Reputedly, Tom Stoppard wrote the The Real Thing to prove to his critics that he could not only write stories of profound intellectual merit but that he could touch the heart as well.

This production is being helmed by the incomparable Simon Phillips who is no stranger to the Stoppard oeuvre, having previously directed After Magritte, The Real Inspector Hound, Arcadia, Rock 'n' Roll, Shakespeare In Love (based on Stoppard's Oscar-winning screenplay) and the sensational revival of Rosencrantz and Guildenstern Are Dead, which wowed audiences at the Roslyn Packer Theatre in 2013.

At the lunch, Phillips reflected, "I think [Stoppard] is a romantic and a deep humanist, I love that that's what comes out so richly in this beautiful play… the leading character is a playwright of infinite wit and cerebral deftness and he does say at one point, "I can't write love." The whole play is an attempt for Stoppard to write a play about love and articulate it without it becoming rude or saccharine or juvenile."

Geraldine Hakewill in the role of Annie concurs "It's very romantic. People like watching romance, I like watching romance - stories about love. Humans are constantly trying to work out what love is and how to do it better and how to either fall in love or fall out of love and figure out that part of our lives because it's so hard. (Stoppard) manages to explain and articulate those difficulties but he makes it funny and moving and romantic and kind… so the getting together is only the beginning of the story for them."

Her co-star Johnny Carr, making his STC debut playing Henry adds, "Something I've been thinking about a lot during these first few weeks of rehearsal is how do you behave when people hurt you and how do you want to behave when people hurt you? Yes, Stoppard is a terribly witty and intellectual writer but there's such a sensitive tender side to all the characters in this play… they're on a search for authenticity."
Pier Group Lunches for 2020 will go on sale on Wednesday 4 December 2019.
INTERESTED IN TICKETS?
The Real Thing plays at the Drama Theatre, Sydney Opera House, 9 Sep - 26 Oct 2019.
Seeing the show? Let us know your thoughts by tagging @sydneytheatreco and #sydneytheatreco