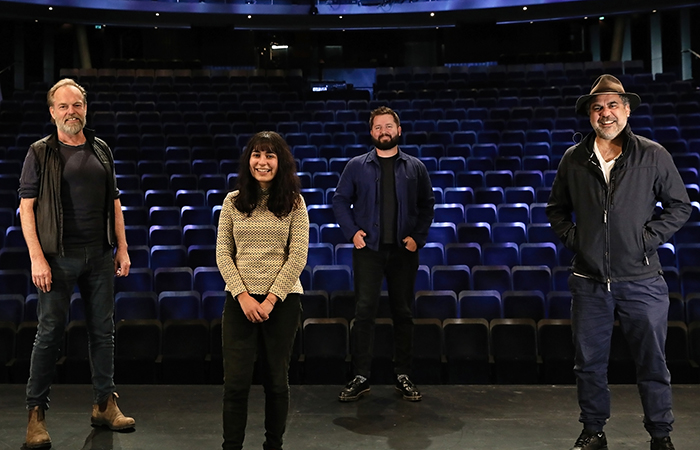 After six months of dark theatres, STC is returning to live performance with the world premiere of Australian playwright Angus Cerini's Wonnangatta – a lyrical, atmospheric and engrossing work, written in Cerini's now trademark poetic language.
The play, starring stage legends Wayne Blair and Hugo Weaving, is inspired by true events: an unsolved mystery that took place in the Victorian high-country in the summer of 1917/18. Audience members who witnessed our 2017 production of Cerini's breakout play The Bleeding Tree will remember its remarkable combination of lush imagery, unflinching storytelling and a distinctly Australian voice.
All of these elements are present in abundance in Wonnangatta which will be directed by STC Resident Director Jessica Arthur (Banging Denmark, Mosquitoes, Lethal Indifference). The play will begin socially-distanced performances in the Roslyn Packer Theatre on 21 September.
We caught up with Jessica just before the show went into rehearsals to discuss mounting a new show in strange times, her stellar cast and what audiences can expect from this play by one of Australia's most exciting writers.
---
What were your first impressions on reading Wonnangatta?
I heard the play performed (before I read it) during a development. And that's important for this play. Obviously, all plays are meant to be read aloud but in this case it's even more crucial. In the first instance I was completely intrigued by the true case it was based on, and surprised by how many of the poetic images in the play – the chalk on the door, the starving dog – were lifted directly from real life. But the more I got into it, I came to love that this play was exploring something much more broad than a murder mystery – there was something fascinating about the relationship between these two men (the protagonists), and the reasons behind them going on this journey that I wanted to tease out.
It's a pretty unbeatable cast - you must be excited to work with Wayne and Hugo?
Yeah! The perspectives they've brought on the play from having read it themselves, or from readings we have done together, have already been incredibly in-depth and eye-opening. This play is so well written and every time I've heard them read it aloud, it slaps you in the face and kicks you in the guts. So, the prospect of getting into the rehearsal room and fleshing it out with both of them is really exciting.
What sort of research have you been doing in preparation for Wonnangatta?
Naturally I've been delving deep into the real life case that inspired the play. But I've also been very interested in the landscape of the Wonnangatta Valley – it's such an integral part of this story and Angus makes the landscape so alive within the play. So, it might sound weird, but I've been watching a lot of four-wheel drive videos of the Wonnangatta region. There's this whole section of the internet that I didn't know existed, which is men strapping cameras to their four-wheel drives and driving around beautiful, remote landscapes. Crazily, a number of people have gone missing in the same area since the original case and a big reason for that is how remote it is. I've also been ringing up Angus, who is usually out in the Victorian bush and we chat through the ideas of this complex piece he has created
Angus writes in such a specific and poetic register – does that require you to approach the script in a particular way?
The amazing thing about Angus' writing is that he's done a lot of work for us, as an audience. Because he writes in such a visual way, you can close your eyes and feel like you're in the middle of the Bush with these two men. So the challenge for me, and the creative team, is working out how to take the words and transform them into a theatrical event. That might sound like a simple job from the outside but it's actually quite a nit-picky and precise task.
Wonnangatta has a lot in common with Angus's last play The Bleeding Tree, but also a lot of differences – can you speak about how the two works relate to one another?
It's interesting, I was chatting to Angus about this the other day and we questioned whether Wonnangatta is as political as The Bleeding Tree. I think they're about equal on that front. The Bleeding Tree looks at a case of domestic violence in a small community and, in many ways, I think Wonnangatta is examining the root of that violence – the oppressive masculinity and social mores of Australian culture that cause that violence to manifest. So, I see them as companion pieces in a sense.
Wonnangatta is STC's first show after almost 5 months of theatre closures – how does it feel to be leading the charge back to the rehearsal room and, eventually, the stage?
It feels super hopeful. Certainly a lot of our industry is really struggling right now and so many things have fallen away over this period. So it's bittersweet but I feel like now more than ever, we're really hungry for art and we need it. It's so important to keep creating, if you can, during times of crisis.
What can the audience look forward to experiencing in Wonnangatta?
They should be ready to strap in because the play is a wild ride across the Victorian high country.
For all information regarding our updated 2020 play schedule please read our our detailed statement here.
Wonnangatta Production Patron: Girgensohn Foundation.