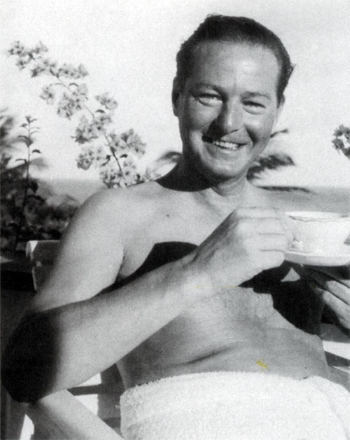 "I don't think one ever approaches a subject really consciously. One is apt to say, my God, that would make a marvellous scene, or that is a good theme, or that's something I want to write about. The "how" is a different matter."1
The quotation above, taken from an interview Terence Rattigan gave in the mid-70s not long before his death, gives us an insight into the way that Rattigan wished to present himself to the world: a craftsman who privileged entertainment, taste and style over subtext and ideology.
There can be no doubt that his plays are meticulously structured and gripping, but it would be a mistake to assume this deftness precludes the work from being philosophical, empathetic or socially engaged. In fact, a frank assessment of The Deep Blue Sea, Rattigan's masterpiece, reveals him to be playwright deeply interested in issues that still consume our culture today – feminism, LGBTQI+ rights and class, to name a few. But as a writer working in the early and mid-20th Century, Rattigan's ability to engage with these themes openly was limited. This is perhaps why he spent time perpetuating an image of himself as an apolitical showman.
It's a reputation that served him remarkably well in his early and mid-career. Beginning with the "overnight success"2 of his first professionally produced play, French Without Tears in 1936, Rattigan was a giant of the English theatre scene through the 40s and into the 50s.
But in the mid-20th Century cultural tides began to turn, away from the tenants of the "well-made play"– grand love stories, middle-class drawing rooms and roller-coaster plots – and toward 'kitchen sink realism'. This new breed of theatre, started by a group of proudly working class playwrights dubbed the "Angry Young Men", was defined by its stark defiance of the established theatre scene and its commitment to putting, at the time, shockingly unadulterated depictions of working class life on stage.
One, potentially apocryphal, anecdote is often referenced as an example of this shift: at the 1956 premiere of then-unknown and archetypal Angry Young Man playwright John Osborne's Look Back in Anger at the Royal Court Theatre in London, Rattigan was asked by a reporter what he thought of the show. Rattigan, apparently dressed in a chic suit, responded, "I think the writer is trying to say 'Look how unlike Terence Rattigan I am, Ma!'"2 The irony being that Look Back in Anger went on to be one of the most influential plays of the 1950s English-speaking theatre whose impact is still present in realist theatre today.
Whether Rattigan made the comment with his tongue in his cheek, or at all, remains unclear. But the effects of this change in standing are evidenced in the fact that he's still relatively unknown outside of theatre regulars. All this despite the fact that he's considered by some as on par with Chekhov and Ibsen3.
Hindsight is a powerful thing and in the 21st Century Rattigan's work has received a much needed reassessment. In plays like The Deep Blue Sea, contemporary audiences don't see a stuffy melodrama, instead they see a remarkably insightful and adept dissection of the social pressures that dominated the post-war culture of the 1950s, pressures that still resonate with many of us today. Indeed it seems that Rattigan was, after all, the polar opposite of conservative – rather he was smuggling radical content into plays, hiding it in plain sight.
This is an edited extract from a longer essay available in The Deep Blue Sea program, which also features:
Notes from Artistic Director Kip Williams and Director Paige Rattray
An interview with Designer David Fleischer
biographies and photos of the Cast and Crew
Photos from the rehearsal room
Pick one up at the theatre for only $12.00
References:
1. Terence Rattigan: The Man and His Work by Michael Darlow
2. Kenneth Branagh: Putting Guilt on the Stage; https://www.theguardian.com/stage/2015/oct/24/kenneth-branagh-guilt-john-osborne-terence-rattigan
3. Why Terence Rattigan is the British Ibsen; https://www.theguardian.com/stage/theatreblog/2008/mar/25/whyterencerattiganistheen
The Deep Blue Sea, 4 Feb – 7 Mar 2020, Roslyn Packer Theatre
Seeing the show? Let us know your thoughts. Tag @sydneytheatreco and #sydneytheatreco