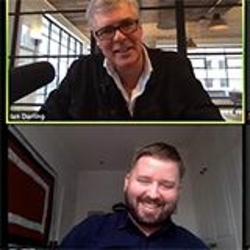 For many, the lockdown period has provided time to reflect upon what is important to us. With so many people generously donating back the cost of their cancelled tickets, the STC donor family has grown. Large or small, donations and legacy pledges made throughout this period have come from the heart. We would like to thank everyone who has supported STC so far - each gift matters deeply and all are received with true gratitude.
This silver lining of support from our community has allowed us to take stock of the many wonderful people who are part of STC's family, and those who have played an important role in making the Company what it is today.
STC's former Board and Foundation Chair Ian Darling AO is one person whose positive impact has been felt across the years. A long-time friend of the Company, Ian generously gave us the opportunity to stream his documentary In the Company of Actors for free via our website during May and June. Our community of theatre lovers jumped at the opportunity to re-live STC's historic 2006 tour of Hedda Gabler to New York.
As so many people are missing the buzz of post-show conversations in the foyer, we asked Ian Darling and Artistic Director Kip Williams to take part in a special live discussion and audience Q&A about the documentary. In the conversation, Kip and Ian explore the process behind making In the Company of Actors, what it was like to be in the Hedda Gabler rehearsal room, and how Ian feels to have preserved the legacy of this iconic STC production.
The people connected to STC are our greatest gift of all. Lifelong relationships are so vital to the Company's success, and it was a real privilege to be joined (virtually) at the live recording by a group of long-term subscribers, creatives, donors and legacy pledgers.
There are so many ways to support Sydney Theatre Company - from making annual contributions and attending fundraising events, to being a major donor or including STC in your Will. But for STC, it is never just about funds given; it is about helping people to be involved in a way that suits them. As a Company we want to honour our supporters, strengthen the bonds of our community and offer multiple ways to experience the pleasure and joy of giving.
In the Company of Actors beautifully demonstrates that even after a production closes, its legacy lives on within STC.
If Sydney Theatre Company has played an important role in your life, you may like to consider making us part of your personal legacy by including a gift to the Company in your Will. For more information, please click here.