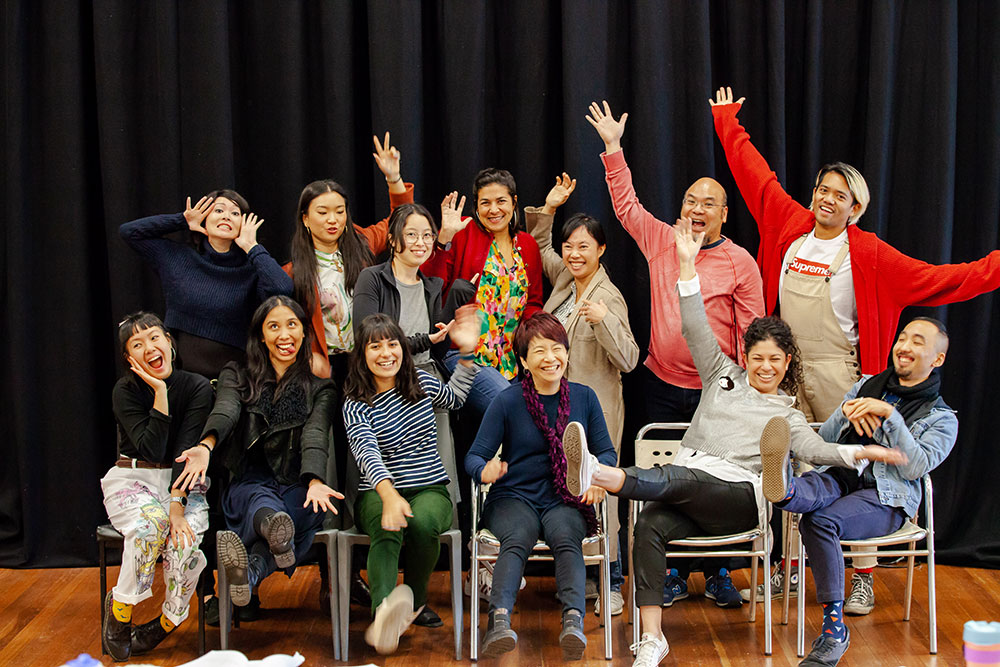 The Contemporary Asian Australian Performance (CAAP) Directors' Initiative was created in 2018, as part of a country-wide commitment to developing new Asian-Australian directors. The program placed a group of Asian-Australian creatives with one of three partner theatre companies—Sydney Theatre Company, Queensland Theatre and Melbourne Theatre Company—sharpening their skills through hands-on directorial experience, and firmly embedding them in the Australian theatre scene.
Over the last two years, Tasnim Hossain, Kenneth Moraleda, Jennifer Rani and Courtney Stewart have attended directing workshops, closely observed some of our biggest productions, been mentored by our Associate Director Paige Rattray, and each had the opportunity to assistant direct a mainstage show. The program was scheduled to wrap up this month, but given current circumstances, the program has been extended and Paige will continue on in her role as mentor.
As these original two years come to a close, we checked in with Courtney, Tasnim and Kenneth. For Courtney, the program has shaped the course of her career:
"Before this program I had no idea about directing, dramaturgy or literary management. Now, two years into the program, I have had the opportunity to lead projects, develop new work and be involved in important conversations within the companies."
"It's felt very much like a whirlwind," Tasnim agrees, "because there's always so much going on and so many people involved. The CAAP Directors' Initiative at STC has been incredible. When I first applied, I thought I'd learn a lot and probably quite enjoy it, but that is very much an understatement. It gave me the opportunity to sit inside the biggest theatre company in the country and see how the business of theatre happens."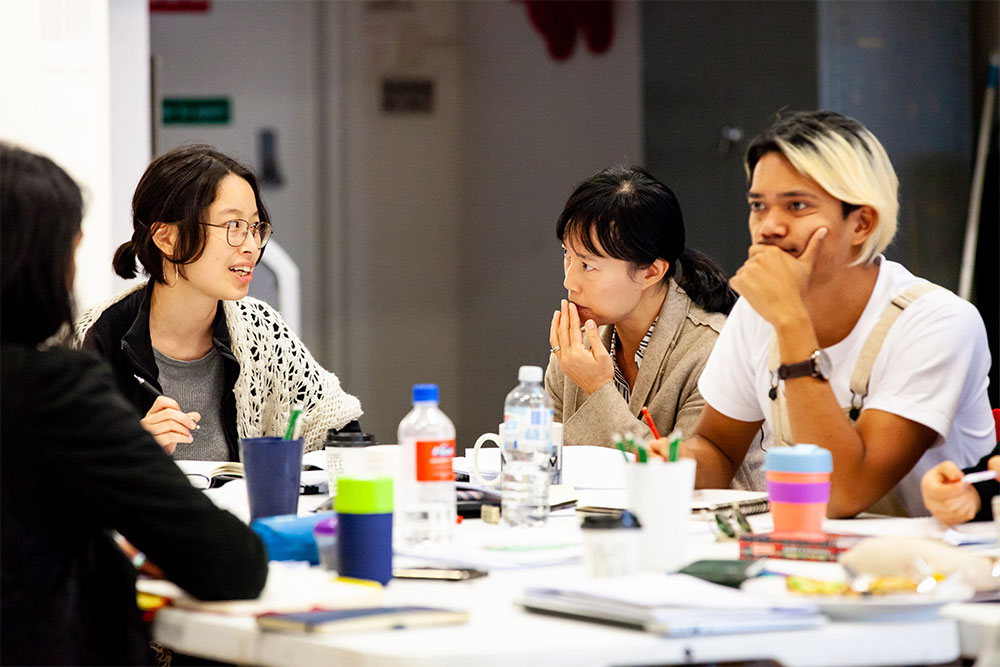 (Photo: Nisha Agiasotis)
While dramaturgy and workshops formed a strong foundation, making the leap into mainstage directing is still a world of challenges and steep learning curves. Kenneth, who was Assistant Director on Nakkiah Lui's biting satire How to Rule the World, and the mid-century drama The Deep Blue Sea, learned to keep up with new work; dissect iconic, established texts; and eventually find his place in the rehearsal room.
"[How to Rule the World was] a new Australian play that was constantly evolving, with changes to the text and therefore changes to staging — as to be expected of new work. That was quite exciting and you had to be on your toes to get across it.
[For The Deep Blue Sea], being in the room every day I got to really observe the way actors process the text and build their characters, and be a part of the conversations between them and Paige interrogating the play. In practical terms I got to sharpen my eye watching performances and note taking skills to ensure Paige's vision was being carried through the season."
For Tasnim, assistant directing the hilarious, original take on gender dynamics, Banging Denmark, was a creative opportunity that shaped the course of her career.

"[It] completely changed the trajectory of what I thought my career might look like. I remember three or four days into rehearsals, having this "oh no" feeling about directing, like a lurching in my chest, and it was the exact same feeling of falling in love with someone new and desperately hoping that they felt the same way. That's how I felt in the rehearsal room learning what it was to be a director."
The breadth and excitement of the CAAP program has done more than sparked excitement—it has shaped each of its participants as directors, and informed their projects past and present.
"It has helped me to discover my passion for new Australian writing, and helped me to hone my development skills when working with writers on new project," says Courtney, "Being able to watch Paige Rattray, STC Literary Manager Polly Rowe, STC Resident Director Jess Arthur and CAAP Executive Director Annette Shun Wah work with both emerging and established writers on a range of new works has really helped me to audit my own processes."
For someone like Tasnim, whose wealth of theatrical expertise comes from experience, not formal training, the program was a crucial next step.
"Being able to learn from the calibre of directors that STC has on their books is a gift and an immense joy. The collaborative, easy-going energy that Paige and Jess bring to their rehearsal rooms, coupled with their incisive understanding of dramaturgy and text, has informed how I approach my work."
Now, though restrictions are easing, the impact on the local arts community is still being felt.
"Since COVID-19 has hit, it's changed the course of my year dramatically," says Courtney, "I was all set to associate direct Miss Peony at Belvoir, direct Usual Girls at Seymour Centre and Chop Chef at the National Theatre of Parramatta, but am now in the process of rescheduling most of those shows! Whilst it is, of course, super disappointing to feel like you've lost work, there is actually a huge positive in having more time to let your creative ideas percolate."
Kenneth, too, has had directing opportunities put on hold.
"I have co-written a play called One Hour No Oil with Jordan Shea, a Filipino-Australian Play who had his Barbaric Truth as one of the Rough Drafts at STC. I am slated to direct this for Belvoir 25A in July/August, but am currently waiting on the decision on how and when theatres will open again. We are still going along the process of getting a show up."
It has also, for Courtney, been an opportunity to explore the CAAP ethos from an angle other than directing.
"In the meantime I have started a super small initiative for the Culturally and Linguistically Diverse (CaLD) community, where I have offered free script assessments. There were so many important opportunities for CaLD writers, but with many theatre companies now in crisis it has meant a lot of these opportunities are now on hold. I feel so passionate about new work and this is one small way I felt like I could help to support the CaLD community in such an uncertain time."
With a dedicated mentor behind them, a commitment to bringing Asian-Australian creatives to the forefront of the local—and global—theatre scene, and a slew of innovative new projects in the pipe, the inaugural CAAP directors' are set to break ground, smash ceilings and bring some long-overdue diversity to the helm of Australian plays.