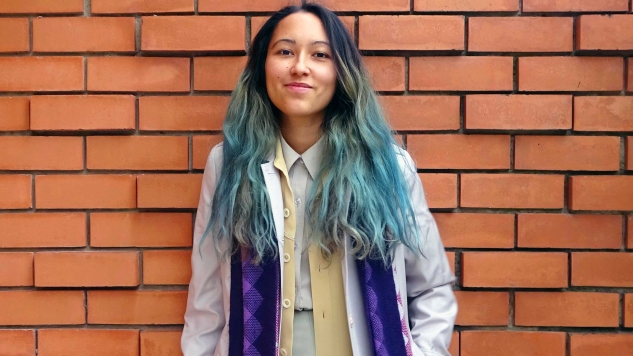 Photo: Supplied by Anchuli Felicia King.
Our 2020 Patrick White Fellow, Anchuli Felicia King is a playwright and multidisciplinary artist whose practice spans across dramaturgy; sound, video and projection design; and creative consultation.
Last week, as a part of STC Virtual, we kicked off a mini-series focusing on the work of our resident writers. First up was an excerpt from Felicia's internationally acclaimed play White Pearl, which STC co-produced with The National Theatre of Parramatta late last year. You can watch Catherine Văn-Davies perform the monologue below.
We spoke to Felicia about the fellowship and what new writing is inspiring her at the moment.
---
Congratulations on being selected as this year's Patrick White Fellow. What aspect of the program are you most looking forward to?
I'm really excited to start a conversation with STC about building a work specifically for one of their spaces – something that gets people excited to come back to the theatre. I've been thinking about how we can reinvigorate our practices, trying to make theatre feel like a real communal event. Post-COVID I want people to feel like they're welcomed back.
I've been speaking with Kip [Williams] and we're both interested in making epic, ambitious theatre of scale that feels like a cultural event, that feels like it's critically engaging with the Australian canon and the idea of 'Australianness', about our innately colonial identity and how we can address that, which feels inextricably tied up with this cultural moment.
You're a multi-disciplinary artist in the truest sense, what draws you to centre your practice in and around the theatre?
I write plays because I'm a naturally curious person, I think. And because I have always occupied liminal spaces because of who I am, because of my cultural identity, because of my gender and my sexuality. I have always been interested in trying to make sense of the broader sociological, economic, historical forces that dictate the conditions that we live in. And particularly as a world citizen, how global those forces are and the moral implications of those forces. I write from a place of being curious about the manifestation of those forces and then trying to find a way to humanise and make apparent the ethical quandaries at the heart of those forces.
Part of your role as the Patrick White Fellow is to act as a mentor to the members of our Emerging Writers Group. What does being a 'mentor' mean to you?
I have been lucky in my life to have had mentors who don't patronise me, who don't adopt a position of superiority, and have just treated me as an equal and a collaborator. Because of where they are in the industry, they're trying to help lift others up. And I hope that that will be my role, not just with the Emerging Writers' Group, but with any emerging writers, any writers of colour. I want to have a collaborative relationship with them where I'm helping foster their growth, but they're probably also teaching me a lot of stuff.
I think that we – my peers and I – are trying to break down old systems of hierarchies and so I just have no interest positioning myself as a relative expert to anyone else on any subject.
There are so many exciting new voices in the playwriting and live performance right now. Whose work is inspiring you right now?
I am so inspired by this wave of young Asian Australian playwrights that I'm seeing coming through. It's been awesome to track their careers and continue watching the work they make. People like Jean Tong, Kim Ho, Natesha Somasundaram and Jordan Shea. These incredible, erudite, visceral, vicious, Asian Australian playwrights who are deconstructing form, re-interrogating the Australian canon, re-interrogating what it means to make theatre from an Asian Australian perspective and writing really ambitious work. I think some of them are so ahead of the curve of Australian theatre and we're going to take a couple years to catch up to just how radical the work that they're doing is, thinking particularly of Kim Ho, who is a genius.
As a playwright, what role do you see theatre having in contemporary Australia? What can theatre, as an artform, do for us as a community?
I think the most valuable thing about theatre is that it places focus on something in a live, communal setting. And how you choose to direct the focus of a live audience is an irreplicable creative act. So when you find out what you want to direct that focus to, you can have a deeper level of emotional and philosophical engagement than you can have in other art forms, because there's a raw energy to that focus. But it also changes every time you do the show and it evolves throughout the course of a run. So in that sense, it's both synchronous, (the most in the moment) and it's durational in a way that other art forms can't be.