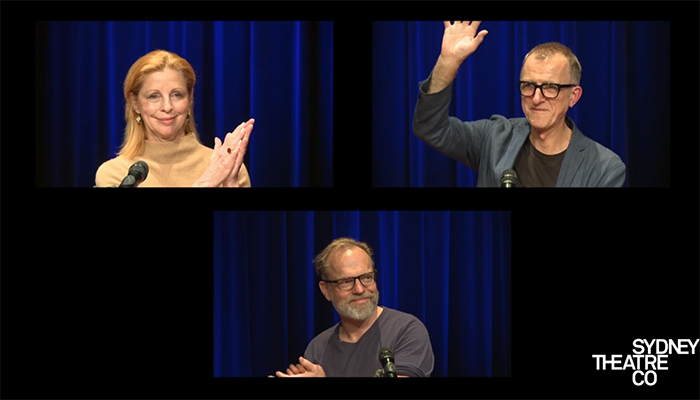 Heather Mithchell, Nicholas Harding and Hugo Weaving.
As STC prepares to return to the stage after six months of theatre closures, we felt the moment was right to bring our community together to reflect on the continued relevance of theatre, and the many ways that theatre lovers can help the artform to endure long into the future.
Archibald-winning artist Nicholas Harding and legends of stage and screen, Heather Mitchell and Hugo Weaving came together to discuss their love for theatre and the importance of creating an ongoing legacy for the artform, exemplified by Nicholas' recently released book of theatre sketches From The Wings. Described by Nicholas as a billet-doux -or a love letter- to theatre, this extraordinary book offers a unique look into the rehearsal room, and provided the perfect prompt for Heather, Nicholas and Hugo to discuss what STC means to them, the connections between actor and artist, and how Nicholas' art works are helping to create a vibrant legacy for STC's productions.
As Hugo Weaving expressed so eloquently:
"[Theatre is] an artform that stimulates our imagination, which asks us profoundly serious questions about who we are, what humanity is, and how we can rethink the way we are. So in this time, theatre is the very thing you want to be a part of."
The people connected to STC are our greatest gift of all. Lifelong relationships are so vital to the Company's success, and it was a real privilege to be joined (virtually) at the live recording by a group of long-term subscribers, creatives, donors and legacy pledgers.
There are so many ways to support Sydney Theatre Company - from making annual contributions and attending fundraising events, to being a major donor or including STC in your Will. But for STC, it is never just about funds given; it is about helping people to be involved in a way that suits them. As a Company we want to honour our supporters, strengthen the bonds of our community and offer multiple ways to experience the pleasure and joy of giving.
While theatre is an artform of the moment, From the Wings beautifully demonstrates the joy in preserving something so important.
If Sydney Theatre Company has played an important role in your life, you may like to consider making us part of your personal legacy by including a gift to the Company in your Will. For more information, please click here.
Copies of From the Wings, published by Nicholas Harding, are available for purchase by emailing [email protected]