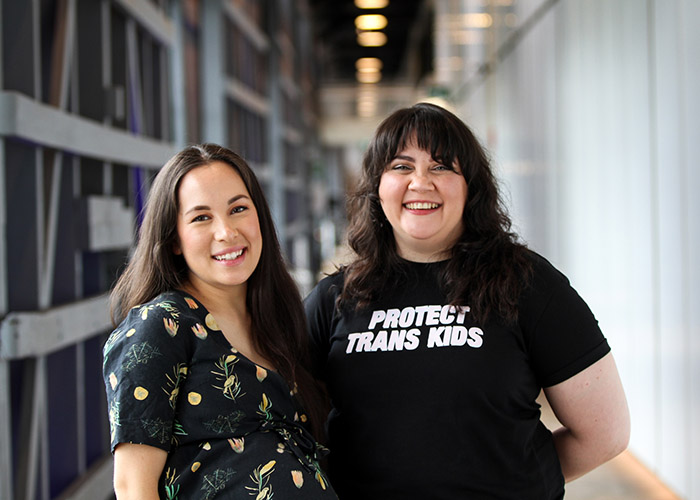 Courtney and Shari at The Wharf. (Image: Shara Parsons)
STC's Resident Artists program is an integral part of the Company's mission to foster a thriving and diverse artistic community in this city. This week we're excited to announce two new appointments to the team that includes such luminary alumni as Marion Potts, Benedict Andrews, Nakkiah Lui, Wesley Enoch, Imara Savage, and Wayne Blair.
Shari Sebbens who has been our Richard Wherrett fellow since 2019 is now joining Jessica Arthur as our second Resident Director. Shari, a proud Bardi, Jabirr-Jabirr woman born and raised in Darwin, is well known to STC audiences as an actor (Black is the New White, The Bleeding Tree) and has just made her mainstage directorial debut with the critically-acclaimed Superheroes at Griffin Theatre Company, one of the first shows to open post-lockdown. Shari was due to make her directorial debut with us in 2020, with the 25th anniversary season of Wesley Enoch and Deborah Mailman's The 7 Stages of Grieving but was unable to do so due to COVID-19 related theatre closures. In 2021 we're thrilled that Shari will be joining Wesley as his Assistant Director for our production of Appropriate as well as directing two shows in the yet-to-be-announced "Act 2" of this year's season.
Our Artistic Director Kip Williams said, "I am so excited that Shari is continuing her long affiliation with STC in becoming our new Resident Director. It has been a pleasure and a privilege having Shari as our Richard Wherrett Fellow these past two years, and I look forward to seeing her continue to develop and flourish as an emerging directing talent in her new role."
As well as a number of onstage projects on the way, Shari is also leading a fantastic collaboration between STC and SBS called The Whole Table. The program, airing first on 20 January, will see Shari hosting a ground-breaking current affairs show that will feature a regular panel of First Nations artists and explore a range of issues that impact Indigenous people both here in Australia and abroad.
Replacing Shari as our Richard Wherret Fellow is the wonderful Courtney Stewart. The Richard Wherrett Fellowship is a career pathway opportunity for emerging and developing directors. Courtney is an actor, director, dancer and teacher who has a long-standing creative relationship with the STC. She has worked on a number of productions and developments of new Australian work with the company, including Hamlet - Prince of Skidmark and Australian Graffiti, and has been part of the company's CAAP Directors Initiative. Courtney also worked as a Dramaturg on the production of White Pearl for STC in 2019.
On Courtney's appointment Kip said, "I am also thrilled to announce that Courtney Stewart is joining STC's Artistic Team as our new Richard Wherret fellow. Courtney's wealth of experience in many aspects of theatre from acting, to directing to dramaturgy and her wonderful work as a part of the Contemporary Asian Australian Performance (CAAP) Director's Initiative make her the perfect choice for this role. I am particularly excited to collaborate with Courtney in her role as Dramaturg on my upcoming production of Playing Beatie Bow by Kate Mulvany. All of us at STC can't wait to watch Courtney's formidable talent develop even further.
Courtney and Shari join fellow STC Resident Artists; Associate Director Paige Rattray and Resident Director Jessica Arthur, along with Emerging Writers' Group members James Elazzi, Jordyn Fulcher, Enoch Mailangi and Wendy Mocke and Patrick White Fellow Anchuli Felicia King.
In other exciting news, Artistic Director Kip Williams will also be launching a new Resident Artist initiative in 2021 - the Design Associate Program - which will be an annual opportunity for three Aboriginal and Torres Strait Islander and/or CALD (Culturally and Linguistically Diverse) peoples to be supported and developed in the area of theatre design.
Click here to learn more about our Resident Artists program.