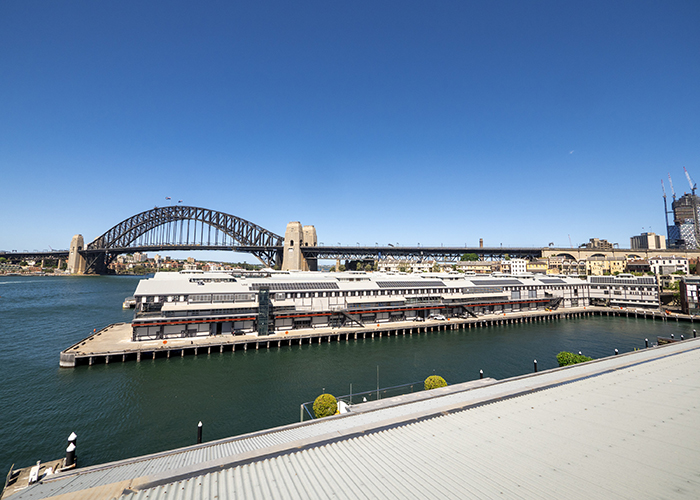 (Image: Hugh Hamilton)
Sydney Theatre Company is delighted to have officially reopened our home venue at The Wharf on Sydney Harbour and to be welcoming back audiences after nearly three years of renovations.
Our home on the 100-year-old timber shipping wharf at Walsh Bay – which was first transformed from a wool store to an award-winning theatre-making space in the 1980s – has been upgraded once again to improve audience facilities and access, modernise the theatre spaces and reflect the growth and change of STC's business operations.
The renovations have retained the stunning character and 'wharfiness' of the venue while vastly updating facilities and ensuring the entire theatre-making process remains under the one roof. Return visitors will be delighted to know the renowned 'long walk' from the entrance on Hickson Road to The Theatre Bar at the End of The Wharf has been retained, but new lifts and entry points have also vastly improved the venue's accessibility.
To fulfil the vision of the company's founding Artistic Director, Richard Wherrett, the two theatre spaces at The Wharf are now fully flexible – equipped with three adjustable seating configurations (End On, Corner and In the Round), retractable seating and the capacity to combine the two stages – which offer artistic teams even greater creative possibilities. Enhancements in security, safety, operational efficiency, environmental performance and access for workers and visitors with disabilities were a key priority of the project.
The renovation – known as the STC Wharf Renewal Project – was guided by significant consultation from a cohort of theatre-makers and designers who work regularly with the Company. Their knowledge and love of the building and their experience as artists were instrumental forces in shaping a vision for the future of The Wharf. This artistic input, together with the input of STC staff and audiences, was teamed with the expertise of specialist consultants including Hassell (architect), Charcoalblue (theatre consultant), Tropman & Tropman Architects (heritage architect), with construction completed by Richard Crookes Construction. The STC Wharf Renewal Project was made possible with the generous support of the NSW Government and private donors.
We can't wait to welcome you back to The Wharf with all its wonderful upgrades, and – after an extremely difficult year – remind you of the truly joyful, communal nature of live theatre.
Take a tour with Executive Director Patrick McIntyre
In this short video, STC's Executive Director gives you a quick look at a few different areas around the new Wharf:
The project at a glance
Modernisation of the two theatre spaces with upgrades that deliver better amenities and accessibility for audiences. Wharf 1 (350- 420 capacity) now has fully flexible seating configurations - End On, Corner and In the Round. Wharf 2 (160 capacity) has a retractable seating bank allowing for multi-purpose use. Wharf 1 and 2 spaces can also be combined allowing greater depth of stage in the End On configuration
Improved accessibility with new public entries via two new lifts and the addition of two balcony extensions (gantries) off The Theatre Bar at the End of The Wharf and Atrium, giving patrons direct access to the venue from the harbourside apron
Return of the iconic hospitality venue, The Theatre Bar at the End of The Wharf with its stunning views of Sydney Harbour. The Bar has improved kitchen facilities and front-of-house design allowing for more efficient service
The addition of the Neilson Family Gallery, a new multipurpose, hireable venue space overlooking The Theatre Bar at the End of the Wharf and Sydney Harbour
Better behind-the-scenes experience for artists with state-of-the-art dressing rooms, larger and more comfortable rehearsal rooms, break out spaces, music/vocal coaching rooms and a recording booth
Raised ceiling height in the Paradise workshop to allow larger sets to be built on-site, a dedicated wig room and new BOH corridor which allows greater operational efficiency moving sets from workshop into rehearsal and theatre spaces with more security and without needing to utilise public circulation areas for bump-ins