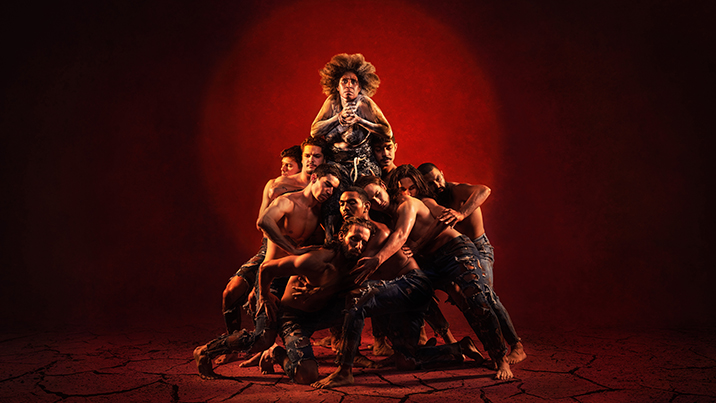 Wudjang: Not the Past
BY STEPHEN PAGE AND ALANA VALENTINE
CHOREOGRAPHED AND DIRECTED BY STEPHEN PAGE
MUSIC BY STEVE FRANCIS
WORLD PREMIERE
Alive in the present, our story is not past
In the deep darkness just before dawn, workmen find bones while excavating for a dam. Among the workers is Bilin, a Yugambeh man, who convinces his colleagues to let him keep the ancestral remains. This ancestor is Wudjang, who, along with her young companion spirit, Gurai, longs to be reburied in the proper way.
Composed of poetry, spoken storytelling, live music and the astonishing choreography for which Bangarra Dance Theatre is internationally renowned, Wudjang: Not the Past is an epic-scale new co-production featuring 17 dancers, four musicians, and five actors.
Directed and co-created by Bangarra's Artistic Director Stephen Page (Bloodland, The Secret River, Bennelong), and featuring Mibinyah language from his home on Yugambeh Country, this ambitious and powerful piece of performance illuminates the ways in which ancient traditions continue to guide and strengthen current and future generations of First Nations people.
---
DANCERS Beau Dean Riley Smith, Rikki Mason, Rika Hamaguchi, Glory Tuohy-Daniell, Baden Hitchcock, Ryan Pearson, Lillian Banks, Bradley Smith, Courtney Radford, Kassidy Waters, Kallum Goolagong, Gusta Mara, Kiarn Doyle, Maddison Paluch, Daniel Mateo, Emily Flannery
CAST Elaine Crombie, Jess Hitchcock, Elma Kris, Justin Smith
MUSICIANS Brendon Boney, Amaru Derwent, Tessa Nuku, Véronique Serret
---
Wudjang: Not the Past will premiere as part of Sydney Festival from 17 January – 12 February at the Roslyn Packer Theatre.
Tickets on sale:
26 Oct: For returning Season Ticket Holders as part of their 2022 Act 1 Season Ticket
19 Nov: For new Season Ticket Holders as part of their 2022 Act 1 Season Ticket
29 Nov: Tickets on sale for everyone
---
This project has been assisted by the Australian Government's Major Festivals Initiative, managed by the Australia Council, its arts funding and advisory body, in association with the Confederation of Australian International Arts Festivals Inc, commissioned by Sydney Festival, Perth Festival and Adelaide Festival, and co-produced by Bangarra Dance Theatre and Sydney Theatre Company.

Co-producers:

Image Credit: Daniel Boud