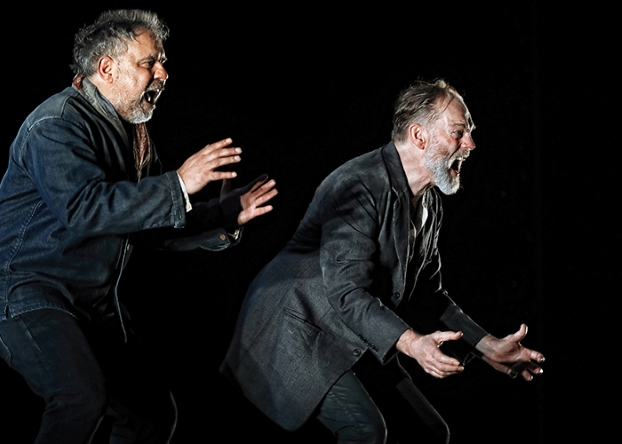 Wayne Blair and Hugo Weaving in Angus Cerini's Wonnangatta. (Image: Prudence Upton)

One year ago this month, STC premiered Angus Cerini's Wonnangatta, a thrilling and poetic work of Australian Gothic, starring legends Hugo Weaving and Wayne Blair and directed by our Resident Director Jessica Arthur. It was the first show to open after Sydney's first round of theatre closures and was met with adulation from both critics and audiences. In April of this year, we had the great privilege of naming Angus (who also wrote the award-winning The Bleeding Tree which presented as part of our 2017 program) our Patrick White Playwrights' Fellow for 2021.
Now in its 11th year, the $25,000 Fellowship is awarded annually to an established playwright in recognition of their excellent body of work and achievements. As well as including a commission from STC, which each Fellow develops during their year-long engagement, the tenure provides opportunities for the playwright to share their skills with other playwrights and artists including the STC Emerging Writers Group.
Angus Cerini is a multi-award-winning writer, performer and theatre maker.
Angus' plays have been produced by companies including Sydney Theatre Company, Melbourne Theatre Company, Griffin Theatre Company, Malthouse Theatre, Arena Theatre Company, and widely within the independent sector.
Angus is the winner of the Victorian Premier's Literary Award, the NSW Premier's Literary Award, a Helpmann Award for Best Play, an AWGIE Award for Best Play, a Sydney Theatre Award for Best Play, multiple Green Room Awards including Best Play, the Patrick White Playwrights' Award, the Griffin Play Prize, the David Williamson Prize and RE Ross Trust Awards, and has received numerous award nominations.
His plays include: Wonnangatta, The Bleeding Tree, Caravan (co-writer), Fuck This Love, The Curling Ribbon, Resplendence, Save for Crying, Drill Down, 19 Trains, Wretch, and Normal.Surburban.Planetary.Meltdown.
We caught up with him to discuss the fellowship and his craft.
Tell us what being named STC's Patrick White Playwright's Fellow means to you?
It feels like I'm a bit more a part of the STC family. Like I've graduated from being just some weird kid down the road to maybe being a weird cousin who gets drunk at Christmas or something? I don't know. But whatever it is, I really like it.
How would you describe your writing style in three words?
Word-music to-be sung-spoken.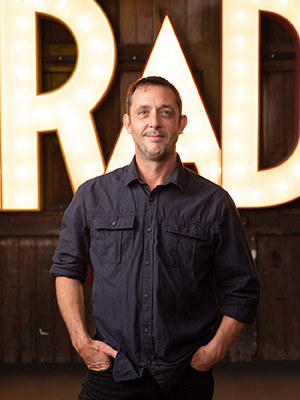 What's your first memory of theatre?
The wolf was creeping up on the bird. I leapt to my feet. "It's behind you!'. I must've been about 5. It was Peter and the Wolf.
What inspires your writing?
Maybe, just possibly, that wolf creeping up on the duck.
Who are some other Australian theatre makers and artists (writers, filmmakers, visual artists, etc) whose work you admire? What about their work excites and resonates with you?
There are plenty but just this morning I was thinking about how much I am missing the work of Sisters Grimm – the team of Ash Flanders and Declan Greene. They have a way of interrogating things that is just so deeply, deeply good. I love it when Australian artists take the piss.
Tell us about your writing process.
It is always different. But usually starts with being extremely angry about something. Then a long period of not knowing what to do with that anger. And then writing enormous amounts of words that come to absolutely nothing. And then hopefully being in the water when the right wave comes in and managing to climb on and ride that thing.
Only to be spat out far from anywhere helpful. And scrambling desperately to hold it all together. And then finally, triumphant, holding the finished manuscript aloft! Only to have people look at you weirdly like you're some floundering literary seal dashed on the rocks of fooling yourself.
You show Wonnangatta was one of the only shows to make it to an Australian stage last year – can you tell us what that experience was like?
Weird. Traumatic. Amazing. Exhausting. Thrilling. Tragic. Weird. Really really weird. I am super lucky that it happened, but I'm so sad about our whole industry
Can you tell us anything about what you're working on at the moment?
I'm currently in the angry phase so I should stop talking now.
How have you been passing the time in lockdown? Any recommendations (books, movies, recipes, etc)?
I have been really enjoying looking at the work of Australian visual artists. And growing quite a lot of garlic. I tried baking bread but that was a foolish idea.
Learn more about STC's Resident Artists here.
Revisit Angus' playwright's note for Wonnangatta and more here.
Supported by: STC's Artists Program Donors
---
Image by Shara Parsons