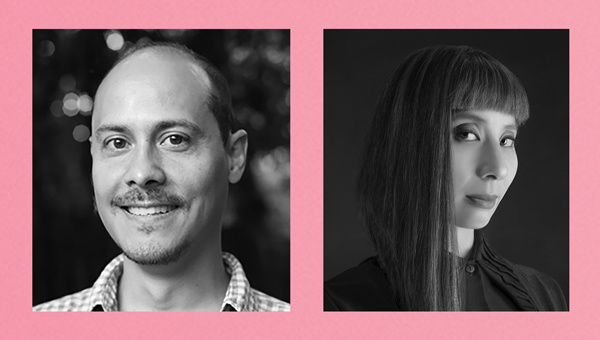 STC and Riverside's National Theatre of Parramatta's production of Anchuli Felicia King's thrilling dark satire White Pearl is full of razor-sharp comic timing and roiling tension. To match the show's precision and speed, you need an equally honed and acute soundtrack. Enter composers and sound designers Michael Toisuta and Me-Lee Hay. We sat down to chat about their work on this production and how they brought their contrasting musical backgrounds to bear on this fantastic piece of sound design.
What were your first impressions reading White Pearl?
Me-Lee: I was just so excited that it was an (almost) all-woman cast. All the characters are really powerful and some of them are even a little badass. I grew up in Australia mostly but was born in Malaysia which is much more of a melting pot [a bit like Singapore] than here. So I was excited to bring that melting pot energy to the Australian context.
Michael: I just thought it was really edgy and funny and fast-paced. It's a comedy but set in a world that's really foreign to me, a young start up cosmetics company. I grew up in Indonesia, so I know Singapore a little bit and felt like I understood the [geographical] place – its multiracial, multicultural energy. But the characters were new to me – these sharp, clever, snappy young women. It was exciting but a little bit scary trying to keep up with the cast, as well as Felicia's writing.
Where does the sound of a show begin for you? Does it come into your mind as you're reading the script?
Michael: I start getting a vibe while I'm reading a script, but it usually takes me a couple of reads and discussions with the director to start to get a better feel for it. Because of the technological and social media elements of the show, I immediately associated White Pearl with an electronic soundscape.
Me-Lee: I'm more visual. Hearing it on the first rehearsal read, I get a sense of what could be underscored emotionally, and what transitions are needed. Particularly after seeing the set and understanding how it moves from one scene to the next, that's when I get a strong idea of what I'm going to compose.. It also helps if the director has a strong template for the musical direction. Priscilla [Jackman] had the idea of something a bit operatic, especially a disintegrated operatic moment in the final scene. I took that and thought of opera and strong female voices and considered how we can, aurally or musically, show powerful women's voices. So, you take a little gold nugget and expand on it.
It's unusual for a show to have two sound designers. What's the collaboration been like and what have you both brought to the table?
Me-Lee: I came with the choral and orchestral elements and Michael came with his expertise in the 'actual' sound design world. The sound design created a sense of heightening tension. We shared a Dropbox, and we would say "Oh, I don't know if you find this useful? Do you want to chuck that in somewhere?" Michael would weave his magic with the things we would exchange. Some transitions were mine; some were his, and then we combined them for the big tracks i.e. the opening and closing of the show.
Michael: The collaboration was wonderful. Me-Lee's background is in film, and that really helped with the underscoring. In rehearsals, Priscilla might say "these parts remind me of a comedic movie" and we wanted to play those moments up, and that came through in Me-Lee's underscoring. Because of our different musical styles, the combinations in the show's transition sequences were really interesting and added texture that we wouldn't have come up with individually.
What were the challenges of creating the sound world for White Pearl?
Michael: It was a mammoth task. Back when we were preparing for the original 2019 run, our rehearsal period was four weeks and that isn't much time when things are constantly changing, and you need time for reflection and time away from the room to think. We dealt with it by splitting up tasks; Me-Lee would focus on underscores, and I would focus on transitions. It was also wonderful having Felicia as part of the design team. I would chat to her about the use of video and sound. It always helps to have another person, especially someone who knows the play intimately, to bounce ideas off.
Me-Lee: Because the script is so dense and the actors are still finding their rhythm [during the 2019 rehearsal period], often the underscoring would change throughout rehearsal. Sometimes it was too comedic when we wanted it to be darker. The pace of the show also tends to change over those four weeks. It really ramped up and that impacts the underscoring and timing.
What's it been like to watch this show progress and change through several iterations?
Michael: I knew Felicia's reputation was very quickly rising. We hoped that the show would be picked up after the short season in Parramatta but it's still a nice surprise when it happens. Also, seeing how different casts interpret the play has provided different readings of the show.
Me-Lee: From a technical side, it's been really interesting to see how a show goes in different spaces and different types of theatre. The show played on a very wide stage in Queensland, so placing the music and sound in that sort of theatre was very different from the more intimate staging in Parramatta. The audiences are also different across different venues and cities – it's interesting to see who responds to what, who laughs where. I'm interested to see how the STC audiences take to it.
---
White Pearl, 11 Mar – 23 Apr 2022, Wharf 1 Theatre