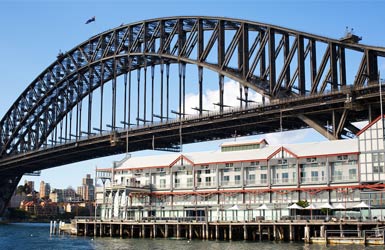 ACCOMMODATION
The Rocks and Circular Quay boast a range of accommodation, from five-star to boutique, bed and breakfast, heritage pubs and the world-famous Sydney Harbour YHA.
We reccommend our accommodation partners, Adina Apartment Hotels and Pier One Sydney Harbour.
Adina Apartment Hotel Sydney
511 Kent St
Sydney CBD
(02) 9274 0000
Pier One Sydney Harbour
11 Hickson Rd
Walsh Bay
(02) 8298 9999
There are plenty of other options around The Rocks and Circular Quay too.
The Australian Hotel Bed and Breakfast
100 Cumberland Street
The Rocks
(02) 9247 2229
Four Seasons Hotel Sydney
199 George St
Circular Quay
(02) 9250 3100
Harbour Rocks Hotel
34 Harrington St
The Rocks
02) 8220 9999
The Langham Hotel Sydney
89-113 Kent St
Sydney
(02) 9256 2222
The Lord Nelson Brewery Hotel
19 Kent St
The Rocks
(02) 9251 4044
Hotel Palisade
35 Bettington Street
Millers Point
(02) 9018 0123
The Mercantile Hotel
25 George St
The Rocks
(02) 9247 3570
Holiday Inn Old Sydney
55 George St
The Rocks
(02) 9252 0524
Park Hyatt Sydney
7 Hickson Rd
The Rocks
(02) 9256 1234
Quay West Suites Sydney
98 Gloucester St
The Rocks
(02) 9240 6000
Rendezvous Stafford Hotel
75 Harrington St
The Rocks
(02) 9251 6711
Russell Hotel
143A George St
The Rocks
(02) 9241 3543
Shangri-La Hotel Sydney
176 Cumberland St
Sydney
(02) 9250 6000
Sydney Harbour Bed and Breakfast
140-142 Cumberland Street
The Rocks
(02) 9247 1130
Sydney Harbour Marriott Hotel at Circular Quay
30 Pitt Street
Sydney
(02) 9259 7000