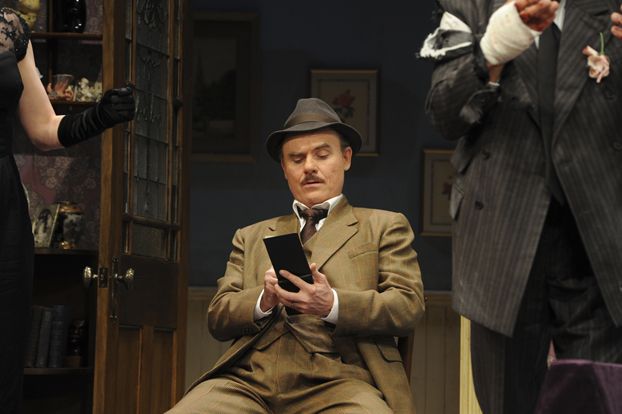 Fred and Madge
Completed in 1959, published 2001 and never performed (other than one production in 2000 by the Oxford University Dramatic Society) due to strict control over the script retained by the Orton estate. His first play, it is a mix of realistic drama and outrageous satire, as married couple Fred and Madge try to keep their relationship together and look ahead to their daughter's marriage. The play features absurdity (Fred's job is to push a boulder up and down a hill), a parody of Noel Coward's Private Lives, a lost vicar, an uncontrollable back garden and a team of professional insulters invited to entertain guests at the wedding.
"Is rage the prerogative of youth? Must we cool with the years to die when our blood has chilled to the temperature of the society around us… Is anger so rare a specific that only the young must have access to it? No! We must hurt the feelings of our enemies, infuriate those we dislike, and never cease to delight in bringing the hornet's nest above our ears!"
The Visitors
Written 1961 but rejected by both the BBC and the Royal Court, Orton's second play was not published until 2001. Dying hospital patient Kemp is visited by his middle-aged daughter Mrs Platt (both inspiration for the character Kemp and Kath in his later play Entertaining Mr Sloane) and falls victim to the weaknesses in the health system as the nurses focus more on gossiping than on caring for their charges.
The Ruffian on the Stair
Occasionally performed since it was first broadcast on the BBC Radio in 1964, this one act play about the working class is not one of Orton's best known works. Mike and Joyce - a Catholic thug and a Protestant ex-prostitute - live together in a poor bedsit in London who are terrorized by a young man desperate for a twisted form of revenge. The play contains references to incest, homosexuality and murderous acts.
Entertaining Mr Sloane
A black comedy about a siblings Kath and Ed who become involved with a good looking psychopath by the name of Mr Sloane, much to the annoyance of their father Kemp. This play opened on the West End in 1964, thanks to financial backing from dramatist Sir Terence Rattigan, it went on to a Broadway season in 1965 and we the play that made Orton's name known to the theatre world.
"What have you to offer? Your fat and the crows-feet under your eyes would make you an object of terror."
Loot
The Erpingham Camp
A 1966 farce originally written for television, it focuses on a group of revelers getting out of control at a summer camp. Originally inspired by Euripides' The Bacchae, it was intended to be an attack on organized religion and on the hypocrisy that Orton felt was all too prominent in his society.
"Erpingham is the best stage play of mine performed so far" Joe Orton
The Good and Faithful Servant
Finished in 1964 but not performed until 1967, this one act television play was inspired by scenes from Orton's youth in Leicester, focused on the soul-destroying life of a factory worker and was far more realistic than the wild comedies for which he had become famous.
Funeral Games
Orton's final television play, which was not performed until after his death, this play was written in 1966 as part of a series called The Seven Deadly Virtues. An outrageous comedy about a thug who suspects his wife of having an affair with a defrocked priest (and then convinces her to fake her death when he realizes she is innocent so that he can build his reputation as killer), it first broadcast in 1968 and attacked some of Orton's favourite targets including the church, hypocrisy and middle class morality.
What the Butler Saw
Orton's final play also premiered after his death, and is a slapstick comedy set in the surgery of psychiatrist Dr Prentice, who is interviewing candidates for the role of his secretary and must contend with the erotic desires, double dealings and government inspector.
"You were born with your legs apart. They'll send you to the grave in a Y shaped coffin."
Loot, Drama Theatre, Sydney Opera House, 16 September - 23 October, 2011.