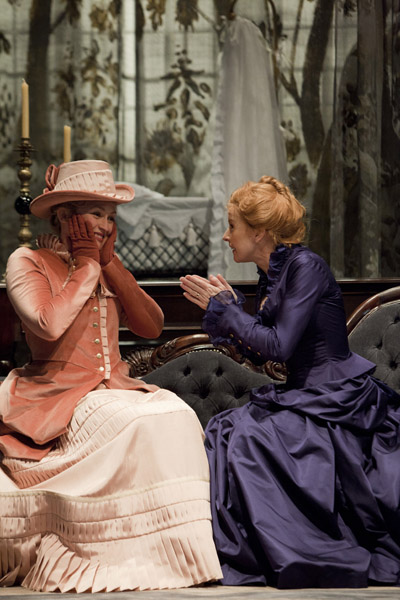 Pamela Rabe is trying out vibrators. Together with designer Tracy Grant Lord and Sydney Theatre Company head of props Alex Stuart, she is discussing the various knobs, attachments, switches and screws used for the Chattanooga vibrator, a rather large, awkward and medically invasive looking contraption from the turn of the century. In the actor's warm-up area Helen Thomson is chatting to Jacqueline McKenzie about how a Victorian Woman might sound when treated with such a contraption; how she may experience a "paroxysm".
Perhaps not your average discussion during a break in rehearsals but according to director Pamela Rabe such discussions have become "part of constructing the reality of Victorian America" for STC's production of Sarah Ruhl's Tony Award nominated play In the Next Room or the vibrator play. This charming, witty comedy, set in the late 1800s follows Catherine Givings, played by Jacqueline McKenzie, and her doctor husband (David Roberts). As Catherine struggles with her inability to breastfeed her child, Dr Givings is increasingly absorbed by his work - treating women (and the occasional man) for hysteria by way of a "massage device" that produces a "paroxysm".
Dr Givings: The congestion in your womb is causing your hysterical symptoms and if we can release some of that congestion and invite the juices downward, your health will be restored
When the lonely Catherine begins to befriend Mrs Daldry (Helen Thomson), one of her husband's patients, she become increasingly fascinated by the electrical-powered instruments and sounds coming from the next room.
Pamela was intrigued by In the Next Room or the vibrator play when she first heard about it opening in the United States. Intrigue soon led to fascination as she read her way through the script. "I knew that it had attracted a lot of attention and garnered several award nods, like being short listed for the Pulitzer Prize and nominated for Tony Awards but I didn't expect to be as drawn to the play as I was," says Pamela. "I love the period in which it's set, the cusp of the Modern World - the time of Ibsen, Chekhov and Shaw - and was fascinated by the subject matter, the treatment of patients with electrically-powered vibrators, in that unexpected context. It first appealed on that basis alone, as an historical eye-opener."
However, it was one small stage direction written by Ruhl that captured Pamela and excited her director's instinct about a possible production. "Early on, there is a reference to the depiction of the first 'paroxysm' experienced by a patient on stage," explains Pamela. "Sarah gently nudges the actors to 'remember that these are the days before digital pornography. There is no cliche of how women are supposed to orgasm, no idea in their heads of how they are supposed to sound when they climax. [Her] first orgasm could be very quiet, organic, awkward, primal. Or very clinical. Or embarrassingly natural'.
"I was hooked. For me, 'embarrassingly natural' is as close a definition as I can think of for the state of sublime performances I have been touched by. And I don't mean 'naturalism'. I'm talking about the shocking intimacy that can be achieved between an audience and a performer when that connection is alive. Electric. I was tingling with excitement at the possibilities of the play in performance, and incredibly moved - to tears and laughter - by the beauty and joy and truth of the story she had created."
After In The Next Room or the vibrator play was programmed to kick off STC's 2011 season, Pamela set about casting, looking for actors that she describes as "special beasts". "I need actors with a strong sense of comedy - possessing the skills and craft to guide an audience through finely balanced material, as well as the courage and sensitivity to be emotionally truthful and brave in performance. They also needed to be very good with props!"
Being 'good' with props is an understatement. As last count during technical rehearsals there were over 100 props being handled by the cast, in addition to plentiful costume changes. Pamela says she is thrilled with her cast, which in addition to Jacqueline McKenzie, David Roberts and Helen Thomson also includes Marshall Napier, Josh McConville and Sara Zwangobani, and that they have discovered a beautiful tone of performance for this lyrical, yet very human story.
"It's a big, tender play", says Pamela "I love Sarah Ruhl's unabashed poeticism. And her cheek and wit in finding the poeticism in vibrators. It has a lovely light quality but the drama is so vital - domestic, yet emotionally urgent. I think it's this contrast, this painterly light and shade that will enchant audiences. "
Laura Scrivano
In the Next Room, or the vibrator play, Drama Theatre, Sydney Opera House, 7 February - 27 March, 2012.