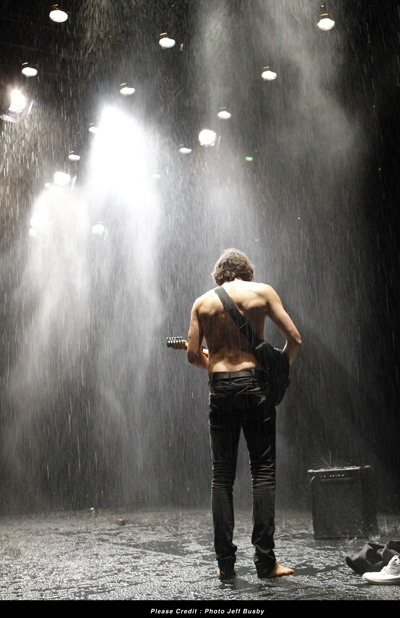 In 2011 Sydney Theatre Company will present two plays by the German poet, playwright and director Bertolt Brecht. As rehearsals begin in Melbourne, adaptor Tom Wright talks to Back Stage about the adaptation process and the generational and creative shift that is afoot in Australian Theatre.

How did this project with Simon Stone come about?

Baalis one of those plays that constantly comes up, and it feels like all directors want to do. It seems to be on everyone's wish list, and I think Simon had wanted to do it for some time. In fact, I had always wanted to adapt it as well. In 2004 I did a speculative translation of it, meaning that it was one that I subsequently had to get authorised, but it just sat there waiting for the right director to come along. When Simon was talking to Cate and Andrew two years ago he mentioned Baalas one of things he'd like to do and they put two and two together to make four.
As it turns out we haven't used the version I did seven years ago, we've prepared a new translation that we'll take into the room because of the way that Simon wants to rehearse it with the actors. He's assembled a particular cast for it, and he wants to draw upon the way in which they work collaboratively.


Baalis the first of two productions by Brecht in the 2011 Main Stage season, why this interest in Brecht and why these two plays?

Later this year the Art Gallery of NSW is presenting a survey of Weimar Era German Art in its Mad Squareexhibition. Our response as an artistic team here at STC was to think about providing two plays from one of the most famous of those Weimar-era theatre artists. So we programmed one Brecht from his high period (The Threepenny Opera) and one from his very beginnings (Baal) so they could act in a kind of dialogue with each other.

Baalis a curio. Even people who know a great deal about Brecht say it is an unusual play because it was written when he was so young. And it reads like it. It reads like it was written by a 20 year old boy. But A 20-year-old boy who has watched his country been pulled apart by the first world war. It has the sense of a young man's revulsion at the implications of civilisation and what it can lead to.

Another thing that is commonly commented on is that it's Brecht's only real pre-'political' play. He's too young to have a cohesive set of personal politics at that point; he knew what he was against, he knew how angry he was but he didn't know what he was looking for. It's Brecht on his way to finding politics, it's still a playwright working out his style, and yet there are things that are very recognisable from the later Brecht.

Most times when young playwrights write plays, or even when great playwrights write plays, their earlier plays are forgotten. But this one seems to have survived because there's a bravery to it. And the bravery lies in the fact that Brecht is prepared to write such a deeply misanthropic character, and to question intensely just what the role of the artist is. So, you can see the political artist at work but he's still too inexperienced to articulate it as a vision. As such, you do get a great deal of emotional energy, and it suits a young cast and young director really well.

Baalis Simon Stone's directorial debut for Sydney Theatre Company, what do you think he will bring to the production?

Simon has worked on Ibsen and Erdman through to mid-twentieth century plays and lesser-known European works in more recent years, and then there's also been his very celebrated production of Thyestes. No matter what text he uses, you always get the sense that his productions are fundamentally about what his actors do and their creative offerings.

Because of this, I'm anticipating Baalwill be a rich and highly energised and idiosyncratic reading of the early twentieth century. Simon also has a capacity to create visual images that arrest, accentuate and articulate the plays he chooses really well.

And you have to remember it's not just Simon making his STC debut, but all of the cast are making their debut too. Baalis an introduction to a new generation of artists. So what you will see with Baalis this way of working which is characteristic of (not invented by) this generation of theatre makers. Although it requires a strong directorial vision, the definition of strong directorial vision is knowing how to utilise your collaborators. Theatre might not change, there's nothing new under the sun, but the hierarchies... blur.

What do you think has brought about this change in the way of working?

There are many reasons why the way theatre is made is changing and Baalis a small part of this big (nebulous) movement. Australian theatre for the large part of the last 40 years has been pretty isolated and somewhat Anglophonically obsessed, trapped perhaps by the how the English speaking world does theatre; its models have tended to be the American and English models. The rise of international arts festivals, accessibility offered by technology and more and more people travelling through the world means that theatre practitioners like Simon don't necessarily look to London and New York for inspiration. Their influences might be more Italian or Swiss or Japanese or Polish, perhaps. In those theatre cultures the relationship between writer, director, actor and dramaturg is completely different and so new practises come through.

So if people are interested in watching the differing ways in a new generation works, I think Baalwill be really interesting.

We're really excited about this shift and about the younger artists coming through not only our company, but theatre companies around Australia. If you don't sow the seeds of how theatre practise is changing, then you're in grave danger of euthanising your art form.

Baal, Wharf 1 Theatre, 7 May - 11 June, 2012.