Alice Babidge graduated from NIDA's design course in 2004 and has been working with Sydney Theatre Company ever since.
Her passion for theatre and her skills in both set and costume design have seen her clock up a remarkable number of credits in her international career. From 2010-2012, Alice was STC's Resident Designer, responsible for several production designs, as well as the redesign of The Wharf's bar and the mentoring of young designers like David Fleischer and Renée Mulder.
Here, we've dug through the STC Archives to unearth some of the enduring theatrical images that Alice has helped create.
JULIUS CAESAR (2005)
Alice's first production with STC was William Shakespeare's Julius Caesar. Benedict Andrews' vision for the production mixed the Roman with the contemporary, with nods to the conflict in Iraq. Robert Cousins' set evoked the senate steps, while Alice's costumes traversed the millenia, from togas to suits. Below we see Anthony Weigh, Phoenix Waddell, Arthur Dignam, Robert Menzies, Charlie Garber, Ben Mendelsohn and Paula Arundell. (Photo: Tania Kelley)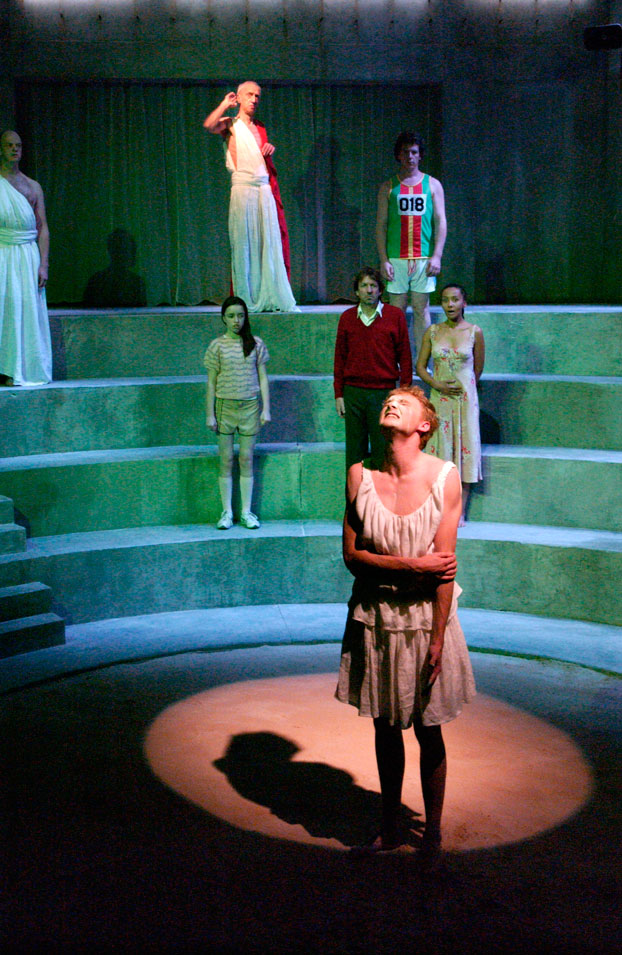 BOY GETS GIRL (2005)
Later in 2005, Alice again designed costumes, this time for the Robyn Nevin-directed Boy Gets Girl by American playwright Rebecca Gilman. Pictured is Miranda Otto. (Photo: Heidrun Löhr)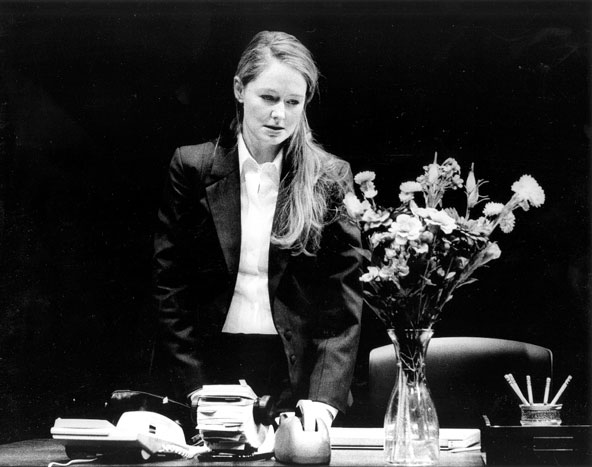 THE LOST ECHO (2006)
In 2006, Alice created the extraordinary costumes for Barrie Kosky's award-winning production The Lost Echo, which he co-wrote with Tom Wright, based on Ovid's Metamorphoses. Below are Amber McMahon and Deborah Mailman with the combined ensemble of the STC Actors Company and second-year students from NIDA. (Photo: Heidrun Löhr)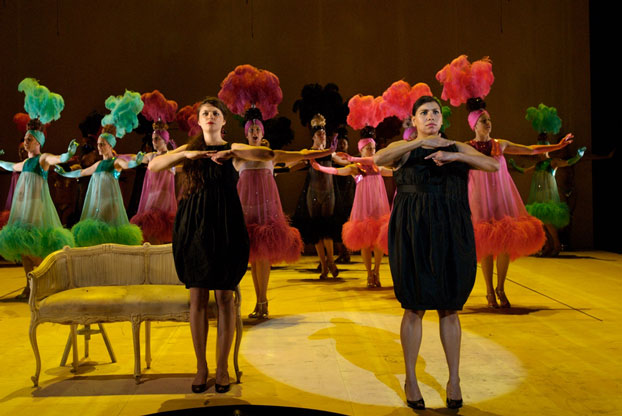 THE SEASON AT SARSAPARILLA (2007)
Alice worked with director Benedict Andrews again in 2007, designing the costumes for Patrick White's classic The Season at Sarsaparilla. Pictured are Emily Russell, Peter Carroll and Pamela Rabe. (Photo: Tania Kelley)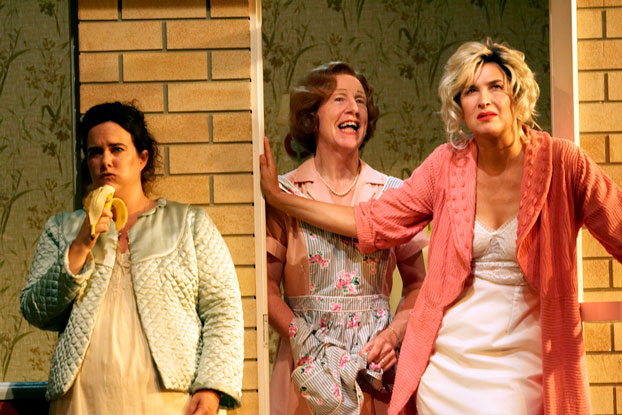 SELF ESTEEM (2007)
Also in 2007, Alice created the set and costumes for Brendan Cowell's Self Esteem, which appeared in Wharf 2 with a cast including Robin McLeavy, Betty Lucas, Tim Richards, Toby Schmitz, Russell Kiefel and Heather Mitchell. (Photo: Jimmy Pozarik)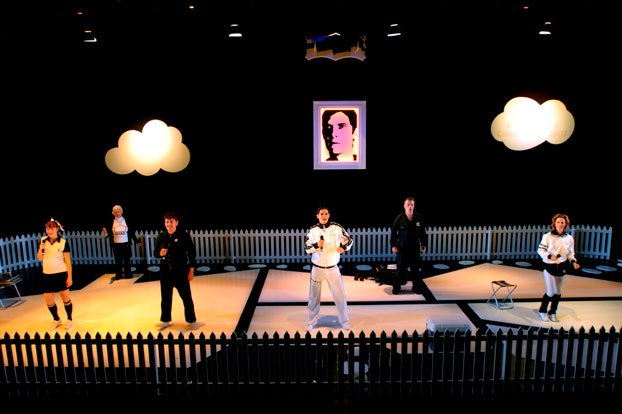 THE YEAR OF MAGICAL THINKING (2008)
In 2008, Alice designed the set for The Year of Magical Thinking – Joan Didion's text, performed solo by Robyn Nevin and directed by Cate Blanchett. The production, which premiered in Wharf 1 Theatre, would go on to tour several other cities, including Canberra, Melbourne, Hobart and Brisbane. (Photo: Heidrun Löhr)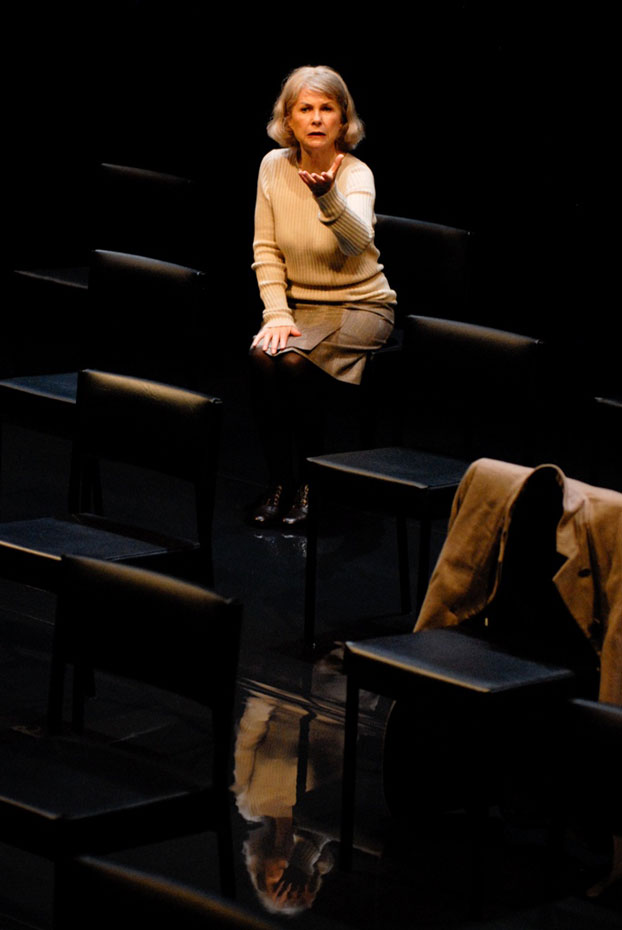 THE WOMEN OF TROY (2008)
Later that year, Alice worked again with Barrie Kosky on The Women of Troy, designing both set and costumes. Based on the Euripides, the production won Best Production at the Sydney Theatre Awards and Robyn Nevin's performance of Hecuba also won her a Best Actress gong at the Helpmann Awards. In this photo, we see actors Jennifer Vuletic, Queenie van de Zandt, Natalie Gamsu and Nevin. (Photo: Tracey Schramm)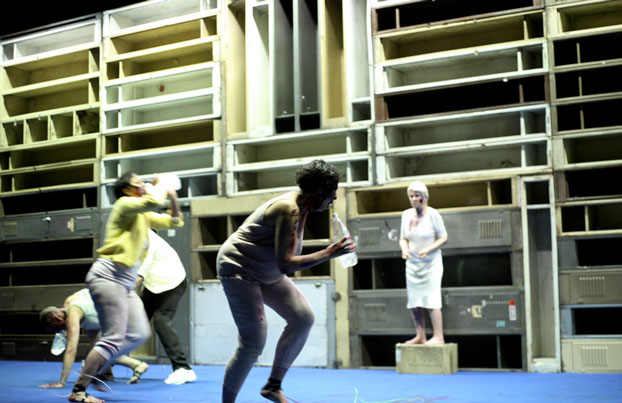 THE WAR OF THE ROSES (2009)
Alice next designed costumes for the epic 8-hour Shakespeare cycle The War of the Roses. Directed by Benedict Andrews, the production rehearsed for three months before premiering in Sydney Theatre and then touring to the Perth Festival. Marta Dusseldorp, pictured below, won a 2009 Helpmann Award for her performance as Margaret of Anjou. (Photo: Tania Kelley)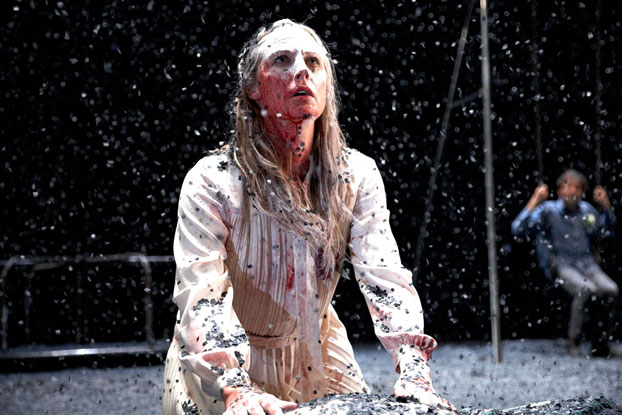 THE WONDERFUL WORLD OF DISSOCIA (2009)
Also in 2009, Alice designed the set for Anthony Neilson's magically surreal The Wonderful World of Dissocia, starring Justine Clarke. (Photo: Brett Boardman)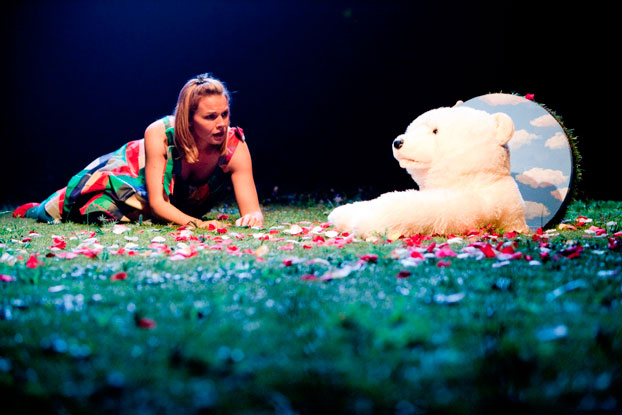 THE MYSTERIES: GENESIS (2009)
Alice's third show for 2009 was The Mysteries: Genesis, in which her design radically rethought the Wharf 2 space, with cast and audience roaming the space together. (Photo: Brett Boardman)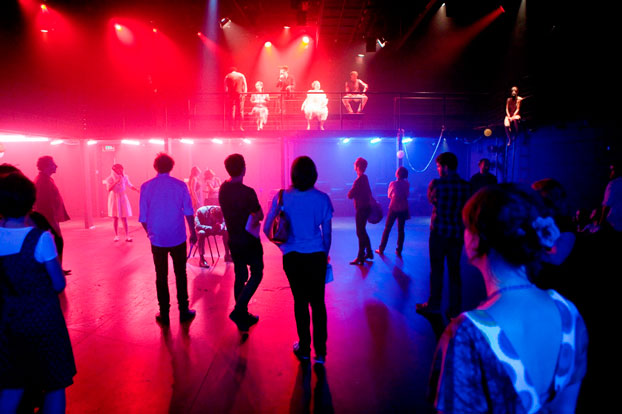 ORESTEIA (2010)
In 2010, Alice again worked on three STC productions, including designing the costumes for Louise Fox's adaptation of Franz Kafka's The Trial (a co-production with Malthouse Theatre and ThinIce). But the first of Alice's designs for that year was the set and costumes for Oresteia in Wharf 1 Theatre. Adapted and directed by Tom Wright from the Aeschylus, it featured the STC Residents, pictured below are Sophie Ross, Cameron Goodall, Richard Pyros, Brett Stiller, Zindzi Okenyo, Tahki Saul, Alice Ansara, Ursula Mills and Julia Ohannessian. (Photo: Brett Boardman)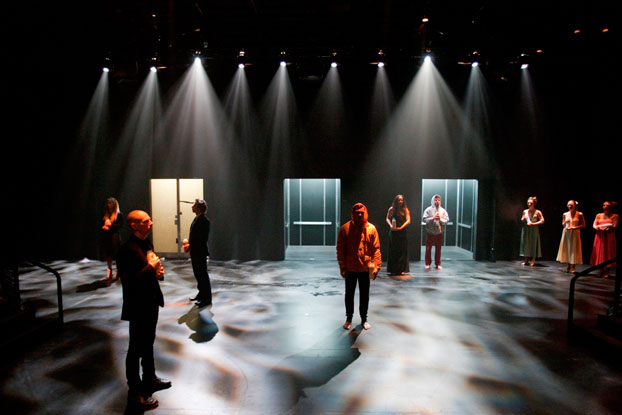 TRUE WEST (2010)
Alice also designed the costumes for True West. Sam Shepard's play was directed by Philip Seymour Hoffman and featured Brendan Cowell (below) as one of the two brothers at the heart of the story. (Photo: Brett Boardman)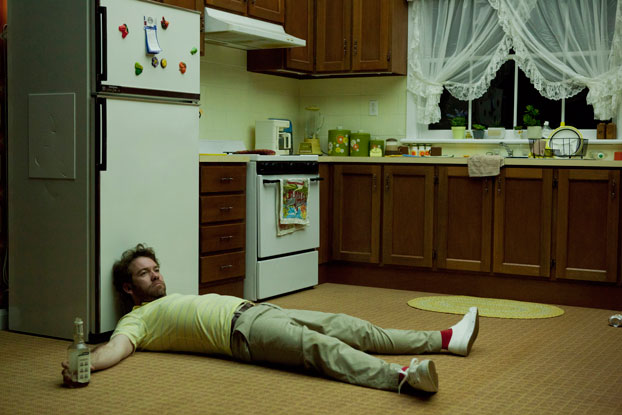 THE WHITE GUARD (2011)
In 2011, Alice had another hat-trick of STC design credits. To begin, she designed both the set and the costumes for The White Guard, directed by Andrew Upton. Here, John Leary and Patrick Brammall chat in a chilly Russian hall. (Photo: Lisa Tomasetti)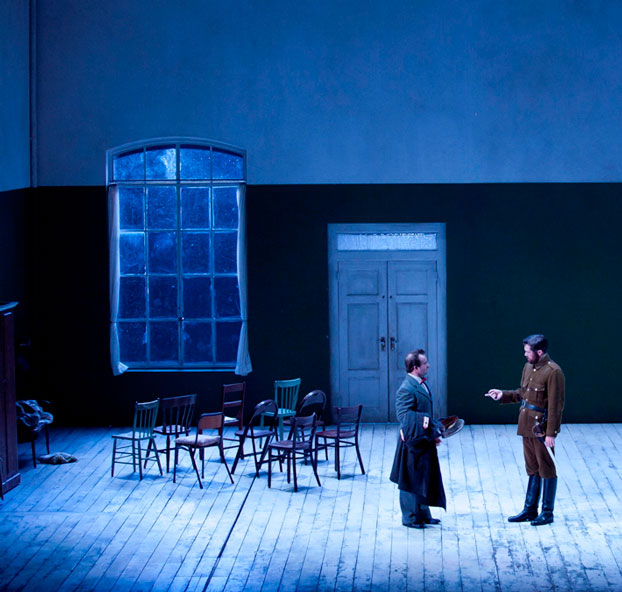 MONEY SHOTS (2011)
The next show was Money Shots, directed by Sarah Giles, for which Alice designed the set and costumes. Tahki Saul and Zindzi Okenyo copped some sweet wigs. (Photo: Brett Boardman)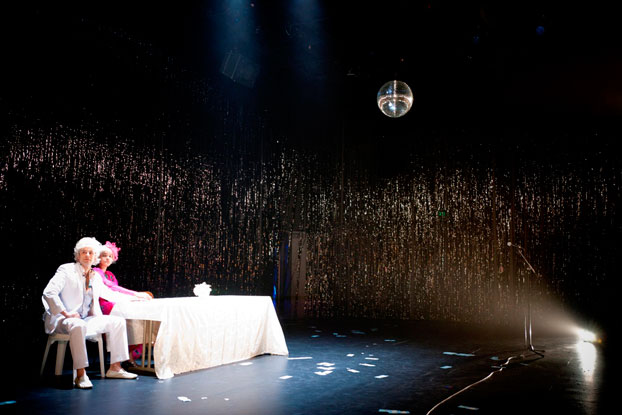 GROSS UND KLEIN (2011)
To cap off a big year, Alice designed the costumes for Gross und Klein (Big and Small). The production toured from Sydney to Europe in 2012 and also won Alice a Sydney Theatre Award for Best Costume Design. Pictured here are Richard Piper, Cate Blanchett and Sophie Ross. (Photo: Lisa Tomasetti)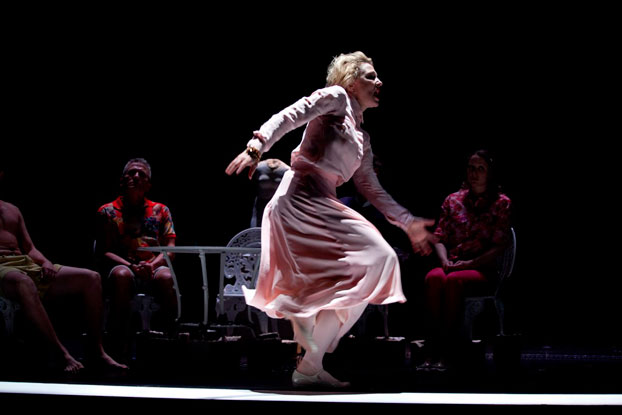 UNDER MILK WOOD (2012)
In 2012, Alice created the original costume designs for Dylan Thomas' Under Milk Wood, directed by Kip Williams. Pictured are: (front) Alan John, Cameron Goodall, Drew Forsythe and Ky Baldwin; (back) Sandy Gore and Jack Thompson. (Photo: Heidrun Löhr)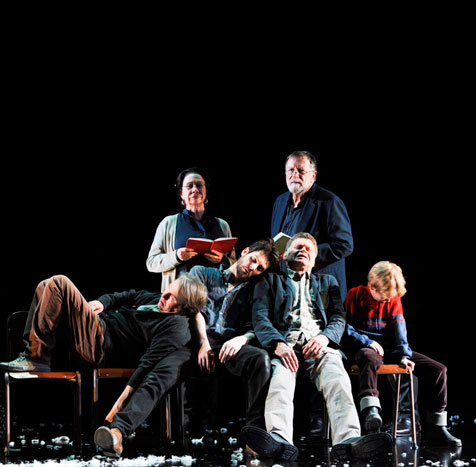 FACE TO FACE (2012)
Alice also designed the costumes for Ingmar Bergman's pyschodrama Face to Face, directed by Simon Stone. (Photo: Brett Boardman)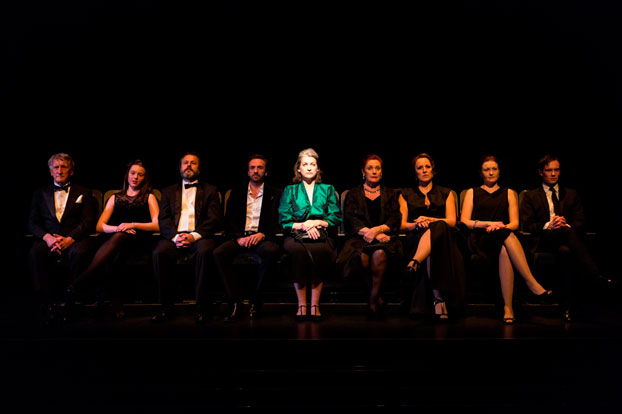 THE MAIDS (2013)
In 2013, Alice worked again with frequent collaborator Benedict Andrews on Jean Genet's The Maids. Designing both set and costumes, Alice gave Cate Blanchett and Isabelle Huppert plenty to play with. (Photo: Lisa Tomasetti)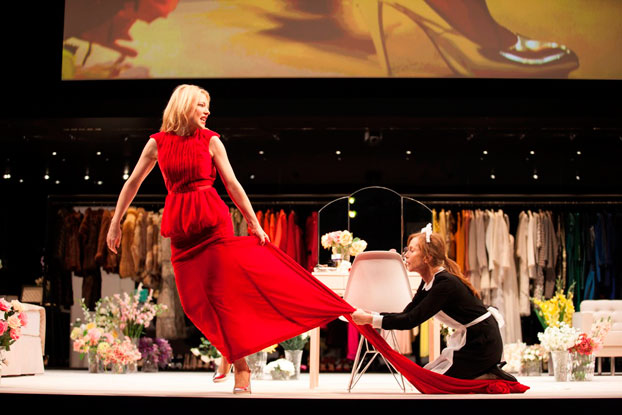 WAITING FOR GODOT (2013)
Alice returned later in 2013 to design the well-worn costumes of Samuel Beckett's Waiting for Godot. Here, Hugo Weaving and Richard Roxburgh try to keep Luke Mullins on his feet, with Phillip Quast offering support. The production toured to London's Barbican Centre as part of its International Beckett Season in 2015. (Photo: Lisa Tomasetti)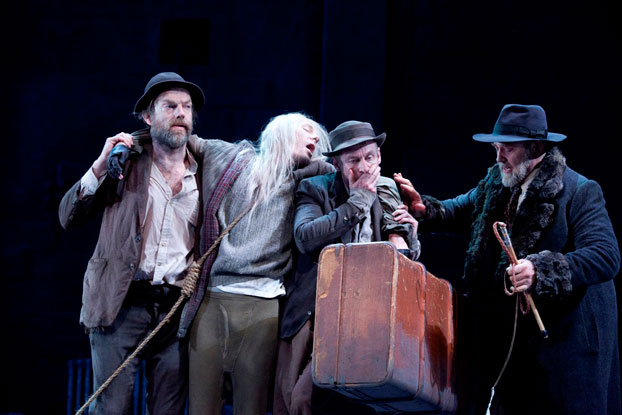 MACBETH (2014)
In 2014, Alice designed both the set and the costumes in Shakespeare's Macbeth, directed by Kip Williams. Here, Hugo Weaving is attended by the witches (Kate Box, Robert Menzies and Ivan Donato) while Melita Jurisic gets messy on the table. (Photo: Brett Boardman)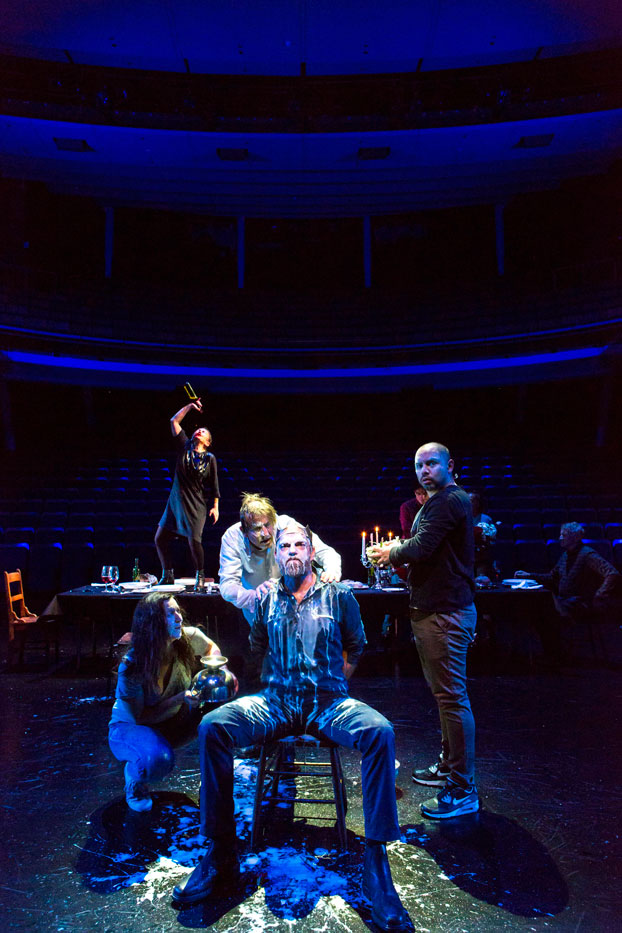 CYRANO DE BERGERAC (2014)
Later that same year, she created the romantic scenery for Cyrano de Bergerac, directed by Andrew Upton, with Eryn Jean Norvill as Roxane. (Photo: Brett Boardman)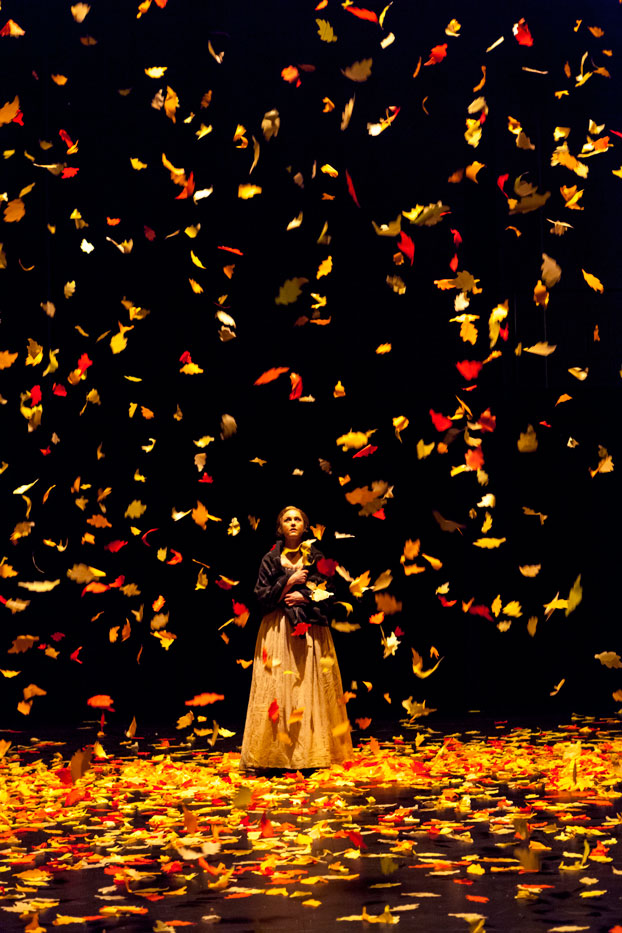 SUDDENLY LAST SUMMER (2015)
In STC's 2015 season, Alice is designing three productions. First was Suddenly Last Summer by Tennessee Williams, directed by Kip Williams, in which video played a vital role. (Photo: Brett Boardman)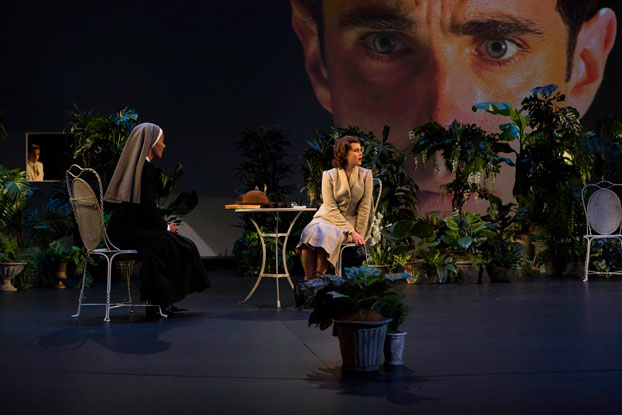 THE PRESENT (2015)
Next up was her design for The Present, which featured four distinct white sets that evoked the Russian dacha, along with costumes that channelled 90s-era Russia. Adapted from Chekhov's untitled first play by Andrew Upton and directed by John Crowley, The Present featured a large ensemble cast including Cate Blanchett and Richard Roxburgh. (Photos: Lisa Tomasetti)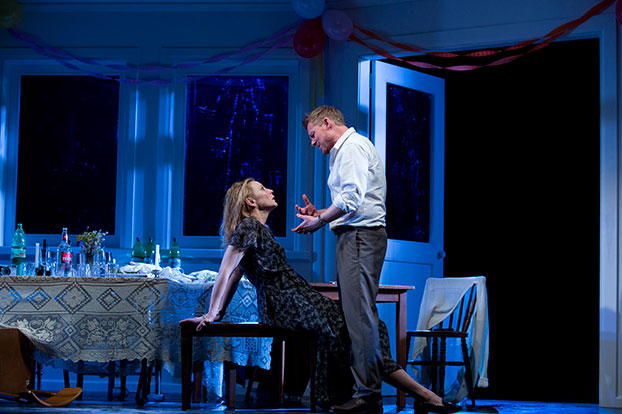 KING LEAR (2015)
In her third STC show of 2015, Alice designed the costumes for King Lear, directed by Neil Armfield. Here, Colin Moody and Helen Thomson watch on as Geoffrey Rush's Lear divides his kingdom. (Photo: Heidrun Löhr)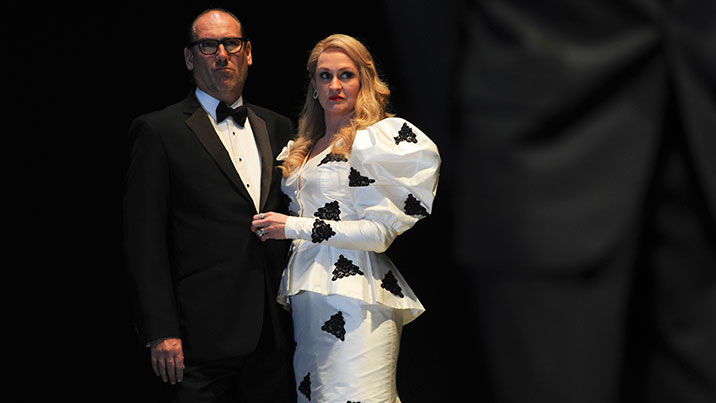 ALL MY SONS (2016)
In 2016, Alice designed the set and costumes for Arthur Miller's All My Sons, directed by Kip Williams. The set featured an all-black silhouette of a suburban house that slowly moved backwards through the course of the play, opening up the playing space for the actors. (Photos: Zan Wimberley)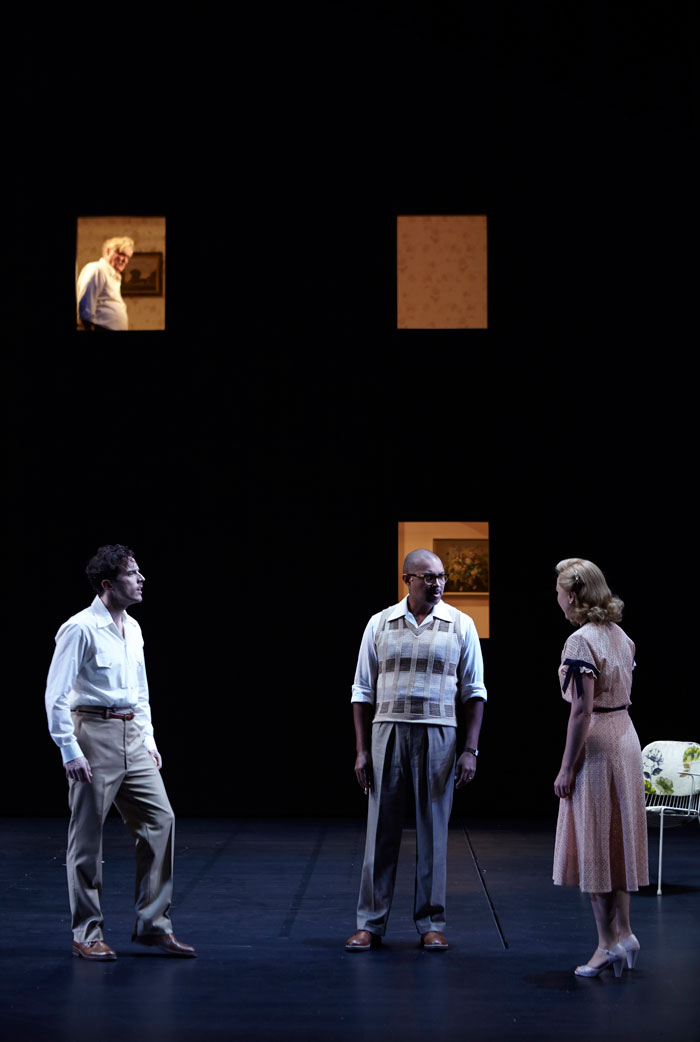 A MIDSUMMER NIGHT'S DREAM (2016)
Also in 2016, Alice designed the costumes for Kip Williams' daring take on A Midsummer Night's Dream, a combination of glitz, gore and truly outlandish garb. (Photos: Brett Boardman)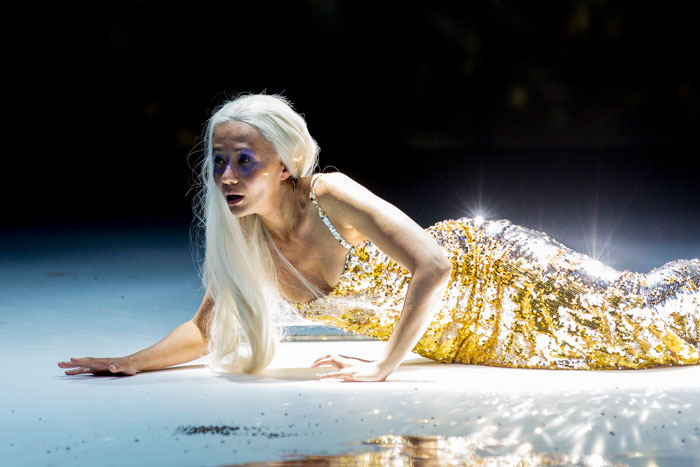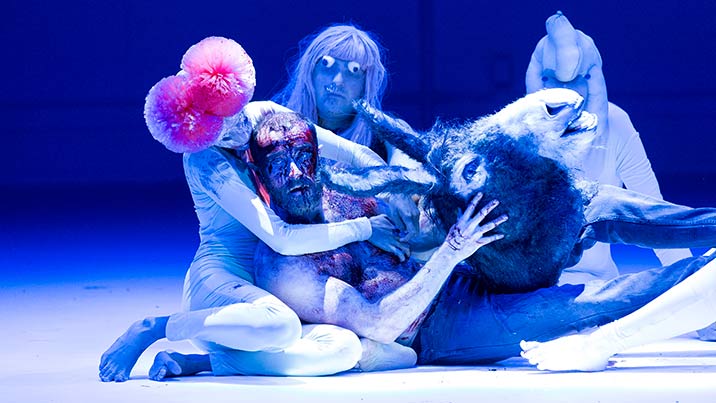 THREE SISTERS (2017)
Alice's most recent design was for ex-Artistic Director Andrew Upton's adaptation of a Chekhov classic, directed by current AD Kip Williams. An austere affair, the set featured carefully chosen centre-pieces starkly contrasted against a black background. (Photos: Brett Boardman)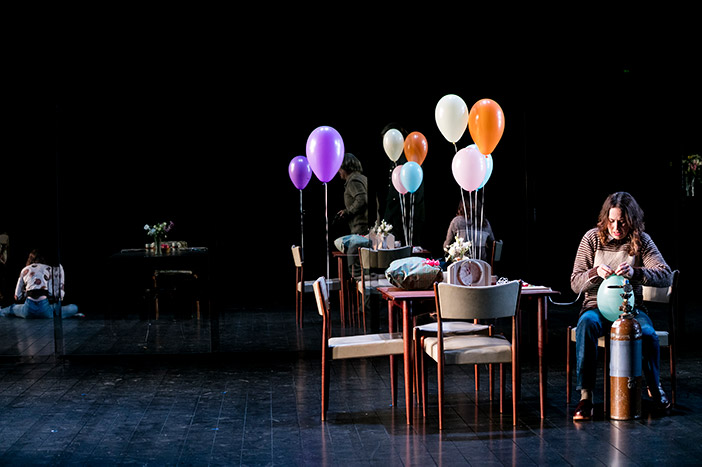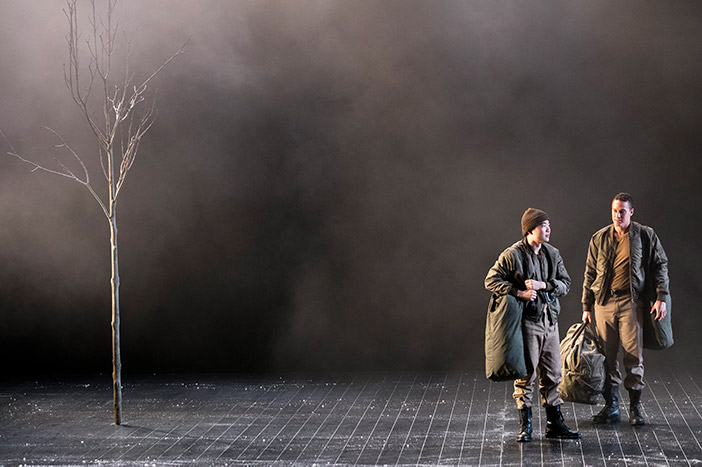 A Cheery Soul, 5 Nov – 15 Dec 2018, Drama Theatre, Sydney Opera House
Seeing the show? Let us know your thoughts. Tag @sydneytheatreco and #sydneytheatreco