We're thrilled to have John Howard back at the Wharf in 2016. Through the 1980s and '90s, he was one of the company's finest leading men and he now returns to play one of playwright Arthur Miller's great characters in All My Sons, directed by Kip Williams.
Andrew Upton, who programmed All My Sons, recalls John's performance in another Arthur Miller classic – The Crucible (1991). John played John Proctor and it was an extraordinary performance to behold:
"It was like chemistry, an actor and writer just made for each other. As though John has Miller in his bones. There's something about his classic stature and his earthiness that suits Miller; he's both epic and domestic."
Here, we dig through our archive of production photos to look back at John's formidable array of performances for STC – both epic and domestic.
THE CHERRY ORCHARD (1983)
John's first mainstage role with STC was as the up-and-coming Lopakhin in Anton Chekhov's The Cherry Orchard. Rodney Fisher directed the production, which he also translated with George Shevtsov (who played the bumbling Yepikhodov). In the photo below, John is joined by Jane Harders as Ranyevskaya and Simon Chilvers as Gayev. (Photo: Dennis del Favero)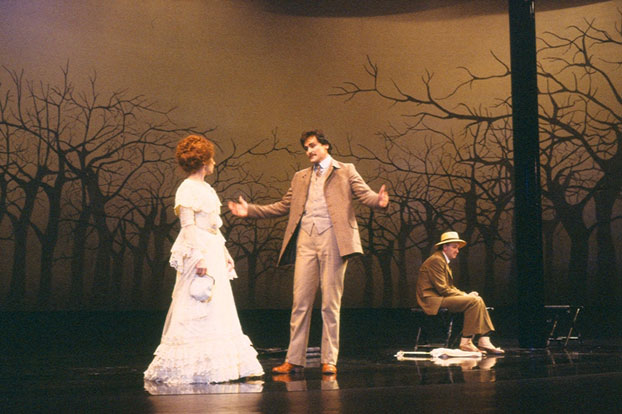 THE LIFE AND ADVENTURES OF NICHOLAS NICKLEBY (1983-85)
This was a massive production that adapted Charles Dickens' literary classic with a cast of 36 actors playing the dozens of roles. John appeared in the title role of Nicholas Nickleby, pictured below alongside Tony Taylor as his friend Smike. Remembering the production a few years later, John related this anecdote of a lighthearted backstage prank...
"To play a tragic character without turning into a manic depressive, an actor needs a sense of humour. I'll call this example 'The Desired Response'. Having found happiness at long last, poor beloved Smike (Tony Taylor) lies in the arms of his friend Nicholas. 'I'm… going… home,' he whispers as he breathes his last. Overcome with grief, Nicholas picks up his little friend's frail body and carries it off into the shadows. The audience sniffle and weep, which is, of course, the desired response.
Sometimes, however, I'm ashamed to say that some unruly sections of the audience (probably in the pay of, or related to Tony Taylor), would completely lose their heads and applaud this tragic exit. This would make poor dead Smike's body giggle because it knew what would happen next. As soon as we were offstage, I'd carry Tony, running past the beloved costume racks and the beloved props table and the beloved stage crew, to the beloved fire door where I'd dump poor beloved Smike's frail little body in the beloved rubbish bin. And there he'd sit all arms and legs like some sort of Dickensian Magic Pudding, giggling his head off. Which was, of course, the desired response … or perhaps it was more of a 'tragic waste'!"
(Photo: Branco Gaica)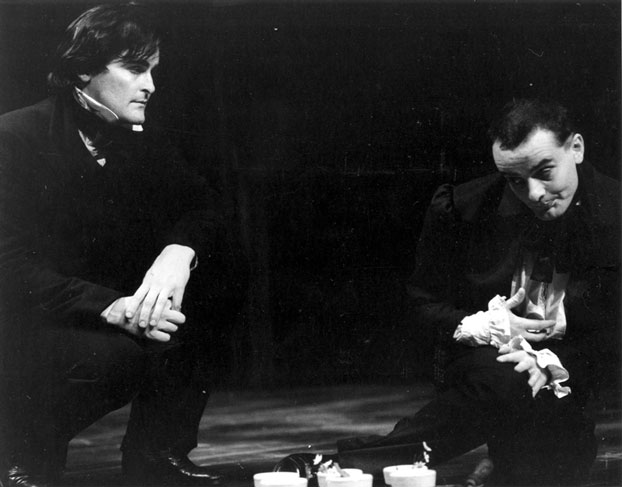 MEASURE FOR MEASURE (1986)
John returned in 1986 as Lucio in Shakespeare's Measure for Measure directed by Nick Enright. In this photo he seems locked in conversation (or is it embrace?) with Benjamin Franklin as Pompey. (Photo: Stuart Campbell)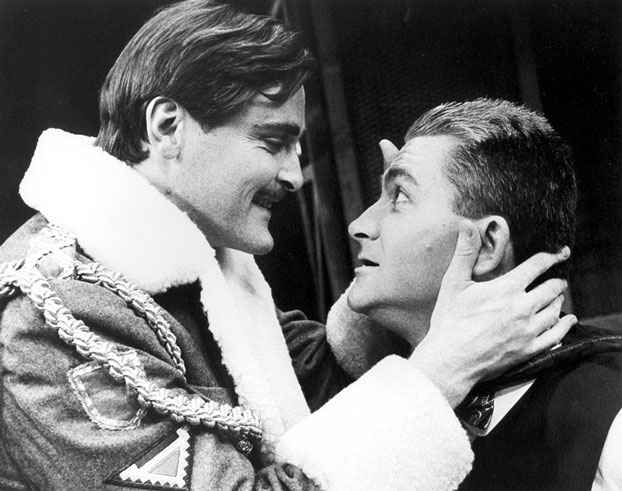 THE PHILADELPHIA STORY (1986)
That same year, John appeared as reporter Mike Connor opposite Victoria Longley as society scion Tracy Lord in The Philadelphia Story, directed by Robyn Nevin. (Photo: Branco Gaica)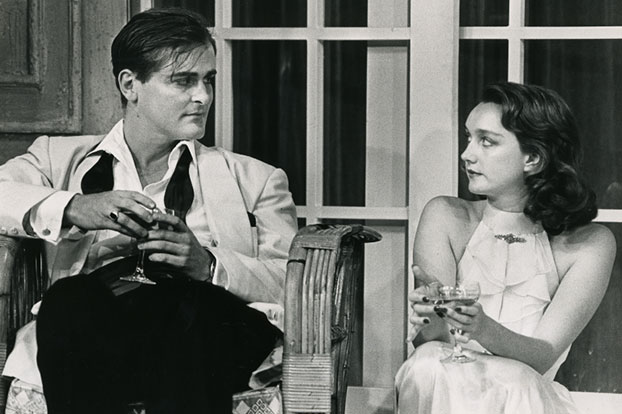 THE RIVERS OF CHINA (1987)
This play, by Alma de Groen, started life at the Australian National Playwrights' Conference in 1986 before being picked up by STC; it went on to win a NSW Premier's Literary Award. John is pictured here alongside Marcus Graham. (Photo: Hugh Hamilton)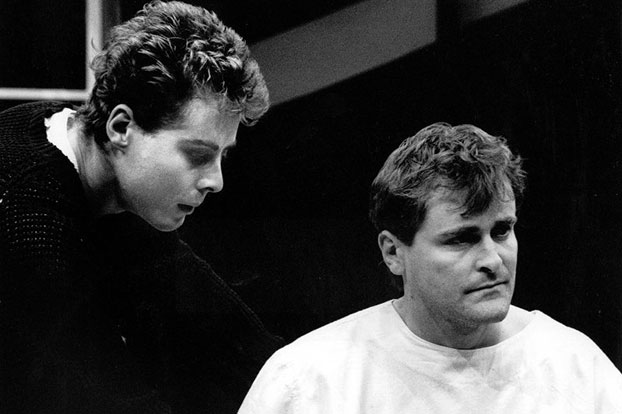 MUCH ADO ABOUT NOTHING (1992)
In Shakespeare's comedy, directed by Wayne Harrison, John played Benedick in some dashingly slashed sleeves from costume designer Angus Strathie. (Photo: Robert McFarlane)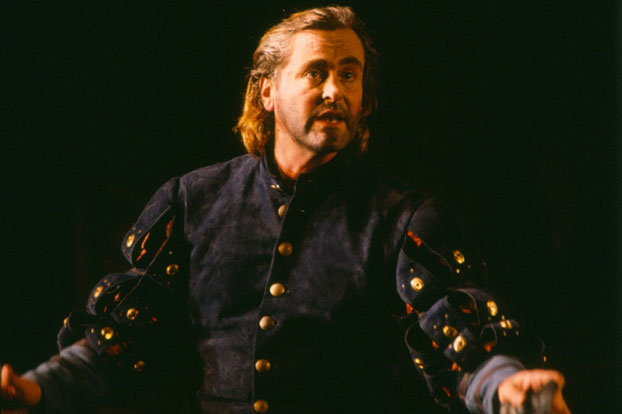 THE CRUCIBLE (1991-93)
After an initial season in 1991, this celebrated production of The Crucible returned in '92 and then toured in '93, giving plenty of people a chance to witness the glorious chemistry that Andrew Upton remembers so well. In the photo below, John holds onto Jennifer Flowers as Elizabeth Proctor. (Photo: Robert McFarlane)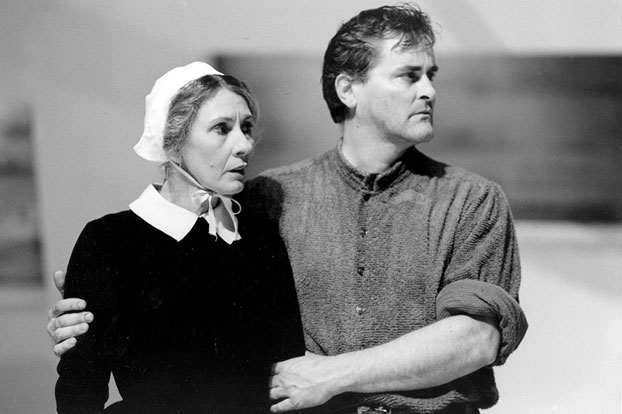 CORIOLANUS (1993)
In 1993, together with Heather Mitchell, John appeared in Coriolanus, which Rosemary Neill in The Australian described as "So brilliantly conceived and executed it should stand as a benchmark to which all Shakespearean productions in this country should aspire for years to come." (Photo: Robert McFarlane)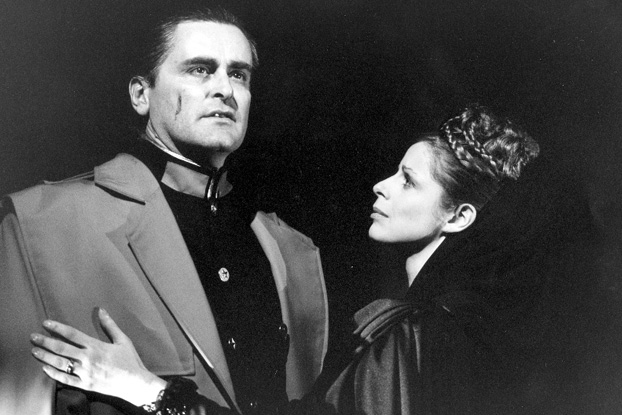 THE SHEARSTON SHIFT (1994)
Aside from his acting roles, John has also worked with STC as director of the Australian People's Theatre (APT) in the early 1990s. The APT was a special STC project designed to emphasise the culturally diverse nature of Australian society and language and engage directly with communities around NSW. It aimed to continue the age-old storytelling tradition of drama, using an ensemble of fourteen performers (seven female, seven male), two writers and two composers, of various cultural backgrounds. Its first production, The Loaded Ute, was based on the Sanskrit classic The Little Clay Cart. After a brief season at STC's Wharf, the production travelled to Orange, Nyngan, Cobar, Bourke, Brewarrina, Walgett, Warren and Coonamble. As well as performances, APT conducted workshops and classes in which members of local communities were able to participate and interact with the cast members on topics ranging from "Theatre Games and Self Confidence" and "Black Performing Arts in Australia" to "Blues Guitar" and "Astrophysics".
Along with directing the Australian People's Theatre, John also appeared in its production of The Shearston Shift by Garry Maddox. Set in Western Sydney, the play was about the community around a local gearbox factory, with John playing union organiser 'Tiger' McManus. The production premiered at Casula Powerhouse before touring Sydney's outer suburbs and Far North West NSW. Pictured here with John is actor Lisa Stone. (Photo: Tracey Schramm)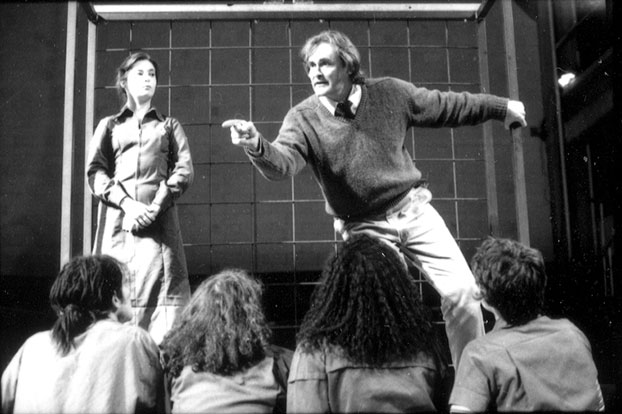 DEAD WHITE MALES (1995)
In David Williamson's play, directed by Wayne Harrison, John played Grant Swain, a professor of literature with a penchant for mixing leather jackets and bare feet. He also has a penchant for his star student, Angela Judd (played by Michelle Doake, in purple). Also pictured is Kelly Butler as another of Swain's students, Melissa. (Photo: Tracey Schramm)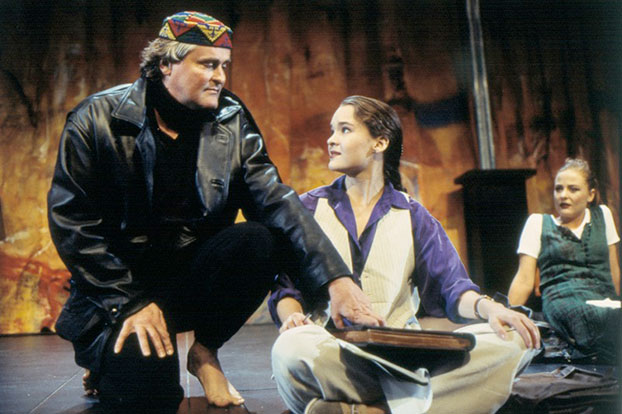 THE INCORRUPTIBLE (1996)
Pictured below together with John are Denis Moore, Terry Kenwrick and Rachel Szalay. Written by Louis Nowra and directed by Aubrey Mellor, the play foused on one politician's crusade for power. (Photo: George Serras)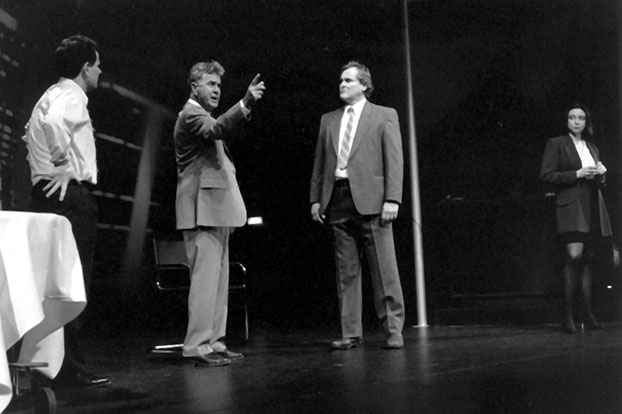 THE LIFE OF GALILEO (1996)
John had the title role in this play by Bertolt Brecht, adapted by Davd Hare. Staged in the Sydney Opera House's Drama Theatre, Michael Scott-Mitchell's set design echoed the celestial spheres' intricate orbits. (Photo: Tracey Schramm)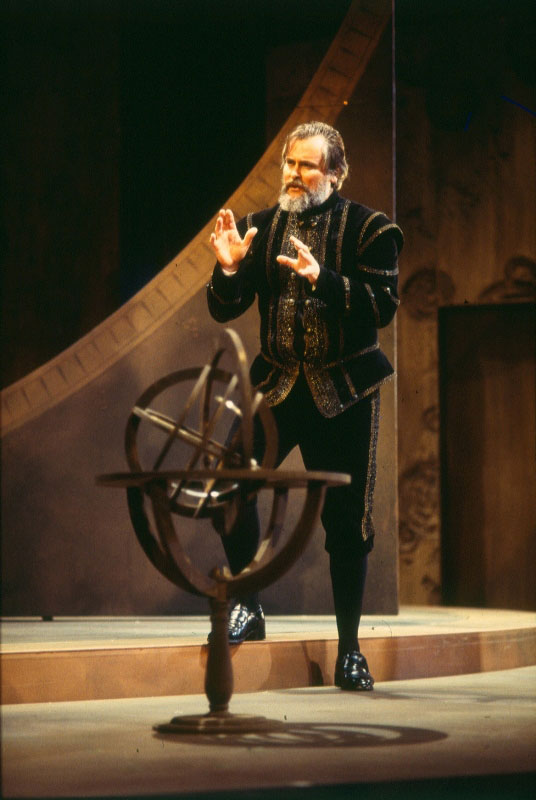 MONGRELS (1997)
In this image, Tony Sheldon and John's characters – two sparring Australian playwrights in the 1970s – come to grips in Nick Enright's play Mongrels. (Photo: Tracey Schramm)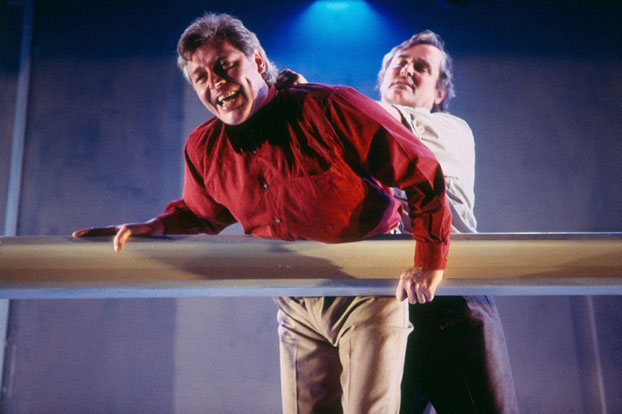 THE RECRUIT (2000)
In The Recruit, a play by Australian writer Tony McNamara, John played sports agent Josher, pictured below alongside Leeanna Walsman as Niki. Though John would go on to appear in a couple of informal performances at STC in 2002 (as part of celebrations honouring Richard Wherrett and David Williamson respectively), this was his most recent production with STC before 2016's All My Sons. Coincidentally, The Recruit was directed by Robyn Nevin, who will also be appearing in All My Sons. (Photo: Tracey Schramm)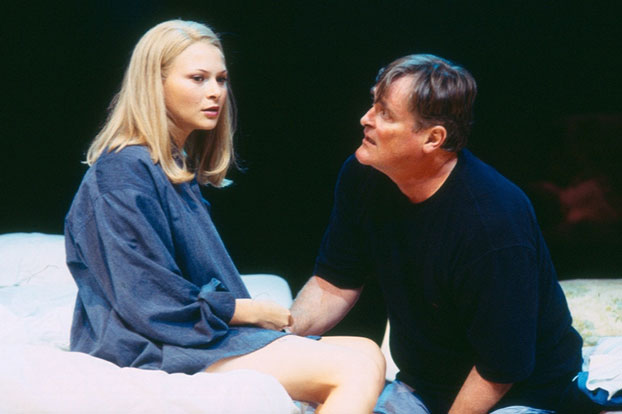 All My Sons, 4 Jun – 9 Jul 2016, Roslyn Packer Theatre