As an STC Patrick White Playwrights' Fellow, Angela Betzien spent a year in residency with the company. The Hanging, her first play to be staged here at STC, is the culmination of that time. We sat down with her to find out more…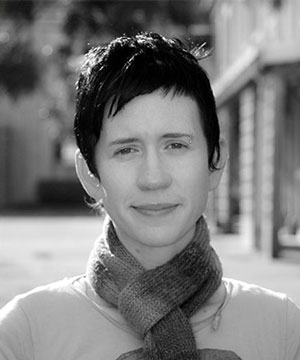 What led you into a career as a writer and why for theatre?
As a teenager, my love of literature incited my imagination and offered an escape from the landscape where I grew up. I was happier roaming the moors of England than the scrubby arid bush around my house in regional Queensland.
Later, I came to love Australian literature with even more fervour. My exposure to great Australian film and television was the real inspiration behind my desire to become a writer and the television series Brides of Christ and the film Muriel's Wedding were real epiphanies for me. My first encounters with theatre came later, but I fell in love with the idea of writing for the theatre because it is an invitation to the audience to fill the dark spaces with their own imaginations.
Where did the inspiration for The Hanging come from?
The initial idea for the The Hanging emerged from a number of conversations I had with STC's Literary Manager Polly Rowe, while I was at STC as the Patrick White Fellow. We discussed, at great length, the role of genre in the theatre and, in particular, the tropes of crime and detective genres.
For a number of years, I have been working on a cycle of crime plays including The Dark Room (Belvoir, 2011) Tall Man (La Mama, 2012) and Mortido (STCSA/Belvoir, 2015). I see the crime genre as a political form, an opportunity to critique social and economic systems in a thrilling and entertaining way. A key part of my research for The Hanging was Mary Pipher's seminal book Reviving Ophelia, which explores the psychology of adolescent girls. And a quote by French philosopher Denis Diderot also planted a potent seed. In a letter to his young mistress, Sophie Volland, Diderot wrote, "You all die at 15." I seized upon the idea that for many young women, 14 is an age of dangerous transformation.
How does this play sit within your broader body of work?
After writing a big play about the global cocaine trade for Belvoir in 2015 (Mortido), I wanted to write something intimate and claustrophobic. I settled on a three-hander in a single time and space. In many ways, The Hanging is an excavation of ideas and images I have been playing with for many years. In particular, the motif of the lost child, which is so prevalent in Australian art and literature. Through The Hanging I wanted to interrogate our somewhat morbid obsession with this idea.
On the surface, The Hanging is a thriller. What questions, for you, lie beneath?
The psychological thriller or detective genre is simply a frame on which I have chosen to hang a number of ideas and questions.
I am interested in interrogating the nature of our obsession with young, lost, beautiful, dead girls.
I am also interested in the nature and philosophy of teaching. When we are young and impressionable, the relationships we have with our teachers can be incredibly powerful, formative experiences. My teachers certainly shaped my desire to be a writer. When writing The Hanging, I became very interested in Socrates' theories on pedagogy and Plato's theories regarding platonic desire. Interestingly, Plato was Socrates' prized student and Socrates was condemned to death for corrupting the city's youth. He was forced to commit suicide by swallowing poison.

This is an excerpt from a longer interview with Angela that is part of The Hanging program, which also features:
notes from Artistic Director Andrew Upton and director Sarah Goodes
an interview with designer Elizabeth Gadsby
biographies and photos of the cast and crew
photos from the rehearsal room
and much more!
Pick one up at the theatre for only $10
The Hanging, 28 Jul – 10 Sep 2016, Wharf 1 Theatre
Seeing the show? Let us know your thoughts. Tag @sydneytheatreco and #STCHanging