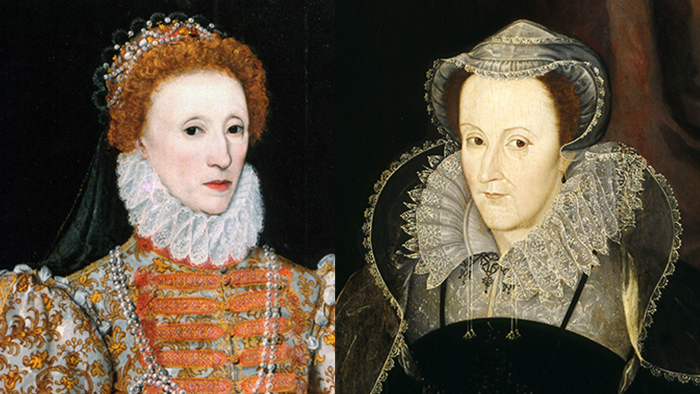 Queen Elizabeth I and Mary Stuart Queen of Scots – contemporaries, cousins, yet wildly different queens – are two of the most analysed women in history. With good reason. The dramatic events of their lives are as fascinating as their ambiguous and complex psychology; understanding what led each woman to make the decisions she did, and the ramifications of those decisions on their own lives, and the lives of so many after them, has preoccupied historians for decades, if not centuries.
Whether you're in it for the analysis or the action, the dynamic lives of these two historical figures have inspired a wealth of literature, audio and fictional film that is perfect to tuck into over summer break in the lead up to opening night of Kate Mulvany's unique new adaptation of Friedrich Schiller's Mary Stuart.
READ
Elizabeth I and Mary Stuart: The Perils of Marriage, by Anka Muhlstien
A detailed and engaging double biography, focusing on the two women's very different approaches to, "the vital dynastic question of marriage, that ultimately served to shape their destinies and historical reputations".
Mary Queen of Scots, by Antonia Fraser
Published in 1969, this landmark biography by Nobel Laureate Antonia Fraser was one of the best-selling books of the post-war period. Look out for Chapter 26 "The Dolorous Stroke", which is as gripping as it is graphic.
The True Life of Mary Stuart, by John Guy
Accessible in its colloquial style, Guy is sympathetic to Mary without falling to bias. A thorough investigation of key evidence, including the infamous Casket Letters implicating Mary in Lord Darnley's murder, long suspected to have been forged.
Elizabeth & Mary: Cousins, Rivals, Queens, by Jane Dunn
Dunn presents a balanced and nuanced account which humanises and demythologises these two extraordinary women.
Elizabeth and Mary Stuart and The Fall of Mary Stuart, by Frank A Mumby
Published in the 1920s and now out of print, copies of these two volumes can still be found online and in libraries, and are, for those enthusiastic enough to hunt them down, very rewarding. They tell the well-known tale in primary resources, using original letters exchanged between the two queens, letters from Elizabeth and Mary to other courtiers, and letters written by their contemporaries about the two queens.
Mary Stuart's original poetry
Mary was a keen poet. Her verse, always written in French, was emotive and often melancholy, and makes for very interesting reading.
LISTEN
Mary Queen of Scots: The Final 24 Hours, by Marcella Mayfair [audiobook, read by Jo Ashe]
A dramatic and accessible final countdown to Mary's execution, which delves into the keyholes and consciences of everyone in the court.
Mary Queen of Scots: A Life From Beginning to End, by Hourly History [on Audible History, read by Barry Shannon]
A helpful short biography for those wanting an excellent overview.
Elizabeth I, by Abigail Archer [audiobook, read by Sarah Nichols]
A fascinating attempt at understanding Elizabeth's psychological complexity.
The music of William Byrd
Transport yourself to Elizabethan Court with beautiful works by Queen Elizabeth's favourite composer.
WATCH
Though riddled with historical inaccuracies, these two feature films and one TV mini-series are nonethless highly entertaining, and feature standout performances from their leading ladies.
Elizabeth [1998], directed by Shekhar Kapur, starring Cate Blanchett
Elizabeth I [2005], directed by Tom Hooper, starring Helen Mirren
Mary Queen of Scots [2018], directed by Josie Rourke, starring Saoirse Ronan and Margot Robbie (released in Australia mid-January)
Mary Stuart, 5 Feb – 2 Mar 2019, Rosyln Packer Theatre
Seeing the show? Let us know your thoughts. Tag @sydneytheatreco and #sydneytheatreco