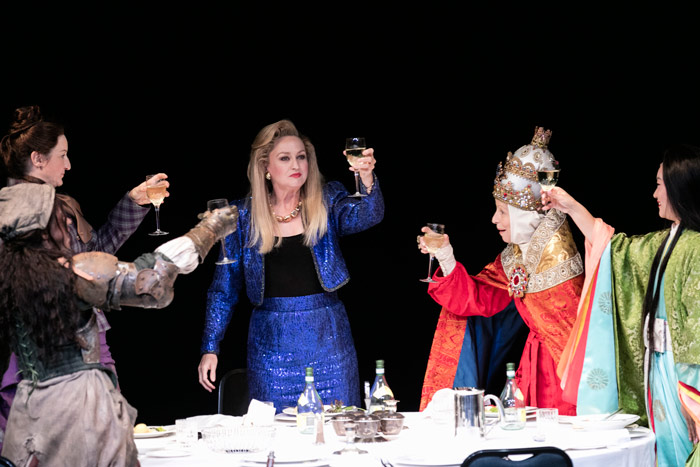 Contessa Treffone, Kate Box, Helen Thomson, Heather Mitchell and Michelle Lim Davidson in Top Girls (Photo: Brett Boardman)


WHY TOP GIRLS?
Artistic Director Kip Williams said: "In the wake of Hillary Clinton's election loss, the monumental Women's Marches, and the global reckoning underway examining sexual harassment in the workplace, director Imara Savage and I thought that the time was ripe for a revival of Churchill's masterpiece; her extraordinary play Top Girls.
"Top Girls is one of the great plays of the 20th century, filled with big ideas, sharp wit, and searing heart. It's a remarkable ensemble piece. It's very funny and ultimately very moving."
WHAT'S IT ABOUT?
Written in 1982, Top Girls introduces us to the high-flying Marlene, a woman caught in a quandary over the demands of a flourishing career and the familial responsibilities of her past. It asks questions of equality, feminism, privilege, capitalism, and motherhood that resonate today as much as they did in the early Thatcher era in which the play was conceived.
For more details, read our synopsis.
WHO WROTE IT?
British playwright Caryl Churchill wrote Top Girls in 1982, and it is now Churchill's best-known, most-produced play.
Caryl Churchill is a luminary of contemporary drama: one of the world's foremost living playwrights and an author of over 30 plays. She has consistently and relentlessly pushed the boundaries of theatre since her first play in 1972.
STC presented her recent play Love and Information in 2015, and our production of Cloud Nine was met with critical and audience acclaim in 2017.
Dominic Cooke, former Artistic Director of the Royal Court, said of Churchill in a recent interview: "There aren't many theatre artists whose work gets bolder, more unusual and more provocative as they get older. But Caryl Churchill does. She just continues to push forward. She's a rare talent."
For more details, see our quick intro to Caryl Churchill.
WHAT'S WITH THE OVERLAPPING DIALOGUE?
Top Girls is one of theatre's earliest examples of the scripted use of overlapping dialogue. Churchill indicated overlapping dialogue by marking the beginning of concurrent lines with a forward slash. This innovative device has since become standard practice for playwrights.
Upon its premiere, the play and its overlapping conversation was recognised as formally pioneering, containing all the theatrical inventiveness that Churchill has come to be known for.
Director Imara Savage says: "The opening dinner scene, in which the dialogue often overlaps, is a lot like a piece of music. Churchill hasn't just written a text, she's written a score, in which the way something is said or the way another character doesn't listen to what is said carries as much meaning as the words themselves."
WHO ARE THE DINNER GUESTS?
To celebrate her promotion, Marlene throws a dinner party. In attendance are famous women from history, literature and legend:
Isabella Bird: 19th century British traveller and writer
Lady Nijo: 13th century Japanese concubine to the Emperor
Dull Gret: the subject of a 16th century painting by Pieter Bruegel
Pope Joan: as legend has it, a woman who became pope by disguising herself as a man sometime between the 9th and 11th century
Patient Griselda: a subject of European folklore, from Boccaccio to Chaucer, noted for her patience and obedience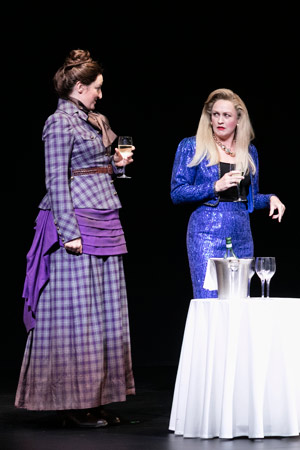 Kate Box and Helen Thomson in Top Girls (Photo: Brett Boardman)


HAVE I SEEN IT BEFORE?
You may have seen Top Girls at Sydney Theatre Company, but not for 25 years! Our first production of Top Girls was presented in 1993. It was directed by Melissa Bruce with a stellar Australian cast including Cate Blanchett in her first appearance at STC.
For more info and photos, see our Churchill archive.
Top Girls, 12 Feb – 24 Mar, Sydney Opera House
Seeing the show? Let us know your thoughts. Tag @sydneytheatreco or #sydneytheatreco