THE URANA STORY
In the small town of Urana, over 500km south-west of Sydney, is St Francis Xavier's Primary School. The school, home to 13 students and two teachers, recently participated in Sydney Theatre Company's School Drama™ program, increasing the capacity of teachers to use drama to improve student literacy and engagement.
Leading the program was Teaching Artist Alyson Evans, who travelled over 250km each week to visit the school and work with teachers Ann Madden and Sofie Winter. The program is made possible through Sydney Theatre Company's partnership with Murray Arts and HotHouse Theatre, delivered in the Albury-Wodonga region since 2015.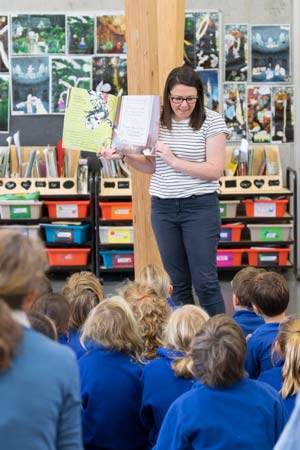 Teaching Artist Alyson Evans (Photo: John Russell and Murray Arts)
"When the opportunity to apply for the School Drama program arose, we didn't have to think twice about applying! Due to our remote, rural location…the School Drama program was very attractive to us," says teacher Ann. "Our staff felt that the program's focus of combining and connecting the two areas of Drama and Literacy, would be of great benefit to our students."
With just 13 students at the school from Kindergarten to Year 6, Teaching Artist Alyson had to be creative and flexible when planning and delivering drama activities. "Working in small, regional areas means a different approach. This is mainly because of the small class sizes, and the fact that you may get every year group in the one class… so this meant exercises need to be accessible and engaging for very young children, but also challenging enough for older students," says Alyson.
Since participating in the program, the teachers have noticed their students are more confident, their writing has improved and they have a greater understanding of characters. Having seen the benefits firsthand, the teachers are now planning to include the drama strategies they learned from Alyson in their regular English classes.
"I am so happy that our tiny school was able to take part in this program. We feel so lucky and grateful to have enjoyed all of these activities and be able to utilise this knowledge and build on from it in our own program," says teacher Sofie.
SCHOOL DRAMA AROUND THE COUNTRY
In 2018, schools across the Indigo Shire, Towong Shire, City of Wodonga (VIC), Federation Shire, Greater Hume Council and Albury City (NSW) will be able to participate in School Drama at a heavily subsidised rate, thanks to STC's generous donors. For more information about the program, visit sydneytheatre.com.au/schooldrama