c. 1412
Joan is born in the village of Domrémy, in the north-east French region of Lorraine. She is born amidst the Hundred Years' War (1337–1453), and a young child when the Battle of Agincourt decimates the French army (1415). She lives in disputed territory, fought over by rival French factions – the Armagnacs, who support Charles of Orléans (the Dauphin), and the Burgundians who are backed by the English under King Henry V.
1425
Joan first hears the voice of God at age 13, urging her to drive the English out of France and to crown the Dauphin as King of France.
1428
Joan's first attempt to join the Dauphin is unsuccessful.
1429
In February, Joan meets the Dauphin for the first time. By April, he gives her command of a small force, with which she travels to Orléans. There, in May, she helps lift the English siege of the city. In July, the Dauphin is crowned King of France in Reims Cathedral and signs a temporary truce the following month.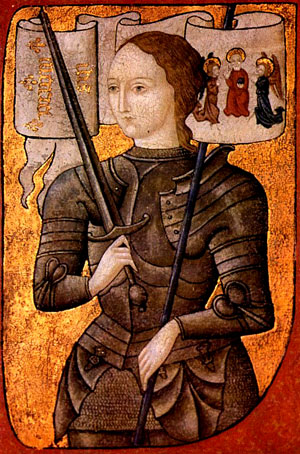 Joan of Arc in the earliest existing depiction of her, from 1485
1430
Joan reaches the Armagnac-held city of Compiègne, besieged by Anglo-Burgundian forces. Left stranded outside the city gates during a battle, she is captured by the Burgundians.
1431
In Janury, Joan is handed over to the English and put on trial. In May, the trial concludes and she is burned at the stake.
1450
King Charles VII orders an investigation into Joan's trial, but any chance of exoneration is delayed by the Church until Pope Calixtus III is elected (1455). By 1456, Joan is declared innocent.
1920
Pope Benedict XV canonises Joan.
1923
George Bernard Shaw writes Saint Joan.
Saint Joan, 5 Jun – 30 Jun 2018, Roslyn Packer Theatre
Seeing the show? Let us know your thoughts. Tag @sydneytheatreco and #sydneytheatreco