Animation wizards Oh Yeah Wow bring cinematic flair to a new play by Nakkiah Lui which introduces audiences to Australia's new superhero, Blackie Blackie Brown.
"It's an outrageous blaxploitation revenge animated comedy. If you took Kill Bill and mixed in some early Simpsons humour and set it in Western Sydney, you may be getting close to what it is." That's how Mike Greaney, Lead Animator on Blackie Blackie Brown, describes his latest assignment, a new stage production of a play written by Nakkiah Lui (Black Comedy, Kiki and Kitty) and directed by Declan Greene, which will be premiering at the Sydney Theatre Company in May.
"When I describe it to people I say it's about Blackie Blackie Brown, who has been given a quest by her great-great-grandmother to seek revenge on the death of her ancestors… oh, and it's funny!" adds Christina Remnant, producer of the animated component of the show.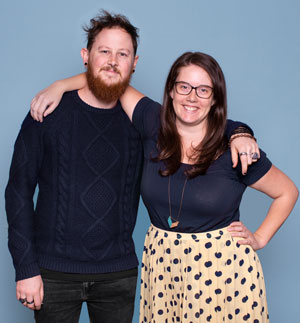 Mike Greaney and Christina Remnant from Oh Yeah Wow
"It's superhero meets revenge meets blaxploitation, and an accessible modern tale which has been recontextualised with this indigenous experience, which is super exciting to be involved in," says Mike. "What's amazing about Nakkiah's work is that she's irreverent in the way that she approaches these topics. When we get a serious political message from the play it makes it more effective because you've been laughing and you're invested."
Christina and Mike are part of Oh Yeah Wow, one of Australia's most exciting production companies, who up until now had made their name through visually inventive music video clips, short films and commercials.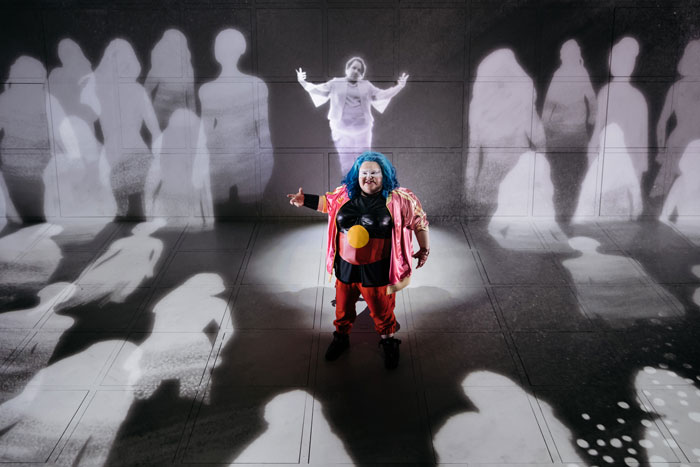 Megan Wilding, who plays Blackie Blackie Brown, is visited by her great-great-grandmother in a sequence with animation and video by Oh Yeah Wow (Photo: Daniel Boud)


"My partner, Sarah Walker, is a theatre photographer, and she's heavily involved in the Melbourne theatre scene," says Mike Greaney when asked how they became involved with Blackie Blackie Brown. "She took me to another play [directed] by Declan Greene, which I absolutely loved, and thought was phenomenal, and I was like 'who are these geniuses?' Then Declan reached out to Oh Yeah Wow serendipitously a few months later, looking for some animation for Blackie Blackie Brown. I heard it was happening and basically ran over to Christina and Darcy [Prendergast, founder of Oh Yeah Wow] and was like 'we have to do this project, we have to be involved!'"
And so, it came to be.
"It's been a really fun pathway because we have been involved almost from the start, so it's been a really nice collaboration," adds Christina.
One of the first steps in the journey was to figure out the animation style. "We have this incredible Indigenous designer and illustrator named Emily Johnson," Mike tells us. "She was involved in designing the animated versions of the characters. Her designs took a lot of cues from Afro Futurism like Black Panther, and also an anime era exaggerated Dragon Ball style. It's a blend of those, this pop bubble gum anime style. And then we had to back-develop to create the world of the play and the setting, so that it feels cohesive and develops over time. The play starts almost as a conventional theatre experience, and then as it goes along it begins to build, animated sequences, quite cartoonish fight sequences come along; it's this energetic build up."
The unique living, breathing nature of theatre means that you really have to be there to experience it. Even the animated work discussed here, which is pre-recorded, still needs to be cued every night and interacted with by the actors on stage. And the really complicated question: what happens to the animation after the show is done?
"Obviously, this isn't something that can go online because it's so inherently a blending of theatre and film," says Mike. "Just to see the work being interacted live with an actor – to have a pre-recorded actor interacting with a live actor on stage and to also have animation flying over the top – and having these two worlds gel together and feel organic is mindblowing. If people are in Sydney or Melbourne [where the show will play The Malthouse Theatre following its Sydney bow], get to it, because this could be your only opportunity."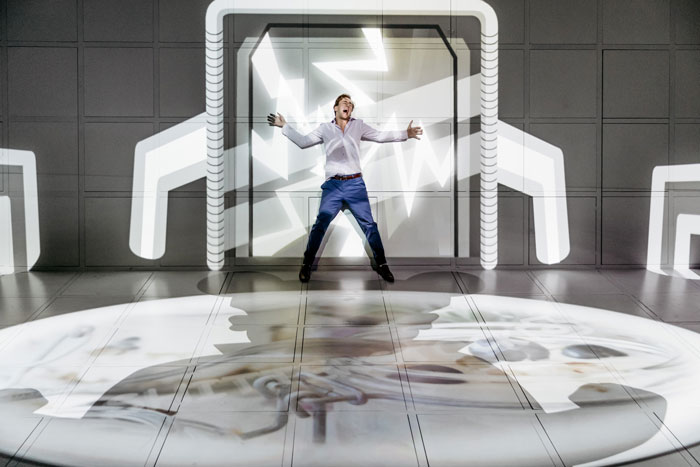 Ash Flanders, who plays various characters in Blackie Blackie Brown, dying one of his characters' many deaths (Photo: Daniel Boud)
By Dov Kornits for FilmInk
Blackie Blackie Brown: The Traditional Owner of Death, 12 May – 30 Jun 2018, Wharf 2 Theatre
Seeing the show? Let us know your thoughts. Tag @sydneytheatreco and #sydneytheatreco