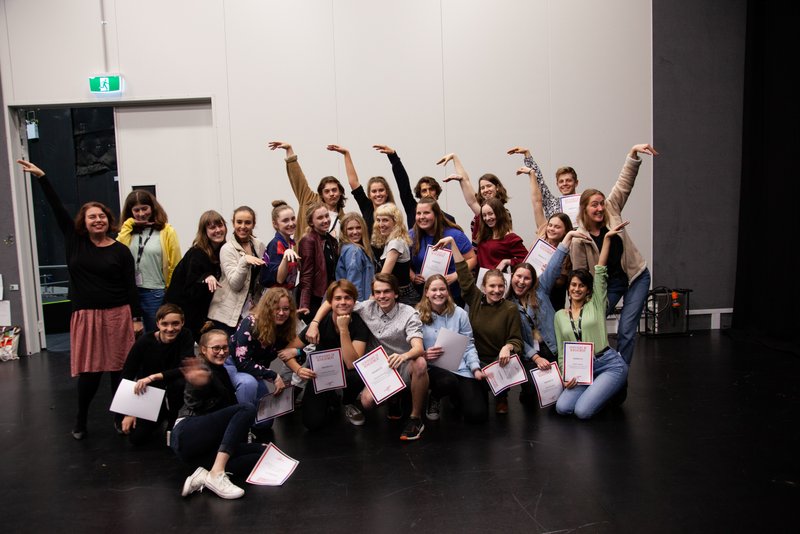 Jacqui Cowell and the 2018 work experience students.
During the September school holidays, STC welcomed 25 aspiring theatre-makers for work experience week. Our Education department hosted the year 10 and 11 students for a week of workshops and panel discussions that involved nearly all departments of STC.
Over half of the students hailed from outside of Sydney, travelling from as far as Bathurst, Coffs Harbour and Tamworth. Many received regional scholarships to enable their participation in the program.
My time at STC was the most incredible experience of my life. I have made so many friends and learned so much about my passion that I now know what I want to do when I get out of school. The friendships that you will make and the people that you meet will become some of your best friends in the matter of five short but jam-packed days. One of the things I found inspiring was how everyone had a different background and story to tell about how they got into theatre or got their job at STC. I'm grateful for everyone I have met during the week and I hope that I am able to do something like working at STC one day.
Mitchell Hodges, Bishop Druitt College, Coffs Harbour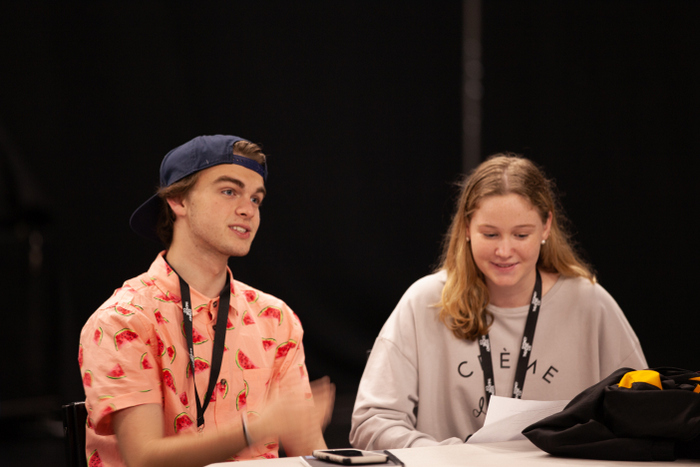 Mitchell Hodges and Jordann Lavers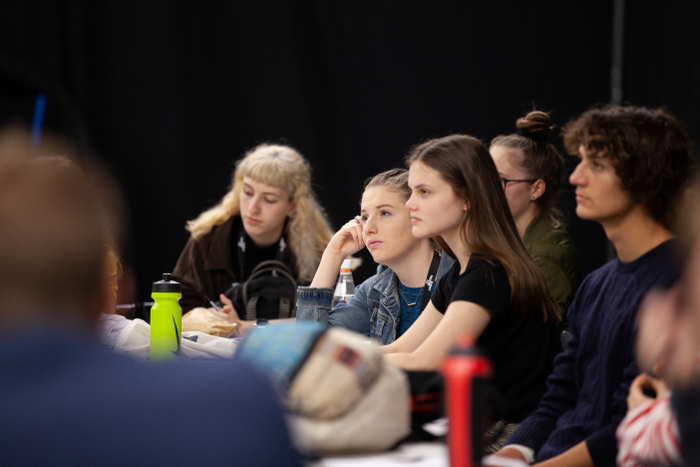 Giverny Bourke, Olivia Hodges, Zoe Castorina and Sebastian Fendall.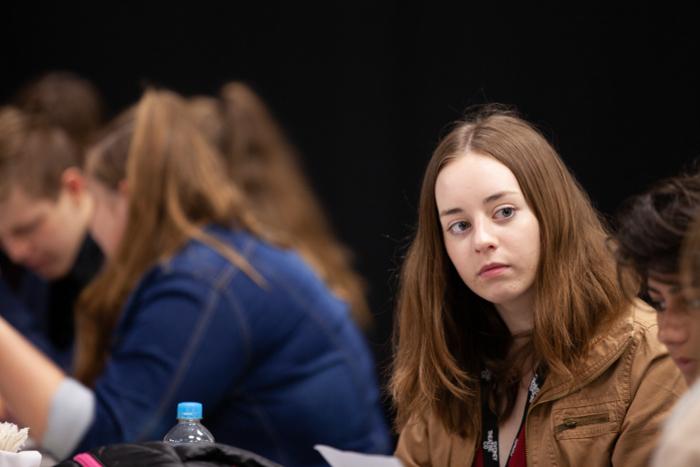 Anneliissa Ryan
By presenting an immersive and holistic view of the industry, this unique work experience program is designed to demonstrate the breadth of expertise and talent that goes into creating productions at Australia's largest theatre company. Specialised workshops develop students' understanding of the importance of all aspects of the business of putting on theatre – from script development to designing for the stage to engaging audiences and more. "The students were surprised at how many different roles there are at a theatre company," reflects Education Projects Officer Jacqui Cowell, who guided the group through the enlightening week. "Many of them hadn't heard of Philanthropy and most were not aware of the range of jobs in Marketing, Artistic, Technical Production, Sponsorship and Education. In the career panels, students were able to hear staff discuss what they did on a daily basis and what their journey was before STC. Many students said this has opened up possibilities and given them ideas for pathways to work in the Arts in the future."
To describe my experience with STC I'd say, Supercalifragilisticexpialidocious – there are no true words to describe the amazingness that work experience was. The things you learn will be valuable for the rest of your life no matter what you end up doing. Most inspiring for me was meeting all of the workers of STC, doing the programs with them and meeting all the kids that came along for this crazy ride. All the people I met will inspire me to be a better version of myself for the rest of my life. Some have become my closest friends, while all have become my role models.
So very thankful,
Kaitlin Walsh, Cronulla High School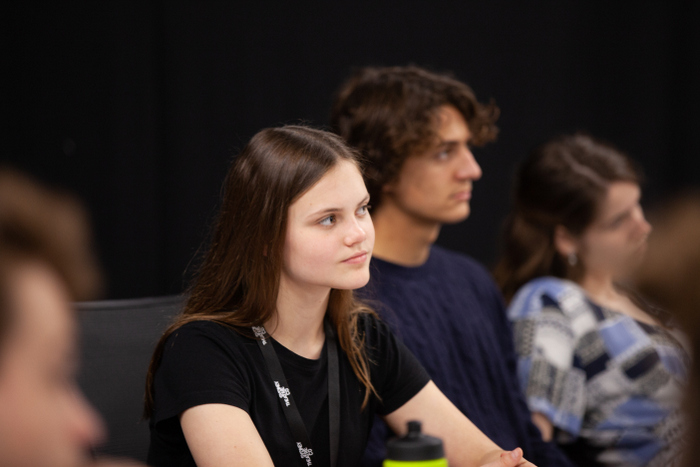 Olivia Hodges and Sebastian Fendall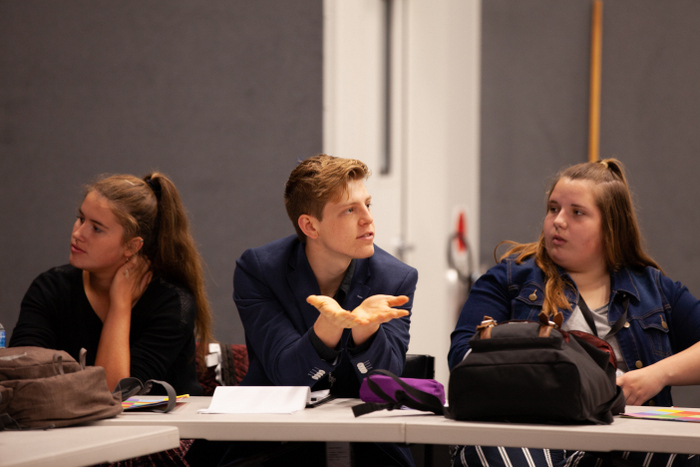 Eleanor Marr, Oberon Marriot and Zoe Davis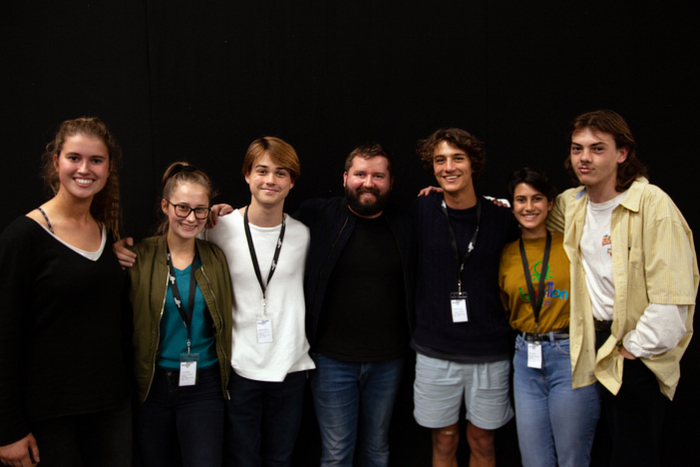 Eleanor Marr, Zoe Castorina, Jonathan Kennedy, Kip Williams, Sebastian Fendall, Tara Lockock and Leyton Slogett.
Students collaborated with Artistic Director Kip Williams, Directing Associate Jessica Arthur and the Artistic Department as well as a host of STC staff from varied departments. "Students were intrigued by the Philanthropy and Sponsorship talk and the breakdown of how the company is funded," Jacqui explains. "The Marketing and Design talk followed by the photo shoot and student presentation was a highlight, as they worked collaboratively and engaged in the creative process. The students especially loved the Directing and Playwriting workshops as many were interested in these areas. The talk with Kip Williams also sparked a lot of interest, as he recounted his journey from doing Drama at school to being the Artistic Director of the company. He also shared his process and priorities as a director, and gave suggested readings for the students to further their knowledge."
I made some amazing friendships with such talented Year 10 & 11 students, all who share a passion for the arts. Each day we were guided through the ins and outs of a professional theatre company, where we experienced different roles: technical production, script writing, producing, acting, casting, publicity, marketing/communications, finance and administration. We were introduced to many members of the staff, including the executive team with Kip Williams and Patrick McIntyre. Personally I found the marketing and producing very interesting and we explored many aspects of these roles throughout the week. If you are interested in working in the industry and still trying to fine-tune your career options, this is an eye-opening experience which provides you with first hand knowledge of the myriad of careers within a theatre company.
Olivia McNamara, Brigidine College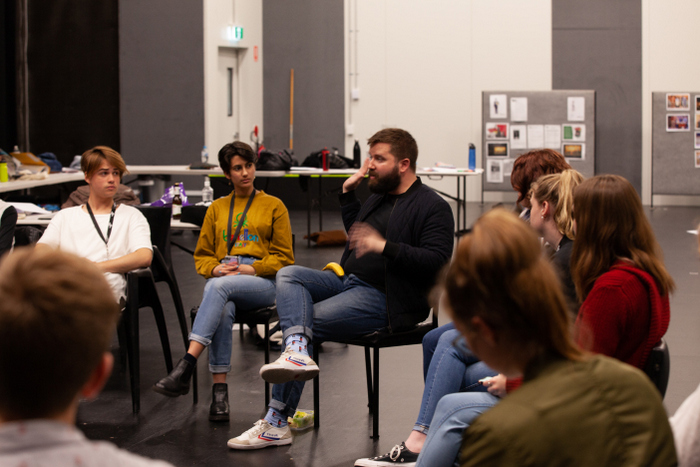 Jonathan Kennedy, Tara Lockock and Kip Williams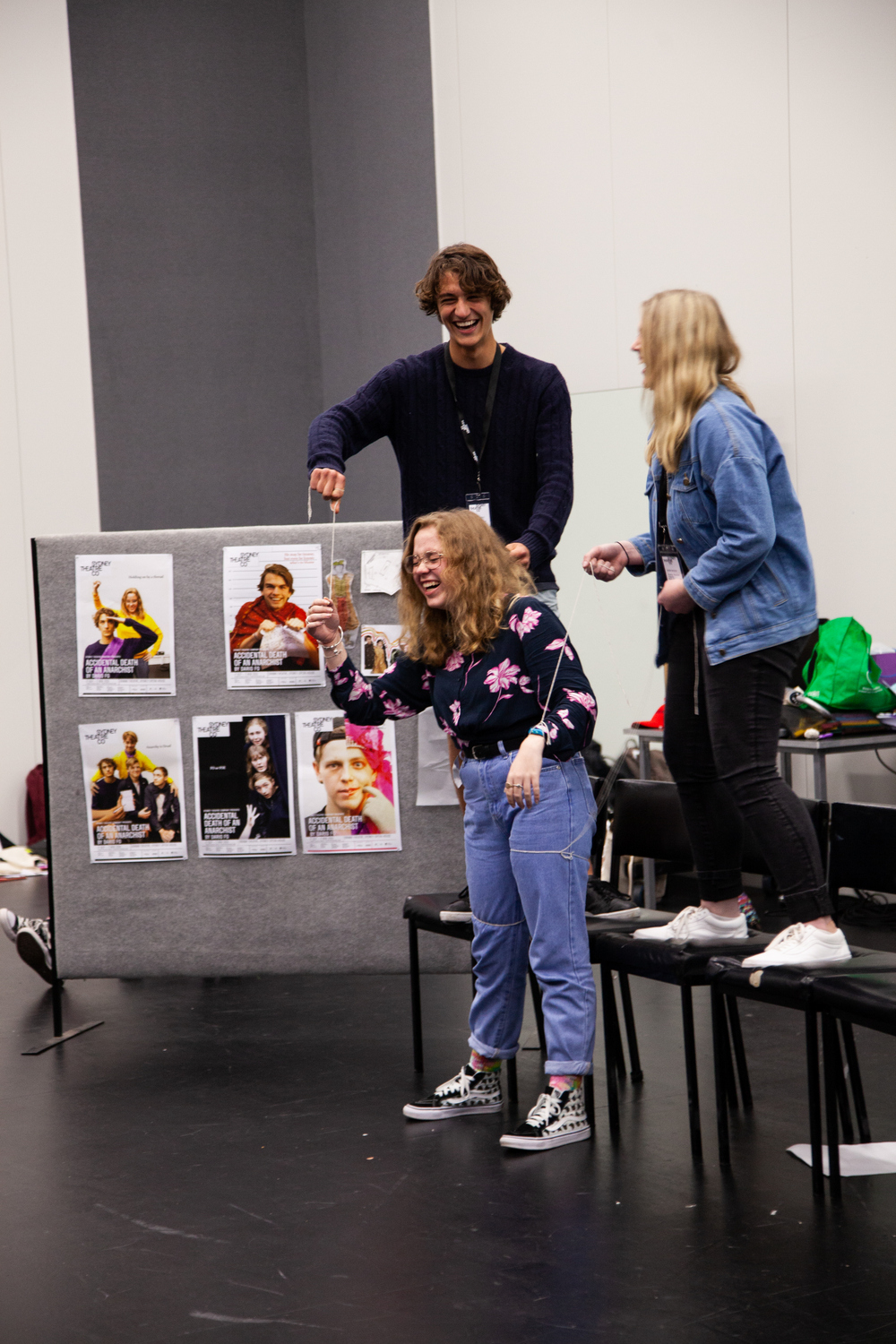 Sebastian Fendall, Hannah McCarthy and Kaitlin Walsh.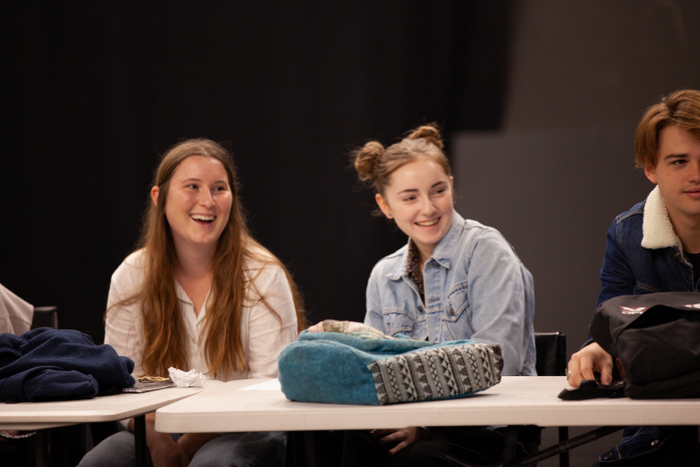 Kate Wooden, Katie Walsh and Jonathan Kennedy.

The group attended STC's production of Accidental Death of an Anarchist at Sydney Opera House, and used this play as a case study across many of their workshops. At the end of the week, students presented their directorial concepts for Accidental Death of an Anarchist to an enthralled audience of STC staff. "The work experience students loved the experience of going to see Accidental Death of an Anarchist," Jacqui recalls. "Many of the students gave a standing ovation at the end and said they'd love to see the show again!"
My experience was fantastic, thank you Sydney Theatre Company! The program solidified my passion to eventually work in the arts industry, specifically as a Stage Manager. Every day was stimulating and inspiring, filled with engaging workshops and discussions from many of the creatives. While participating in this program I met other like-minded students passionate about theatre and the arts from throughout NSW – and we had a blast!

Zoe Castorina, Presbyterian Ladies College, Croydon
STC work experience week was everything I'd hoped for and more. It was so rewarding to be surrounded by like-minded students and industry professionals. I learnt an incredible amount about all facets of professional theatre in such a short period of time. I am now more confident in my own skills and aspirations to work in professional theatre. The relationships I've made in this week with other students are invaluable and the memories I made will never fade. I recommend applying to STC Work Experience week for an experience that will inspire you to become the best artist you can be.
Siena Bordignon, St John Paul College, Coffs Harbour
Click here for information about Work Experience Week in 2019.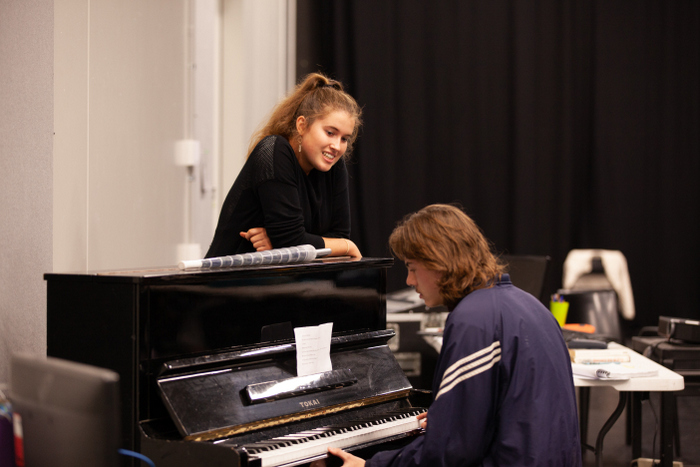 Eleanor Marr and Leyton Slogett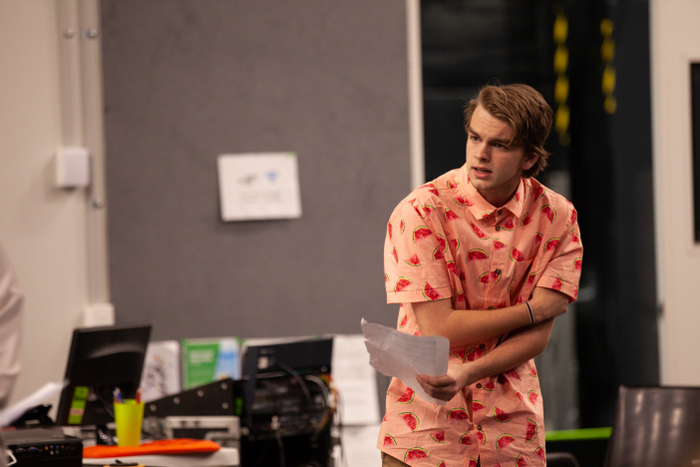 Mitchell Hodges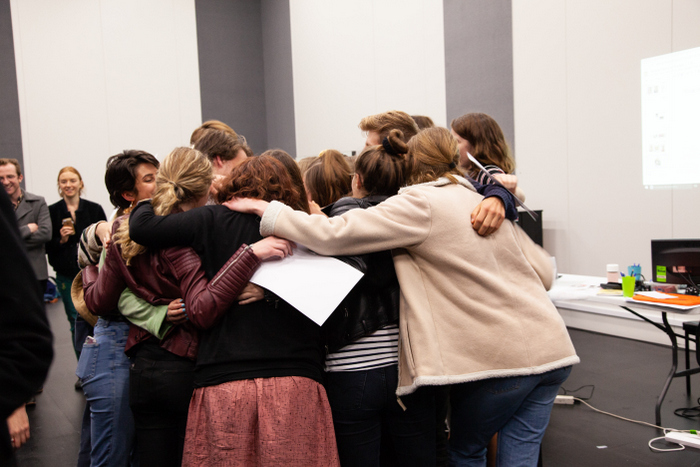 Jacqui Cowell and students share a hug at the end of the week.