David Marr is a celebrated Australian journalist and author, who chronicled the life of Patrick White with unflinching honesty in the award-winning, Patrick White: A Life. By the end of the process he was an intimate of White himself, and present at the scattering of both his ashes and the ashes of White's lifelong partner Manoly Lascaris, some thirteen years later. In this essay, originally published in The Monthly in 2008, Marr reflects on the final days of the intriguing writer, and the legacy he left behind.
STC's new interpretation of Patrick White's favourite play, A Cheery Soul, hits the Sydney Opera House Drama Theatre stage from the 5th of November.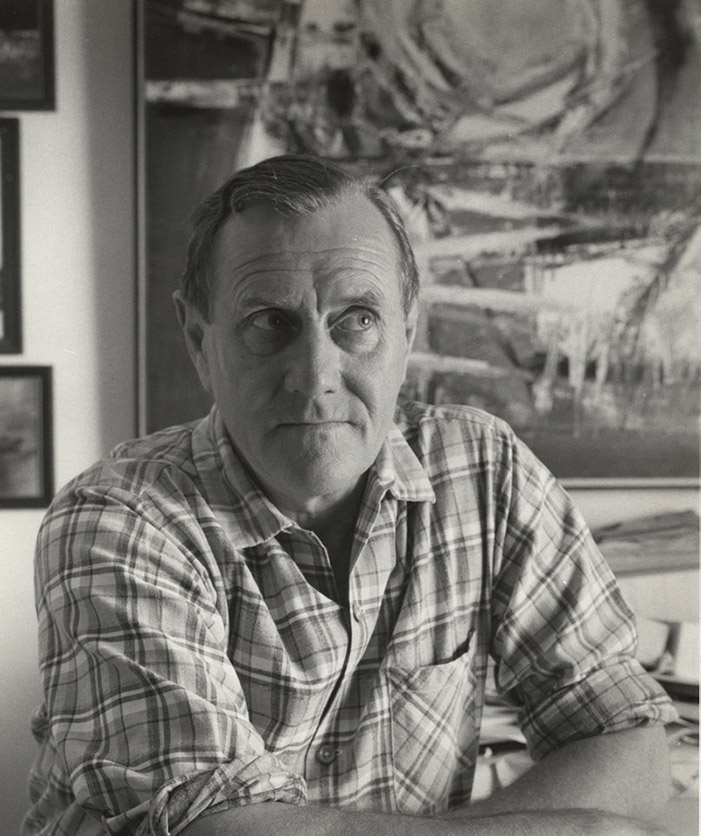 Patrick White (photo: Rob Hillier)
We gathered early in the morning. Barbara Mobbs had the ashes in a smart paper shopping bag.
Manoly Lascaris hadn't wanted them scattered with Patrick White's in the park in front of the house but in "the sea around Sydney". There was talk of a yacht to take them out past the Heads but in the end Mobbs, the shrewd guardian of White's career and estate, decided we would do the deed from some "very Greek rocks" at Clovelly. At about 7 am, eight of us struck off across the park. All those Manoly had charmed and intrigued in his long life had come down to these few: the loyal literary executor, three nurses, the biographer and a handful of Manoly's "young friends". Kerry Walker, wearing a heavy coat and dark glasses, carried a bowl of white daisies. We came out on the lip of a cliff to find bare rocks below us. Mobbs said, "The tide is out."
We climbed down and after some hesitation found a spot where waves were washing through a rock pool. A couple of fishermen had lines in the surf not far off. One of the young friends wanted to read a love poem by Cavafy and said a few words about Manoly meeting the poet in Cairo, an old man in a yellow suit with teeth stained from cigarettes. I said, "He told me it was Alexandria." One of the nurses added, "They met in the bank." As it happens, both Lascaris and White were rather sniffy about Cavafy, preferring the verse of his fellow Greek George Seferis. We stood stiffly at the edge of the rock pool as the lines were read about two men fucking in a café through "half-opened clothes". It was terrible but no one flinched.
I held the plastic box while the poetry reader worked away at the lid with a knife. It popped open. We all looked in, as if we'd see something telling or unexpected there. I handed the box to Mobbs. She demurred briefly, then went to the edge and scattered a handful of ashes that fell straight to the bottom. The water was only a foot or so deep. We all took a turn and there was soon a carpet of white on the floor of the pool. The flowers - hibiscus as well as daisies - did what the ash was supposed to do and drifted away very beautifully. We stood about in the sun for a bit and then drove to a café in Bronte for breakfast. Grizzled men were coming up from the beach and beautiful Cavafy boys climbed out of delivery vans. We swapped Manoly stories. He was a great storyteller and a great source of stories. Over coffee Mobbs recalled remarking to him at some point in his long widowhood in Centennial Park: "'You have had a big life and now you have a small life.' And he replied, 'Both are equally satisfactory.'"
Lascaris's death freed her to pull off perhaps the greatest surprise in this country's literary history. In mid 2006 she offered the National Library of Australia a stockpile of White's letters, notebooks and manuscripts. Outside a very small circle, their existence was entirely unknown. The library was both amazed and abashed. On display at that moment in a travelling exhibition of its treasures was a gruff 1977 letter from White to the library's director: "I can't let you have my papers because I don't keep any. My manuscripts are destroyed as soon as the book is published and I put very little into notebooks, don't keep my friends' letters as I urge them not to keep mine, and anything unfinished when I die is to be burnt."
Mobbs was directed to do just that in White's will but found she "couldn't burn them in a blue fit". By the time of his death, she had been working for him in one capacity or another for 17 years. He dedicated his last novel, The Memoirs of Many in One in 1986, to the woman he called 'The Flying Nun'. Though the will was emphatic, she believed that had he really wanted this evidence of his long literary life to disappear, he would have burnt the papers himself. White and Lascaris spent days destroying letters and manuscripts before moving from the outskirts of Sydney to Centennial Park, in the 1960s. Had White wanted to stage another conflagration before his death he only had to ask Mobbs for a hand. Many times he showed her the notebooks, letters and manuscripts crammed into his desk but, she said, "He never told me to get the matches."
The survival of 32 boxes of White's papers was revealed with immense hoopla. 'Patrick White's return from the pit,' read the banner headline in the Sydney Morning Herald. For the first time in many years, White was back on the front pages of the papers. But here was something curious: while the press, fans and scholars dived on the biographical material - the notebooks and letters - we shied away from the manuscripts. It says a great deal about the sinking reputation of the most prodigious literary imagination in the history of this nation that we were all more curious about the life than the writing. After being displayed for a few triumphal weeks, the three manuscripts were returned to the library's strongroom all but unexamined.
I've now read them from beginning to end, the first person to do so, it seems, since White put them away in his desk. I already knew a good deal about two of them. 'Dolly Formosa and the Happy Few' is a fragment of a novella about an ageing actress. 'The Binoculars and Helen Nell' is a great fat novel of about 160,000 words about the many remarkable lives of a cocky farmer's daughter. Both projects were begun and abandoned in the late '60s. Letters White wrote at the time discuss their plots, their progress and his reasons for putting them aside. Having them to read is a wonderful experience, but they don't give any radical, fresh insight into White and his work.
The third is a different kettle of fish. When I was writing White's biography, I came across brief references to a novel begun and put aside in 1981. I gave the project the code name "Novel Y" in my research notes and its fate rates a bare mention in my book. But here is the manuscript, and having read it I realise 'The Hanging Garden' was a masterpiece in the making and its abandonment after 50,000 words was a watershed in White's life and a loss, a damn shame, for Australian writing.
Mobbs works in a glass eyrie over Double Bay. Beneath her lies White territory: the big houses of the Sydney rich he knew all his life. It's not her world but she keeps a sharp lookout. She's abrupt and funny. Her clients are a shortlist of the best: David Malouf, Helen Garner and Kate Grenville. No one who has dealt with her is fooled by her pose as a plain country girl who somehow strayed into the business of books. Mobbs hoarded White's papers all those years, then released them knowing exactly what she was doing: keeping her client alive in the country's imagination.
How much further she can now go with the papers is a matter for careful consideration. Many collections reach the National Library under embargoes that shield them from the public for years, often decades. That's not the case with White's papers. Anyone can read them now. Mobbs has allowed the precious notebooks in which he jotted ideas for over 40 years to be digitised and uploaded, any day now, to the internet. But I'd come to see her to plant a seed: the possible publication of 'The Hanging Garden'. She quizzes me. She will have to go back to the manuscript. One thing we share: we can both read White's handwriting. But the logistics are difficult. The abandoned writings are considered too fragile to photocopy and too precious to post on the net. Mobbs is sceptical but does not stop the idea in its tracks. She says: "Fifty thousand words is a good length."
White's last bestseller appeared 25 years ago at the end of an amazing final run that began with the Nobel Prize in 1973, included the mighty Twyborn Affair and climaxed in 1981 with the book that sold more than any other in his career, Flaws in the Glass. Even before his death a decade later, his reputation had begun its long, slow - but not uninterrupted - slide. These days, students and customers shy away from his novels. Alphabetical order doesn't help. He's found in bookshops on the bottom shelves. We buy him on our hands and knees.
Backlists were once the great asset of established publishing houses. No longer, says Mobbs. "Too much frontlist." Promotion goes to the new, the latest, the candidates for this year's prizes. That's business. But somewhere along the track, for reasons that go deeper than publishers' neglect, we stopped buying the distinguished writers of our own recent past. White was one of three Australians of his generation with big literary reputations at home and abroad. None sells strongly now. Nielsen BookScan, that pitiless surveyor of the trade, tells me that last year White's 13 titles in print sold only 2728 copies. Shirley Hazzard did better: her eight sold 4270 copies. Christina Stead's seven sold 199. That's not a misprint.
Publishers are fighting back by culling their backlists and repackaging the best titles as 'classics'. Riders in the Chariot and The Twyborn Affair are already Vintage Classics. The Aunt's Story, The Tree of Man, The Solid Mandala and A Fringe of Leaves are all about to join the Vintage Classics list either here or in London. Yet for a few dollars at a second-hand bookshop or online, all but the rarest editions of White's books can be bought in sturdy and elegant hardback. That's how those who love his writing tend to own his work, so we can return whenever we like to his strangely familiar universe without bindings breaking and pages falling like leaves.
Mobbs is a realist. She acknowledges the slump in White's reputation. She argues it happens to all great writers when they die. At least for a time. She blames today's waning enthusiasm on shifting taste in language. "Read," she says, opening a new American novel and one of White's books at random. It's true no one writes quite like White anymore. But fans of Cormac McCarthy and Annie Proulx know there's an enduring taste for contemporary baroque. Indeed, Proulx is a big White fan and says his novels are among the few she keeps on her shelves. For the 1994 American edition of White's letters, Proulx volunteered the judgement that White was "indisputably one of this century's greatest writers".
I suspect the problem runs deeper than the difficulties of his prose. More than we care to admit, we want novels to offer at least the hope of happiness. White's fiction campaigns against false hopes of happiness and the perils of seeking it in sex, power and possessions. Such ascetic restraint is truly out of fashion these days, for the "march of material ugliness" he denounced almost from the moment he returned to Australia after World War II has all but overwhelmed us. We're calling for a truce in the pleasure wars, but White is still fighting, still absolute. For him, intense happiness is to be found in marriage, work, integrity, even purity. For those who feel no connection with this, Patrick White seems a grumpy dinosaur, a monster of reproach.
Though book sales are slack, the enthusiasm for mining White's work remains undiminished. Translations and film rights are always in negotiation. Mobbs has on her desk the latest draft of a screenplay for The Eye of the Storm - it's thrilling - plus options for The Aunt's Story and A Fringe of Leaves. Opera Victoria is looking at doing something with The Cockatoos. The Italians are translating A Woman's Hand. Random House is preparing fresh jackets for the reprints. The plays are firmly in the national repertoire. One of the ironies of the afterlife of Patrick White is that he earns as much or more these days in the theatre - which so many saw as his downfall - as he does from his novels.
The plays are fixed in the terrain of Australian theatre. They are career markers for actors and directors who continue to bring these extraordinary, often wayward creations to life. The director Jim Sharman remade his reputation with White's work, and Robyn Nevin's fearsome Miss Docker in his production of A Cheery Soul has been praised for 30 years. Neil Armfield cut his teeth on White. Lately Benedict Andrews has confirmed his ranking as the best of a new generation of directors with his Season at Sarsaparilla, seen in Sydney and Melbourne. Pamela Rabe has done nothing finer in her career than her Nola Boyle in that production, and Peter Carroll so perfectly inhabited Girlie Pogson it seemed as if White had written every line just for him.
Sitting in the dark at the final night of the Season in Melbourne, in February, it struck me how much we missed White in the Howard years. Not for the fireworks, even apoplexy, they would have provoked in the old Cassandra, but for his understanding of the man. John Howard and Girlie Pogson might be from the same family. White knew people like him in his bones. Everywhere in his work are small-town figures who talk about duty to hide their narrowness. Howard appealed to something in Australians that White knew, feared and fought all his life: our yearning for small comfort and respectability.
As it happens, Howard was intrigued by White. Now that it's no longer a name to drop, I can report that in his early days in office, Howard praised my biography once or twice. I took advantage of this to win one interview - subject: the influence of Howard's old-fashioned Methodist upbringing on his attitude to Aborigines - after which he never spoke to me again. But he stuck rather generously to his guns and put the biography on a 2002 shortlist of books which had "made an impact" on him over the years. Whether he ever read any of White's novels is unknown. If not, he has the time now.
White wrote his first drafts in unbound bundles of foolscap: 12 sheets folded in two, with the outer sheet used as a cover. Each bundle holds about 11,000 words. They tell us not much about his creative chemistry. All the hard work was done in his head, not on the page. He scratches out paragraphs here and there, but essentially the prose rolls out in a long, clean ribbon. Characters, scenes and dialogue emerge fully formed. Question marks appear occasionally in the hand-ruled margins to indicate facts that needed checking. White had a horror of anachronism. Preparing to write the first of the abandoned works in October 1965, he sought out a psychiatrist at Sydney's Callan Park to advise him on cocaine addiction. The ageing actress Miss Dolores (Dolly) Formoza was to sustain herself on a gruelling Arts Council tour in the bush by snorting cocaine. White was not confident he had what he wanted. "I expect in the end," he wrote to the critic and poet Geoffrey Dutton, "I shall have to go gingerly hand in hand with my intuition and my own schizoid nature."
Dolly's one-woman show is only a moderate success. At every town, it seems, amateur playwrights thrust scripts into her hands: "Miss Formosa, I have written a play." Though able to draw on her own resources on stage, she tucks into her "powder boxes" to endure the civic receptions. "She was riddled by now with destruction. Her nostrils eaten by it." After a terrible scene at the Bullivants', in Snape - he a dentist, she a star of the Brolga Players in her youth - all the best homes along the tour are closed to her. She couldn't be happier, hunkered down each night in rough country pubs. By Mungindribble the old girl is clearly losing it, wandering about the bush collecting silver bark, sticks and stones.
There the novella stops mid page. "The whole thing smells a bit of carpentry and bookmaking," White told Dutton, and confessed he found it difficult to write about theatre and theatricals in ways that didn't "lose touch with the ground in developing their abnormalities". After only a couple of months' work, White put the one and a half bundles of about 16,000 words away in his desk, where they lay for nearly 20 years until becoming the basis for The Memoirs of Many in One. Cocaine was no longer the issue. "It's about premature senility," White wrote. "No. No. It is a very funny subject." Now it is Alex Xenophon Demirjian Gray of Alexandria and Sydney who is - at least in her mind - on an Arts Council mission in the outback performing her Dolly Formosa monologues, and wreaking revenge on thick actors, pretentious directors, small-town worthies and hostile critics until the crew dumps her in the streets of Ochtermochty and she retreats to Sydney. The writing is exactly where White, by then, wanted it to be: out of touch with the ground.
Only weeks after stashing 'Dolly Formosa' in his desk, White settled down at the start of 1966 to write a novel he'd had in his mind for some time. Later, as he was struggling to keep 'The Binoculars and Helen Nell' alive, he would wonder if it had simply been too long in his imagination. After 14 hard months and 160,000 words, he gave up. "I think I have been indulging in too many fantasies," he told Dutton. "It is an overblown mass, of too much flesh, and not enough bone."
That the first half of this manuscript has never until now seen the light of day is hard to mourn. Helen Nell lies comatose in the Blair Athol Rest and Convalescent Home waiting to have her "gross watermelon of a figure" pumped out. The patients are delusional and the staff are feuding. It's a difficult start but the novel is soon out in the fresh air of her childhood on the western plains of NSW, from where she - and the writing - drift to Sydney, onto the musical stage and then into marriage with a bloke who comes back from World War I a broken man. Though Helen Nell is entirely passive as she drifts into these unchosen lives, she shows surprising enterprise in fleeing them once their possibilities are exhausted.
Things look up for Nell and the novel at the 80,000-word mark, when she lands a job in the Taylours' opulent Villa Borghese on Sydney Harbour some time in the 1920s. "I have cooked for a Spanish ambassador," she explains. "He didn't complain." At last she is in command: of the fractious servants fighting a religious war backstairs; the teenage children whom she beds; and brittle Mrs Taylour, whose social ambitions are imperilled by her husband's hobby of robbing their friends' houses after dark. Once, before disaster strikes, Nell goes along for the ride. The Villa Borghese sequence is in fact a novella of nearly 40,000 words written at full throttle. It's good. Very good. The climax is one of those comic extravaganzas into which White poured all his pent-up love and fury for the glamour of the Sydney rich. A stiff dinner party on a thundery night ends in a triumph for the cook and ruin for the Taylours as the host is led away in handcuffs at dawn.
White was battling domestic difficulties as he wrote, for he had invited his niece to live with them at the house on Centennial Park and it was not going well. He began to complain that she did not show initiative, spent too long washing her hair, would not pursue the openings he found for her, was making too many calls to London to a man who was, to White's dismay, divorced. He was writing, much of the time, in a rage of disappointment. The troubles of the niece and the novel fed one another. But once Helen Nell left the Taylours, things went more smoothly. "The flow has set in, perhaps because I have got amongst the whores," he told Dutton. "It is always easy to write about prostitutes."
Though cooks of genius were, surely, still in demand in the Depression, Helen Nell is working the streets of Darlinghurst. Why? "I'm hard-up, and I like men." Nell abandons booze and makeup. She wears only black. "They were afraid of the black whore. They heard her shoes arriving on the beat. They loved her too." She offers her clients succour, not lust. Luckily for White, they tend to be born storytellers. This life also ends in a rout - a wild party of grog and flagellation thrown for corrupt local coppers - into which walks a mysterious stranger who turns Nell the black whore into Hélèn, his distinguished mistress. "It has always been my ambition to do a good job," she says. "In whatever profession I've found myself stuck in."
White was halfway through the fifteenth folder of foolscap when he put the manuscript away. But not for ever. Helen Nell trailing round Vaucluse with a society burglar would emerge a year later in the story and then the film The Night the Prowler. But the spirit of the book - its tone, its setting and the shifting identities of its hero on a long journey towards bedrock integrity - prefigures The Twyborn Affair a decade later. There is even a first draft of Eddie Twyborn's iconic homecoming on a stinking day in Fremantle. Hélèn leaves the same ship and wanders into the same café, to find herself interrogated by its owner: "'Where you come from - eh?' he asked in his Greek Australian. 'From Europe - now,' she said, 'originally from here.'" In time, that answer would be pared down to Eddie Twyborn's two perfect words: "From here."
After nearly ten years working on White, I needed a complete break. I refused invitations. I left seminars to academics. The last stop of my White career was a book tour of New Zealand that ended in a Timaru bookshop in 1994. Around a trestle table of dips and glasses were a scant four or five customers. So we abandoned the shop and all went out to dinner. It was a wonderful night. White loved to read newspaper reports of murders and rated New Zealand's among the best. By the kind of chance he might have taken to be part of God's great design, I was eating with a bunch of criminal lawyers with tales of inept clients: "I mean, he'd worked on a farm all his life. He should have known he first had to slake the body with lime ..."
I didn't rush down to look when White's letters poured into the National Library over the next decade, with little tributaries feeding into Sydney's Mitchell and Melbourne's La Trobe. I'd seen most of the material and a 644-page biography didn't need any fresh detail. But the Mobbs consignment to Canberra in 2006 broke my resolve. I was down there in a flash, working quietly with the librarians before the big public announcement, laughing and gnashing my teeth that the old bastard had kept so much from me. Up to a point, I understood what he was about. Happy to let me dig around in the entrails of his life, he was determined to keep me from trawling through this intimate evidence of his work. Apart from anything, he knew I would get lost in there for years. He was impatient to see the biography before he died. Over the last six months, as I was labouring away, the phone would ring and it would be Patrick: "When are you going to finish that fucking book?"
The revelations in Mobbs' boxes were followed by a handful of collections I had never seen. Some were no more than a few scant letters. Then White's old friend the artist and set-designer Desmond Digby sent the National Library his own stack of boxes. For years the two men had a "good old yell and shout" on the phone every day before breakfast. For a time in the late '70s and early '80s Digby made notes of these exchanges. Often the little index cards simply record where White was that morning on the Richter scale: "Furious!!" "Big Explosion."
Over time he pursued the failings of the critic Maria Prerauer - "Furious with silly bitch" - and the historian Manning Clark: "Fury at Manning going to Yarralumla. For days he was hysterical on phone." Odd snippets of information emerge: "Jimmy Sharman 'actually nearly' got Patrick White to Meatloaf!!" And there is this eye-opener from an early morning session after White had seen a production of Racine's Britannicus in Sydney in 1982: "Met David Marr whom has hated since when he was editor of National Times during Big Toys - praised Kate Fitzpatrick and not him!! Quite liked him though because of his Barwick book - though obviously lots of mistakes in it. Britannicus not very good ..."
Though nothing in the new troves of White papers make me want to rip the biography apart, there are things I deeply regret not having seen when I was working on the Life. I wish the critic Jim Waites had dug out for me in time a postcard of that immense relic of the 1890s hanging in the Art Gallery of New South Wales: Edward Poynter's The Visit of the Queen of Sheba to King Solomon. White wrote to Waites, "One of the big springboards of my fantasy life as a child." I would have opened a chapter with little Paddy standing in front of that vast romantic canvas - perhaps clutching the hand of his nurse, Lizzie - and dreaming the first of the stories that paintings would inspire in him all his life.
And, yes, I regret not having the seven notebooks that begin when, just down from Cambridge in the mid '30s, White sketches his first literary ideas: a handful of plays and then the unmistakable bare bones of The Aunt's Story.The notebooks establish that the third of White's novels to be published was, in fact, the first conceived - the fundamental novel, the true starting point of his career. His mentor and lover Roy de Maistre was its first inspiration but its hero morphs - in White's second, wartime notebook - into one of his great creations, Theodora Goodman, the aunt of the novel: "this difficult stranger in shapeless clothes".
Jumbled and haphazard though they are, the notebooks are filled with biographical gold: scraps of diary, poems, reflections, lists of characters (121 for The Vivisector), the first pages of at least six novels in early draft, reams of detailed research for Voss ("Sydney hospital was known as Sydney Infirmary till 1881"), timelines, fashion notes and fragments of conversations overheard in the street. White did let me have a typescript of one gorgeous chunk of the notebooks: a diary he kept during his time with the RAF in the Sudan. Now I've found bits and pieces of diary from his later posting in Alexandria during which, at afternoon tea in the Quartier Grec in July 1941, he met Manoly Lascaris. Of the meeting and the man there is no mention but afterwards - or so it seems - he wrote a couple of lines I might have used as an epigraph for the Life, a claim that love can teach a writer everything: "In a deeply felt personal relationship, it is possible to experience emotionally all that one never has, and perhaps never will experience in life. This is the answer to people who say to the novelist: how did you know about something you haven't experienced yourself?"
That White had lived on dividends not royalties was always known, but among his papers are the figures that prove the point: in the last six months of his life he earned $7000 from royalties, but his share portfolio at the time of his death was valued at $2 million. Again, corroboration of his lifelong passion for theatre was hardly needed, but the National Library now has piles of old programs he collected over many decades on several continents. His letters and Digby's index cards are a running commentary on theatre from Broadway to Belvoir, from before Laurence Olivier to past Jim Sharman. I confess I find nothing quite as dead and gone as the unseen shows of the past, but even here there is gold for historians.
White's business was fiction, but he was also a great reporter of life in this country. Whatever fate awaits his novels and plays, his thousands of letters are already a national resource for those writing about Australia in the second half of the twentieth century. Who can beat him for the just phrase, the great anecdote, the telling portrait?
Just one - but my favourite - is his 1961 sketch of Stravinsky:
The old cliché is only partly right: history is not only written by conquerors, but by spectators of genius.
1980 ended badly for White. Malcolm Fraser's third election victory left him depressed and raging. For a few weeks in December he feared he was dying of lung cancer. And presenting the finished typescript of Flaws in the Glass to Lascaris on New Year's Day provoked what I now suspect was one of their greatest brawls. Lascaris was shattered by White's portraits of his family and appalled by the prospect of strangers reading a frank - though chaste - account of their long marriage. The storm had been building for months. One of the Desmond Digby cards in September records: "M. obviously wants it altered - could see it not being published. THINGS SO BAD - BOTH of them Drink!! - and that only happens after disastrous ROWS."
A New Year obligation White took seriously was to catch up with his correspondence. In a swag of letters written in early January, he spoke of a new novel "churning" in his head. No more details were given: no plot, no cast and no title. Until now it's remained both unseen and unidentified, but we now know it was 'The Hanging Garden'. White was working on it in January but within a couple of months his despair with politics tempted him to make a rare appearance on television. He was inundated afterwards with letters of support, all of which had to be answered. In early April he told his old agent Juliet O'Hea, "The novel I had started has suffered as a result of all this and continued arguments over Flaws in the Glass and proof correcting, if we get as far as that, will drive the novel further into the ground. I hope to get back to it eventually."
The garden of the title is the private kingdom of two children brought to a house on Neutral Bay to shelter from the war. In the branches of the darkest fig, which "seems to be hanging above the water, floating without support from the precipice", they build a tree house where they form an extraordinary, not quite sexual bond. Both are about 13. Gilbert's mother has died in the Blitz. His father is in the army somewhere in India. Eirene is the daughter of an Australian mother and a Greek communist father who has died, presumed executed, in prison. The survival of both children is at stake: not their physical existence, which is safe from the carnage on the far side of the world, but the survival of the fine possibilities of each in the strange and demanding society of wartime Sydney.
The prose is assured, unhurried and absolutely disciplined. White is everywhere and absent, as only the greatest novelists can be. Everything is seen and felt through his characters. These children and their guardians, their friends and tormentors, live in a precisely realised world. Old Mrs Bulpit, who owns the rambling house above the harbour, is a familiar prim figure in White's work but there are fresh characters everywhere in 'The Hanging Garden', and a tenderness and rigour that mark this as the work of an old, wise novelist who still has large ambitions and knows exactly what he's doing.
Mrs Bulpit dies and the children are separated. Gilbert is lost to a fresh guardian on the far side of the bridge. Eirene, already orphaned after her mother's death in Egypt, is thrown into the dangerous household of her aunt Ally Lockhart, a sunburnt smoker with a cold blue stare who prowls the streets of Sydney in a dilapidated Chev. Her garden is of vegetables, bound by a paling fence. Her husband is a sexual predator: "One of these people who know what they want." When the war in Europe ends, Eirene waits nervously to be called home to Greece: "And Gil to London? To the bomb craters, and his mother's coffin, and his friend Nigel Brown's ghost. Gil himself a ghost haunting the garden on the precipice in Cameron Street, as you are haunting this mouldy backyard. Twin ghosts in the one haunting."
This first, self-contained third of a novel White imagined would run to 150,000 words ends in the Lockharts' kitchen on VE Day, with Eirene asking the question we can guess 'The Hanging Garden' was going to answer: "Is this where we belong then?"
White showed no sign of being dissatisfied with what he had written in the winter of 1981, but by early summer the following year he was talking about the project in the past tense. He told his London publisher: "I doubt I shall ever get back to a normal writing life." He was coming to doubt he could say what he wanted to say in big novels. Indeed, he wondered if there were even readers for them. "Today people can hardly bring themselves to read a story let alone a novel," he told his translator Jean Lambert. "They have been rotted by television." White knew where he wanted to go with the new novel - "It is all in my head" - but his enthusiasm was fading. "I feel such things don't matter in the face of nuclear war, and that I can resist that more effectively through plays and public appearances."
In October he launched People for Nuclear Disarmament with a rousing speech in Melbourne which he counted a great success. His rhetoric caused exactly the kind of stir he wanted to provoke. Less welcome were the raging controversies that broke in England and Australia that month with the publication of Flaws in the Glass. It was front-page news. Out of the blue, Sidney Nolan discovered he had an implacable enemy and replied in kind. The various rows would go on for years. White might have returned to 'The Hanging Garden' in early 1982, but by this time he had been lured away by the siren song of the theatre. For that year's Adelaide Festival, Jim Sharman had commissioned a new play, Signal Driver, which White dedicated to its young director, Neil Armfield. White wrote to an old friend in America: "I find this reviving to be with all these intelligent and enthusiastic young people but it also leads to a lot of cooking. I doubt I shall write another novel ... "
A few weeks ago, sitting with the papers all around me in the National Library, I sent a message to Armfield: "I have made a great PW discovery: 50,000 words of a fine novel set on the North Shore, abandoned to write Signal Driver. I blame you." He replied: "O fuck."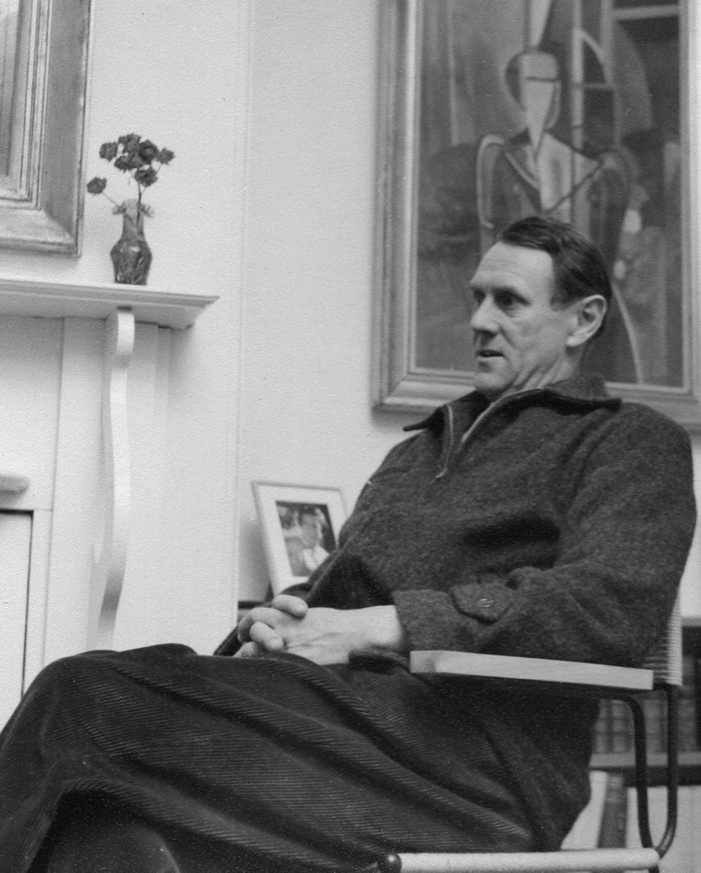 Patrick White in his Castle Hill home.
There were no more big novels, but speeches, plays and shorter prose works. He was a pro and kept writing almost to the end. Though he complained when I questioned him about his rich childhood, my curiosity seems to have provoked him to write Three Uneasy Pieces, published hurriedly in late 1987 before his self-imposed boycott of the Bicentennial year. In one of those pieces, the story of schoolchildren playing on the northern shore of the harbour is a faint ghost of 'The Hanging Garden'. Very faint. White did write one piece for 1988: a private prayer the National Library's curators found tucked into the back of a pocket diary: "May I be guided in the coming year in my efforts to unite people, through the written and the spoken word, that we may abandon despair and apathy for a fresh belief in spiritual progress and universal peace."
White was failing. His asthma came with a number of nasty complications and X-rays of his lungs were a familiar, though anonymous, sight to generations of Sydney medical students. Back in the '50s, White was one of the first Australians to be given lifesaving Prednisone and its "hangovers" afflicted him for over 30 years. In his 1990 pocket diary - his last - he recorded in shaky block letters the days he was taking the drug. The word tolls through his final weeks: PRED, PRED, PRED, PRED.
We had a deal that after his Life went to the publishers, he could see the text for the purpose of identifying errors. Nothing more. He didn't want and didn't have a veto. So in July of that year, he made me sit with him as he read the manuscript through again, slowly, page by page, complaining and laughing - always at his own jokes. He loved in particular reading what he'd written in the letters he'd begged everyone to destroy. On some of the sticky issues he finally acknowledged the truth, even admitting one morning that despite all the abuse he had heaped on his mother over the years, his life was the realisation of her ambition for him: to be a writer. I counted this a late victory in a long tussle. He identified a couple of dozen errors of fact and corrected spelling mistakes in several languages but did not ask me to cut or change a line.
But Lascaris was humiliated to find a stranger in the text. In the diary I was keeping at the time, I wrote:
Johnson was a poet in Santa Fe. He and White were lovers briefly in the early '40s and corresponded only until 1945, when White wrote from Athens laying out his plans for settling down after the war with Lascaris. White had told me nothing about Spud. I found their letters after making just-in-case enquiries of that great literary goldmine, the Harry Ransom Center at the University of Texas. White was impressed. Lascaris was not. After reading the manuscript, he became convinced White's rages in the early years back in Australia were designed to drive him away and have Spud Johnson take his place. He could not be comforted about this.
"You know I don't care what people think," White had announced when I first handed him the book. Once we'd finished with the corrections he declared he was looking forward, more than anything, to the great gnashing of teeth he expected in a year's time, on its publication. But he didn't make it. A mild bout of pleurisy in August triggered yet another bronchial collapse. When I returned after a couple of weeks in Cape York, he was very frail.
.


I was aware by this time that Manoly was rewriting the death scene to his own specifications. His version was elaborate, touching and untrue. I faced a difficult problem as I drafted the dozen extra paragraphs that would now end the biography. If I wrote about White's death with White's absolute attention to the truth, I would expose Lascaris's innocent lies. I flinched. He would have enough to cope with when the book came out, so I decided to save him from this last embarrassment. I wrote: "At about 9 Lascaris went to sleep in his room across the landing. He was exhausted. At 5 the next morning he heard a disturbance and went in to help. White stopped breathing a few minutes later ..."
I came to regret the decision. In a rather unhappy review of the biography, a protégé of White's, the poet Robert Gray, accused me of stinting on White's death. He was right but the version he gave in the Times Literary Supplement was wrong. It was pure Manoly:
Not exactly. White was a great believer in coincidences: "They always revive my faith in divine order." He did not want his life to end in a last coincidence, dying as his mother had in her lavish London flat in 1963, sitting on her commode. White later dispatched the heroine of The Eye of the Storm in just the same way: "Mrs Hunter had slipped sideways on her throne while still hooked to the mahogany rails. One buttock, though withered, was made to shine like ivory where the rose brocade was rucked up. The eyes were mooning out through the mask ..."
With iron determination, White set the terms of his own death in his attic room. He would have no oxygen, no drips, no last trips to hospital and no commode by the bed. Early on the morning of 30 September, the nurse was helping him to the lavatory when he had either a stroke or a heart attack on the landing and died at once. Lascaris and the nurse carried White back to his bed. Lascaris told me: "The nurse was very strong and picked him up under the shoulders and I was to take his legs to carry him back to the bed, but because of my bad back I couldn't. But then I knelt down and slowly straightened up and we carried him back to the bed."
And that is what I should have written.
Athens now seemed Lascaris's natural destination, if only for a few months to shake off the misery of life and death in Martin Road. We were entirely wrong. Though he lived a great deal in the past and carried with him the exotic baggage of a family claiming descent from Byzantine emperors, Lascaris had come to see himself as Australian, and to see it as his duty to live for as long as he possibly could by the old, inflexible timetable he and White had established. These were the routines that made the work - their work - possible and he was their keeper. Lascaris did accept a few immediate changes: a housekeeper was engaged and a dozen of us chipped in to buy a television set. He was delighted. The ABC news was immediately embedded in the schedule.
Late on the morning White's ashes were scattered, the trustees came to read the will, a document that was to become a source of bitter complaint. Lascaris would tell old friends and strangers alike: "Patrick left me nothing." Over time, this story found its way into books, the press and documentaries: the final martyrdom of Manoly Lascaris at the hands of Patrick White. No amount of trying could convince Lascaris he was being unfair. The will was an old-fashioned grazier's will: everything to the widow for life and then on to the heirs. While he lived, Lascaris would have the house plus all White's royalties and all the income from his share portfolio. At his death, the capital would then be split between four of White's favourite causes: the Smith Family, the Art Gallery of New South Wales, the Aboriginal Education Council of NSW and NAISDA, the Aboriginal and Islander dance college. Lascaris didn't get the capital, but for the rest of his life he would live as he deserved: on some scale. As his health deteriorated, the housekeeper was joined by a band of nurses and carers. No expense was spared, but he continued to complain that White had left him penniless.
When the biography appeared, a year after White's death, Lascaris once again found his sex life and the foibles of his family paraded before the world. That had to be borne because White had demanded it. Lascaris did not attend any of the celebrations surrounding the publication. Nor did he turn out for the first nights of White's plays in the years that followed. He said, "I will be gawped at as a curiosity." Yet he shyly enjoyed his celebrity. His portrait was painted in 1995 but did not win a place in the annual Sydney ritual of the Archibald Prize. The attention of White's fans sometimes alarmed him. A party of Koreans appeared on the lawn one morning after The Tree of Man was published in Seoul. "They are swarming up the path like possums," he told Mobbs on the telephone. "They are banging on the windows." Perhaps a little late in life, he gave one or two interviews to radio and television. He was still saying, "Patrick left me nothing."
He refused to travel. In the 13 years he lived after White's death, he rarely travelled further than Double Bay. What mattered to him now were the dogs, the garden, books, his Orthodox faith - he prayed every day while resisting the overtures of the local archbishop - and the company of the small band of friends who continued to call for afternoon tea. He remained a bewitching storyteller.
Parkinson's disease began to take its toll. He no longer walked the surviving Jack Russell. He shrank. Unable to manage the stairs, he slept in one of the dark little bedrooms near the kitchen. At night the nurses heard him calling for mercy in his sleep. He told many friends he wished to die. In September 2001 the trustees decided the house had to be painted inside and out. Lascaris was taken to a private hospital where he became bewildered, fell and was rushed back with a gash on his nose to a pristine house stripped of its pictures. The house was soon reassembled but Lascaris never really recovered.
Much of the time now, his mind was in Egypt. "My uncle Mario gave me this house," he said over tea one afternoon. We corrected him. "This is a Greco-Alexandrian house," he persisted. "There are many rooms." Later, as we made to leave, he said, "When I next have a holiday I will go to Egypt."
A last coincidence was waiting. When it was time for Lascaris to move to a nursing home, he was taken to Lulworth, the old mansion at the back of Kings Cross which was Patrick's childhood home before becoming a hospital after the war. The shades of so many of White's characters hung around the house. Aunt Theo gazed across the water to Darling Point. Laura Trevelyan waited here for the explorer Johann Ulrich Voss to call. Hurtle Duffield played under the bunya pine on the drive. Now the cast was joined by the original of all the dark, wise, muscular Greeks of the novels. Manoly died at Lulworth on 13 November 2003, at the age of 91, oblivious to the closing of a great circle that had come to embrace Scone and Smyrna, Sydney and Alexandria, the Whites and the Lascaris.
David Marr is a writer and journalist. He is the author of the award-winning Patrick White: A Life, Quarterly Essay 38, 'Power Trip', and co-author of Dark Victory. He has been a reporter with Four Corners and the host of Media Watch.
This article was originally published in the April 2008 edition of The Monthly. Read the original article online.
A Cheery Soul, 5 Nov – 15 Dec 2018, Drama Theatre, Sydney Opera House
Seeing the show? Let us know your thoughts. Tag @sydneytheatreco and #sydneytheatreco