Financially and emotionally ruined after a sexist harassment campaign, sleeping behind the office copy machine and existing on a bag of carrots, feminist academic Ish Madigan is not exactly living her best life.
Guy DeWitt, meanwhile, is on top of his game: a notorious professional pick-up artist whose seduction strategies have earned him a legion of male followers, stacks of cash and no-strings sex whenever he wants. The only trouble is, Guy's real name is Jake Newhouse, and Jake Newhouse is falling apart with desire for Anne, an intelligent and independent Danish librarian whom he just can't game.
In desperation, he crosses enemy lines to seek help, offering Ish a life-changing sum of money to coach him in feminist-friendly flirtation. She is appalled – and sorely tempted.
Into the mix throw Ish's friend Denyse and the faithful Toby, wading patiently through the depths of Denyse's friend zone, and you've got a great big tangle of bad decisions as these five characters navigate the treacherous waters of love, sex and dating in the 21st century.
Banging Denmark, 26 Jul – 24 Aug 2019, The Studio, Sydney Opera House
Seeing the show? Let us know your thoughts. Tag @sydneytheatreco and #sydneytheatreco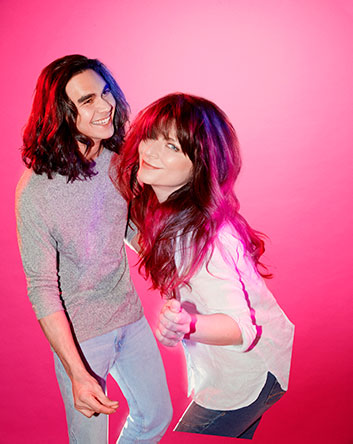 Patrick Jhanur and Amber McMahon