In a burnt-out old theatre adjoining the grounds of a mental hospital in 1970s Australia, a motley crew is assembling. Corralled by the manic depressive Roy – in equal parts endearing and insufferable – and encouraged by social worker Justin, the eccentric group of patients is attempting to stage a production of Mozart's opera, Cosi fan Tutte.
Fresh out of university and somewhat adrift, Lewis has agreed to direct the amateur production, but between the impossibly elaborate artistic vision of Roy, the laborious obsessive compulsion of Ruth, the escapist tendencies of pyromaniac Doug and the small hurdle that no one can sing, Lewis has his work cut out for him.
Against a backdrop of political activism during the Vietnam War, Lewis begins to realise what truly matters to him, as he works outside the box to get this unusual production off the ground. The more time he spends with these patients, the more he realises they understand something his friends on the outside don't.
Così, 1 Nov – 14 Dec 2019, Drama Theatre, Sydney Opera House
Seeing the show? Let us know your thoughts. Tag @sydneytheatreco and #sydneytheatreco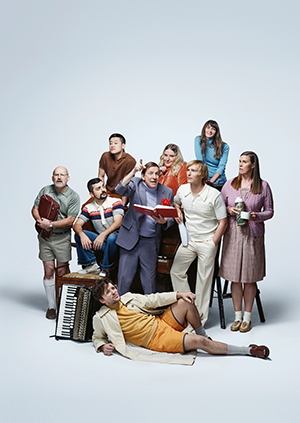 The cast of Così, 2019. Photo by Justin Ridler.