In a small town in the Irish hills of Connemara, Maureen Folan lives a lonely existence with Mag, her aged mother. Their relationship is more arm wrestle than warm embrace.
Maureen is 40 and desperate for something – or someone – more, but between the constant demands, hostility to outsiders and nightly incontinence, Mag seems unlikely to allow that something to happen.
When local lad Ray arrives at their out-of-the-way home with a party invitation from his older brother Pato, Mag tries to keep it from Maureen, but Maureen finds out and is determined not to miss out this time. Pato is visiting from London where he works as a labourer and seems pretty keen on Maureen, but when he spends the night with her after the party he finds himself in the middle of savage mother-daughter power struggle in the kitchen the next morning.
The Beauty Queen of Leenane, 18 Nov – 21 Dec 2019, Roslyn Packer Theatre
Seeing the show? Let us know your thoughts. Tag @sydneytheatreco and #sydneytheatreco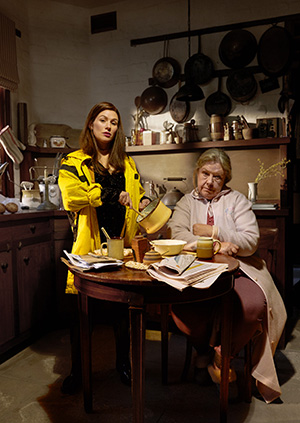 Noni Hazlehurst and Yael Stone, 2019. Photo by Rene Vaile.