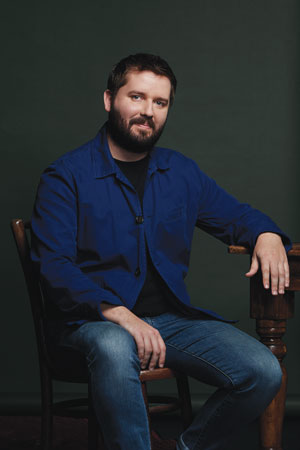 In 2020, Artistic Director Kip Williams will direct his own adaption of Oscar Wilde's devilishly wicked novel, The Picture of Dorian Gray. This thrilling production has the exceptional Eryn Jean Norvill at its centre, playing every role. In a cascade of theatrical transformations, Williams will return to the inventive use of live video that made his past triumphs, Suddenly Last Summer and The Resistible Rise of Arturo Ui, so compelling.
Why The Picture of Dorian Gray?
It is a novel that I have loved for many years, and I've thought for quite a long time about all the ways that I might realise it on stage. But it was only recently, when I was having a conversation with a friend of mine about our society's obsession with youth and narcissism, that it re-emerged in my mind as a story that I really wanted to investigate. The narrative of Dorian – a very beautiful young man making an almost Faustian wish to remain eternally young – feels like it offers fecund territory for us to examine our contemporary society.
You've used live-video to sensational effect in a number of your productions. How will you approach it for The Picture of Dorian Gray?
I started using live-video in my 2015 production of Tennessee Williams'
Suddenly Last Summer
, which used video to unpack the idea of truth and perspective. I returned to it in
The Resistible Rise of Arturo Ui
last year, looking at the way that imagery can be used to construct power. This production is going to be looking at video as a means by which we construct our sense of self-obsession. This is a one-person adaptation so Eryn Jean Norvill will be playing every character. The multiple cameras will allow her to create those characters as well as the world of Victorian era England.
You and Eryn Jean Norvill have collaborated on a number of productions. Why are you excited to work with her on The Picture of Dorian Gray?
EJ and I first worked with each other in 2012 on
Romeo and Juliet
— she played Juliet. We reconceived Shakespeare's play around Juliet and her relationship with her father. Then we did
Suddenly Last Summer
together — that was a pivotal moment for me creatively, and we've done a number of productions with each other since. EJ, as audiences will already know, is the most extraordinary actor. One of her great gifts is with language and wit. So, Oscar Wilde's words interpreted by EJ is, in and of itself, reason enough for someone to buy a ticket. But, to have EJ's talent colliding with this particular form of live-video? It's going to make for an electric night of theatre.
---
The Picture of Dorian Gray, 21 Jul – 15 Aug, Roslyn Packer Theatre.