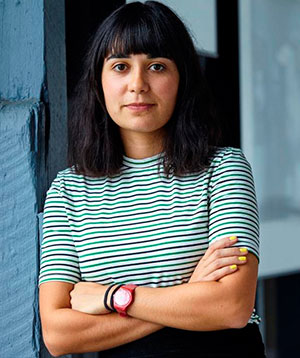 Fresh from directing her Roslyn Packer debut
Wonnangatta
, STC Resident Director Jessica Arthur (
Mosquitoes, Banging Denmark
) is back in 2021 to remount
Home, I'm Darling
- which was cancelled in 2020 due to the COVID-19 pandemic.
Her first production of the year is Laura Wade's Oliver Award-winning comedy
Home, I'm Darling
. It's a highly-original and witty look at the complexity of women's choices and the dangers of nostalgia. We caught up with Jessica to discuss just why this play will be essential theatre in 2020.
As a director, what first stuck out to you about Home, I'm Darling?
I was intrigued by the twists and turns of the piece when I first read it. Laura Wade continually and cleverly subverts expectations. I was immediately excited by the possibilities it offers to mine deeper conversations regarding the history of feminism and examining choice as a product of the movement.
What does this play say about the choices open to women in 2021?
It opens a dialogue about the power of choice. Just because you have the power to make a choice, doesn't mean you are necessarily making an empowered one. It also looks at ideas of privilege and examines how patriarchal systems are still ultimately the most powerful today.
What kind of reaction are you hoping to get from audiences?
It is a play that reflects on the past to study the present, in order to imagine future possibilities. I am hoping the audience leave the theatre questioning the choices they make today. I hope they also go on the ride I went on when I first read the play and perhaps contemplate that nostalgia for the past is not necessarily the best way forward.
---
Home, I'm Darling, 6 Apr – 15 May, Drama Theatre, Sydney Opera House