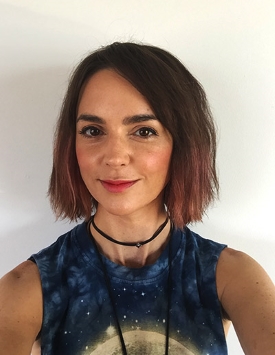 Actor and STC regular Glenn Hazeldine also works in the philanthropy team helping connect and share stories between our donors and the artists they enable. Here, he interviews STC's literary manager Polly Rowe on the nature of the new company program nurturing Australia's future playwrights...

Glenn: STC's Emerging Writers' Group has four writers attached, Moreblessing Maturure, Julian Lamarch, Disapol Savetsila and Emme Hoy. How long has this program been running?
Polly: The current program is a prototype. It was intended to be a one-year cycle but at the end of the first year [in 2018] we observed that the writers were only just settling into the company and decided to extend it to two years and give them time to achieve more meaningful outcomes. We announce the winner of the Patrick White Playwrights Award and Fellowship in May and at that time we will also announce a new Emerging Writers' Group [EWG]. We're still working out the structure of the next program based on what we've learned from the inaugural one.
---
Image of STC Literary Manager Polly Rowe
---
Is there a formal program in place or is their association more about receiving access to the STC and its facilities?
Both. They have access to desks and computers so they can work here. They also receive mentorship from me, the Resident Directors and the Fellow [currently Sue Smith]. It's up to each Fellow to devise their own content to deliver to the Emerging Writers' Group, in terms of workshops and skills building, and there are also other master-classes and workshops throughout the year.
Also, this year the writers have had the opportunity to sit in and observe rehearsals. Moreblessing Maturure has spent the last four weeks in and out of the How to Rule the World rehearsal room and the other three writers are going to observe other shows soon. It's quite a privileged opportunity really because we generally don't allow anyone from outside a production into those rooms!
It's great that they receive such varied mentorship…
It is! And we arrange sessions with other people from the company too. For example, [Resident Designer] Elizabeth Gadsby did some work with the writers in their first year on design and how she approaches a script. They have developed pitches for commissions, and there are also 'organic synergies' that have formed. Emme Hoy and Imara's creative conversations [Imara Savage - former Resident Director] resulted in Emme writing additional text for Imara's production of Saint Joan. Since then the pair has continued to collaborate on projects outside of STC.
We try to find different avenues for the EWG to engage with the company through ­­– Julian Lamach has done some teaching work for our Education department, and Moreblessing is going to be working with me providing additional dramaturgy on one of our commissions.
What was in place before this Emerging Writers' Group began?
We had (and still have) Rough Drafts as an entry point for emerging writers but we didn't have a residency program like this one. This is Kip's initiative [Kip Wiliams, STC Artistic Director]. I don't want to speak for him but I know that he wants the professional development opportunities that he received at STC early in his career to be available to other artists too. He has a particular interest in new writing so this is an important development.
How did you select the four playwrights?
There was an extensive application process. We put a call out to emerging writers, based on certain criteria to do with their experience. We asked them to submit a CV, a written sample of their work and also an expression of interest statement. We received about 150 applications, some of which were from writers already known to us, then I drew up a short-list for Kip and we narrowed it the chosen four.
Did you know any of the final four prior to their application?
We knew Disapol Savetsila because he had been working with us for a while, Emme and Julian we knew from NIDA and from some of their work and, although we knew Moreblessing as an actor, we didn't know her as a playwright.
In terms of writers under commission, how many do you have currently?
We have seven live commissions at the moment, as well as a handful of other projects that we are developing.
What does a 'commission' mean?
It's a commitment to develop a play with a writer. The company engages the writer to work on a play and supports them through the drafting process. Not all commissions make it into STC's program, for a number of different reasons; some commissions take years to be ready for the stage and others reach production very quickly. Plays are created in very different ways!
Is it your job to read all the drafts as they come in?
Yes. Kip and the Artistic Team also read them and provide feedback. If a commission progresses to the stage when a director comes on board, they will respond to drafts too.
Would a director come on board initially to facilitate a moved reading of the work, say?
Yes, sometimes a director will come on board before a commission is programmed to work on the development of the script. Our Resident Directors are very involved in play development.
There is no one way of developing a play. We're guided by the needs of the play and the playwright – it's not one size fits all. Some of the new works we produce at STC aren't commissions; they've come to us in other ways.
What has been the great benefit of having the Patrick White Fellow and the four Emerging Playwrights cohabiting at STC?
There are some wonderful creative conversations that go on between our Fellows and the Emerging Writers. They talk about ideas, each other's plays, theatre that they have seen or things they have read. It's great for company culture to have playwrights working alongside us, forming part of the company 'brains trust'.
We are often working with established writers at STC, but we do want to ensure that we develop pathways with a new generation as well, and to hopefully identify the next Sue Smith, Andrew Bovell or Nakkiah Lui. It's important for our Resident Directors to build relationships with writers, and an equally great opportunity for the writers to connect with likeminded directors.
I think it's also helpful for the writers to understand what gets programmed at STC and why. Our resident writers get to experience the greater working of a theatre company from the inside and see the whole business. They see all of our shows, which can help them understand the kind of work we need to create a season.
Tell me about how you've observed Sue Smith in her role as Patrick White Playwright's Fellow.
Sue is incredibly generous to the EWG and other writers working with the company. She's a comforting presence in the office and I enjoy getting regular updates on how her writing is going!
Sue is a meticulous researcher and planner – probably due to her background in film and TV. When Sue shows me her final treatment I have a very clear sense of what the play will be. She has incredible plotting skills and is always willing to share the wisdom gained during her many years of dramatic writing.
You're clearly incredibly busy… at any one time you'll have the emerging writers to keep your eye on, several commissions in play, other scripts to read and you've just spent two weeks in the rehearsal room of 'How to Rule the World'. How do you do it all?!
Yes, we ALL do a lot.
New plays can need a lot of attention and we strive to give our writers all the support that they need. That can be financially demanding in several ways: the costs associated with having artistic staff to develop new work, the costs of commissioning (which is essential to ensure that we have quality new writing available to program), as well as providing development workshops (in which we try the scripts out with actors, interrogate ideas, hone, redraft, etc) . That process is expensive but so necessary. It's fair to say that we are very stretched in terms of available time and how much money we have to spend on development but it's absolutely crucial!
Learn more about the Emerging Writers' Group here.

STC acknowledges the Copyright Agency's Cultural Fund for supporting this project.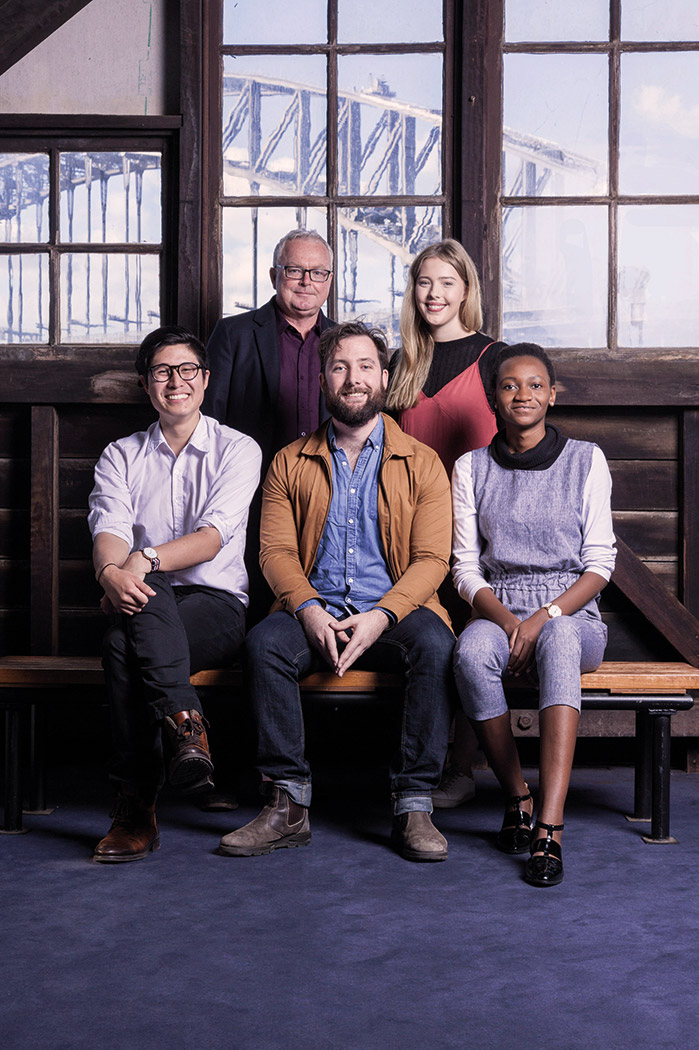 Clockwise from top-left: Andrew Bovell (STC's previous Patrick White Fellow) Emme Hoy, Moreblessing Maturure, Julian Lamach and Disapol Savetsila.