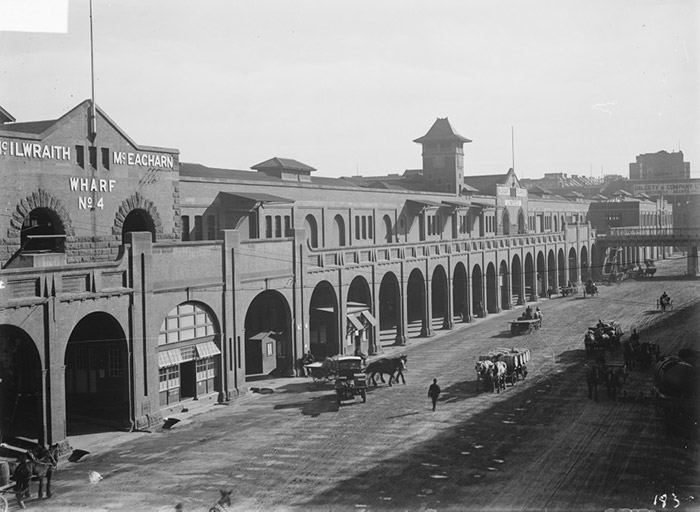 The Hungry Mile was an informal name harbourside workers gave to a docklands stretch of Hickson Road during the Great Depression. Maritime workers would walk from wharf to wharf in search of casual, low-paid day work to feed their families. Quite simply, if they failed they went hungry.
The Hungry Mile extended roughly from the Munn Street Bridge to the Napoleon Street intersection, which falls within the new precinct of Barangaroo. Regardless of the weather, men would assemble in a public place to be scrutinised, selected or rejected, by the shipping company's foremen and stevedoring agents. Men of great physical strength were the 'Bulls', and they were often favoured as they could work longer and harder.
For many maritime workers, this competition between men, and ongoing uncertainty, resulted in a sense of injustice. As the need for work increased and the supply of jobs diminished, one of the many dark sides of the Great Depression – the demeaning of workers, reducing them to a disposable commodity – was cruelly apparent here.
In 2009, the Geographical Names Board agreed to a request from the City of Sydney to officially recognise the area's colloquial name. At a naming ceremony, the secretary of the Maritime Union of Australia, Paddy Crumlin, explained: "The Hungry Mile is not just any place but somewhere symbolic; a place for working people and their communities; a place where workers lived, worked, fought and died in the pursuit of decent living and working conditions, not only in this country but internationally."
Daniel Keene's short play The Hungry Mile immortalised the struggles faced by these casual dock workers during the Great Depression. Sydney Theatre Company, in collaboration with Lendlease, produced a script-in-hand performance in November 2016, shortly after the official opening of the new harbourside precinct of Barangaroo, at Barangaroo Exchange Square, Speakers' Corner. The play, directed by STC Artistic Director Kip Williams, featured Anita Hegh and Ben Wood. Watch it below.