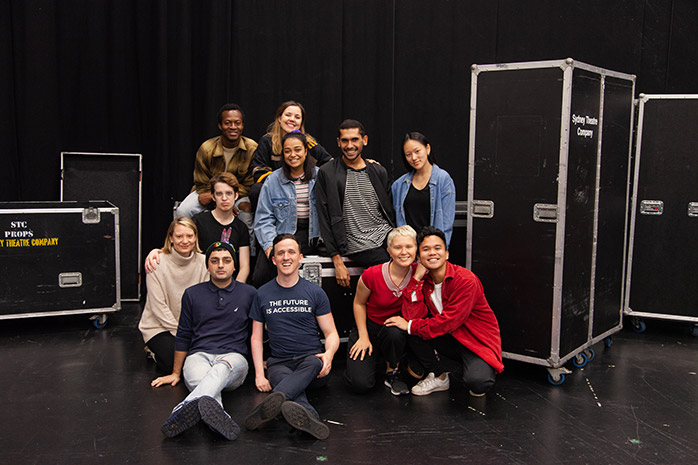 The eleven-strong Lord of the Flies cast is a hotbed of fresh theatrical talent, with four members just out of drama school and two members making their theatrical debuts within this excitingly varied cast of young adults.
The cast – including trans-masculine non-binary members, members living with disability, and members from a variety of the many backgrounds within Australian communities – is in many ways even greater than the sum of its parts, representing what Kip Williams, and so many other theatre practioners hope will become the new normal in casting for Australian stages.
Below, Kip explains the creative reasoning behind his casting decisions, and the positive impact it has in the rehearsal room, and eventually on stage.
When did you first decide on gender-blind casting for Lord of the Flies?
It never felt like an option to do it any other way. Because I've directed Lord of the Flies twice before – once with an all-male cast, once with an all-female – this is like a completion of those investigations.
When we were putting together the 2019 season last year, it felt as though the political climate – both nationally and internationally – lent itself to revisiting this story, which serves as a warning against dangerous types of leadership and political systems, and the propensity that society has had to silence, disempower and ostracise certain people, whilst privileging others.
The characters in this story are all boys, who, in the absence of adults, play out problematic ideas of masculine authority. Part of the intention behind casting actors of all genders is to throw light on this.
How have these casting choices manifested in the energy of the rehearsal room? Is there a different dynamic than usual?
It does change the rehearsal room dynamic: this is the most considerate rehearsal room I've ever been in. We start the day with a check-in, we end the day with a check-out. People are acutely aware of the needs of each other, and very sensitive to the emotional impact of the material. It's wonderful, and very supportive.
It's also a super playful rehearsal room. Inherent in the design is the idea of play and imagination, so [Set Designer] Elizabeth Gadsby and I contrived it specifically so that the cast is encouraged to play and invent a lot in the room, so it's been a really inventive space as well.
What impact do you imagine your casting decisions will have on the audience's experience of watching this production?
I hope that people will see themselves reflected on stage in the storytellers, and be inspired by that. The story is upsetting, confronting and challenging. My hope is that the audience, seeing this group of people who represent a more inclusive idea of who we are as a community, uses that as a positive affirmation for what we could be, in response to how the play depicts what we shouldn't be.
There is also something powerful in seeing adults play children in this story, because it is so darkly adult in its action. Something special happens to the audience when they are allowed to forget that these characters are children, and then face moments where they are starkly reminded.
Speaking more generally, why is it important to make these kinds of casting decisions moving forward?
It is so important. I feel really positively about the generation of directors that is currently in positions of influence at the moment in Australia, because it feels that there is a great collective movement towards this kind of casting; that it is not a one-off, but the new norm.
One of theatre's greatest strengths is that it allows you to imagine the experience of someone who is not like you. But it also does something else really powerful, in validating your experience by putting it on stage. Seeing yourself on stage is a really important part of feeling that you are valid in your world, and that goes for all forms of identity and lived experience. It's something I am very passionate about, something I feel like many artistic leaders in australia are passionate about, and, whilst there's plenty of work still to be done, we are heading towards making this the new normal.
Lord of the Flies, 23 Jul – 24 Aug 2019, Rosyln Packer Theatre
Seeing the show? Pick up a souvenir play program from the Roslyn Packer Theatre foyer for $12, featuring in-depth articles, photographs and info about cast and creatives. You can pre-purchase program vouchers for $11 when booking your tickets. Season Ticket Holders can pre-purchase vouchers for $10 with their Season Ticket.
Let us know your thoughts by tagging @sydneytheatreco and #sydneytheatreco