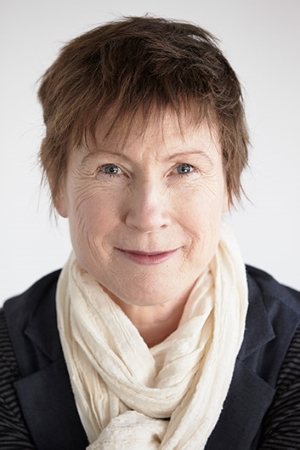 Sue Smith is a multi-award winning screenwriter, playwright and script editor. She is also the outgoing Sydney Theatre Company Patrick White Playwrights' Fellow. Her career began in television as a storyline writer, script editor and then writer for both Grundy's and Crawford Productions. Her TV and film credits since then include (as writer or co-writer) Saving Mr Banks, Peaches, MABO, Bastard Boys, RAN, Temptation, The Road from Coorain, Bordertown, The Leaving of Liverpool and Brides of Christ.
In 2006, she turned her prodigious writing skills towards the theatre and has not looked back.
Actor and STC regular Glenn Hazeldine also works in the philanthropy team, helping connect and share stories between our donors and the artists they enable. He spoke to Sue about making the move into theatre, and her time as STC's Patrick White Fellow.
---
Sue: The thing about the screen is that there's always a lot of money involved, and where there's a lot of money there's a lot of nervousness. There are a lot of people with opinions and so, as a writer for the screen, either big or small, you are subject to all those opinions, often coming from people with a lot of money at risk. There are limitations on the kinds of things you can do because people are scared about going out there in the dark. You get to a point where you're so busy dancing around the requirements of all these different bodies that you don't know what you're trying to do anymore. That doesn't happen to me in the theatre.

Glenn: I've heard other writers talk about their lonely working life, and that when you do finally emerge and begin connecting with people they often start pulling to pieces all the work that you've done. What does that feel like?
It's pretty tough actually. A few years ago I got quite sick. I had a rolling series of illnesses that culminated in lymphoma. I had treatment, my hair fell out and I went through all the things you hear about. And while all of those things are the luck of the draw, I do think that part of my experience was a kind of existential stress that went with a long career as a screenwriter; a long career of not ever really feeling in control of my work. I know other people manage, that other people don't fall over and get cancer but that's what happened to me. It may be unrelated - but I don't think it is. I think the body carries stress and if you never feel in control of your own output, it grinds away at your spirit.

Did you work during that period?
I had just started researching my play Machu Picchu [co-production between STC/State Theatre Company of South Australia] and I had Kryptonite [also co-production between STC/STCSA] in pre-production followed by rehearsals in Adelaide. Everyone was so good to me. They basically wouldn't let anyone who had a sniffle into the rehearsal room so even at the first read-through the sound guy who had a cold was told he couldn't be in the same room as me. That was about halfway through my treatment.
Everyone, including STC, was very kind. I remember when we had to take the publicity photos, it was the day my hair started falling out, and I kept saying to the publicity people, "Can we just get these photos taken quickly because, you know, by next week I won't have any hair!"

What have you brought from your long career in film and television to your playwriting?
I probably have trained in a kind of economy. A rule of screenwriting is: come into the scene at the latest possible point and get out at the earliest possible point. I think that I often write too many endings though. I'm not as good at the back end of the process!

After all that TV, were you confident suddenly writing a ninety-minute play for the theatre?
By the time I wrote my first play, Thrall, I'd written some telemovies, so I knew more or less how much drama was contained in ninety minutes; I had a sense of how much story engine I needed. I didn't have any particular expectations, I just thought I'd have a go and see what happens… and it came out alright!
Nick Marchand then invited me to do a residency at Griffin Theatre Company and in the course of that residency I was invited to pitch an idea. I had been in the Pilbara researching a project I was working on for the ABC; this was in the middle of the mining boom and I didn't know at that time whether anyone else was writing about this stuff. Nick said, "Fantastic! Write that!" So I wrote Strange Attractor without a commission and with no guarantee that it would ever get on. When I sent it in, he rang me and said, "Look, I think you've got the setting and the characters and the scenario, I just don't think you've got the play." So we went to work and I extensively rewrote it from the ground up. I learnt my lesson then: always do planning – detailed planning. They eventually programmed it and that was such a joy. I realised that I much preferred working for the theatre than I did for the screen.

Being so used to writing in isolation, what has it been like to be in residency, sitting alongside the team here at STC?
Fabulous! Being at STC is more about absorbing the flavour of the place, talking to and learning from people and feeling part of the community of the Company. We writers can crawl up our own arses sometimes and think we're the only people in the world… because often we are, sitting there on our own for so much of the time. It's been really good to see how hard everyone else works – to see all those people at their computers working away diligently in production, administration, marketing, design and philanthropy. The education department is amazing – I'm going along tomorrow to watch one of their Adult Language Learning Through Drama programs for refugees, asylum seekers and migrants. The fact that STC is doing this is just fantastic!

As a writer, do you see yourself fitting in well within the 'machinery' of STC?
Yes, I do. I think it's a company that really values its writers and looks after us really, really well. Polly Rowe [STC Literary Manager] is always on it – you never send an email that doesn't get replied to, you never make a phone call that doesn't get returned. She is there and paying attention to you no matter how busy she is and that's terrific.

You shared your workspace at STC with the four emerging playwrights. Did you spend much time with them?
It depended on how busy they were or whether I'm around or away writing or researching. I spent a lot of time with them if we were in the office together. As part of my Patrick White Fellowship arrangement, obviously I get my play commissioned, but it has also been my job to mentor the four of them and to do, across the year, four workshops or masterclass sessions with them.

What was the great advantage of having the four of them co-habiting the space with you?
We writers need company and endorsement. If they had problems they could talk to me or Polly about them. There's a great sense of we've all been through this and we all know how difficult it can be, so being together can provide a sense of reality and community support. There are also the workshops and the masterclasses, not to mention the free theatre tickets. Some of them give me bits to read and I make comments, others are more private and keep their work to themselves until it's more fully formed. I've been there for them to use me as they choose! It's also good for young writers to find validation in this association with STC at such a formative time in their careers.
---
Sue Smith's first stage play, Thrall, was produced by Tamarama Rock Surfers in 2006 and her professional theatre debut, Strange Attractor, premiered at Griffin Theatre in 2009. Sue also wrote the libretto for Rembrandt's Wife, which premiered at the Victorian Opera. Her adaptation of Tolstoy's The Kreutzer Sonata premiered at the State Theatre Company of South Australia to rave reviews. Kryptonite was produced by Sydney Theatre Company and State Theatre Company of South Australia in 2014 and was nominated for Best Play at the 2014 Sydney Theatre Awards. Machu Picchu featured in the 2016 program for Sydney Theatre Company and State Theatre Company of South Australia, and her latest play, Hydra, is under commission with Queensland Theatre.