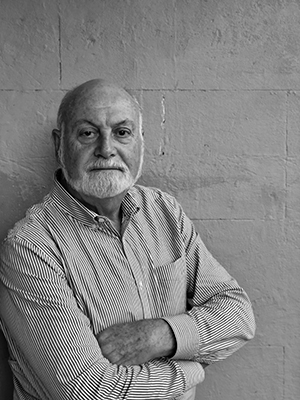 "In refurbishing Sydney Theatre Company's iconic home at The Wharf, an important guiding principle throughout was to maintain the building's intrinsic 'Wharfiness'. That is, the textures of well-worn surfaces, scarred floor boards, the closeness of the harbour, and the long, long walk from the street to the theatre.
The heritage value of The Wharf derives from its original purpose and built form, and also from its award-winning re-invention in the 1980s as a cultural venue. Here, we talk to heritage architect Tasman Storey about his long relationship with The Wharf and some of the considerations in working with a building as unique as ours."
STC Executive Director Patrick McIntyre

Tasman Storey is one of Sydney's leading heritage architects. He is also the only person to have worked on both Walsh Bay precinct redevelopment projects; in 1997 and now. His wealth of experience in the Walsh Bay area has given him a unique and specialised knowledge of the precinct and its important heritage.

In 1997, Storey was a Director of Mirvac and charged with overseeing the architectural, urban and heritage design for the Walsh Bay Area along Hickson Road, from Dawes Point to Millers Point.

Storey worked across all parts of the precinct redevelopment, which focused on the restoration and adaptive re-use of Walsh Bay's vacant heritage buildings. With the exception of Pier 4/5 which had been renovated and repurposed as Sydney Theatre's new premises in 1984, the site remained largely unused and stood derelict for nearly 30 years. The wooden structures suffered badly from neglect and termite infestation.

Under the redevelopment, the wharves at Pier 6/7 and 8/9 were transformed into luxury residential apartments joined by a public waterfront concourse that was dotted with restaurants and cafes. Other new developments in the area included the Pottinger Street terraces, the Parbury building, and-a few years later- The Roslyn Packer Theatre (then Sydney Theatre).

Storey is now Principal Architect at Tropman and Tropman, the current project's heritage consultants. He and his team have written and compiled several detailed reports focused on the heritage significance of the original buildings, structures and moveable objects in the precinct. The various moveable objects that have been salvaged include a vast array of items including wooden trolleys, wrought iron trusses, original life buoys and a Hydraulic Wool Press.

In discussing the project with us, he says that the most exciting part of working on a building such as ours is that "This building truly one of its kind. There are other Wharves that are similar, but there are no 18 hectares of reconstructed marine heritage that have been transformed into theatres with all the functionality of this one".
The performance spaces in the Wharf are now being re-fashioned to provide a whole new range of experiences for artists and audiences, including end-on, corner-on and in-the-round staging opportunities. There will also be new and improved function spaces, increased access points and more comfortable experiences for you, our audiences.

Sydney Theatre Company will also continue to ensure that the entire theatre-making process is kept under one roof. There really aren't that many theatres in the world where all of this happens in one building. This, together with its location on the water makes our Wharf a truly special place.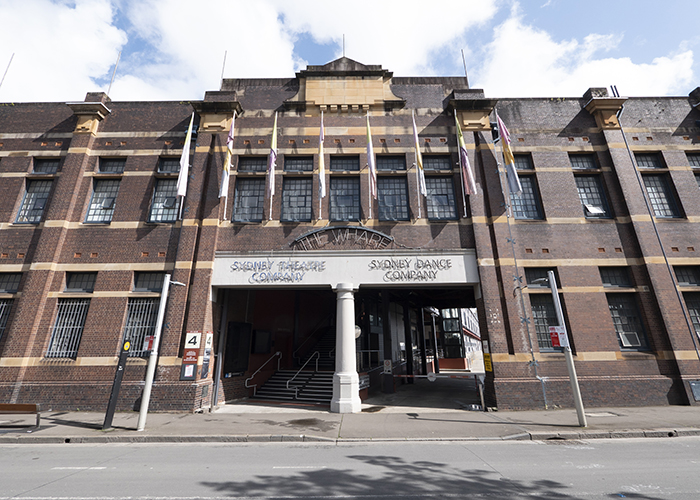 The Wharf pre-renovation, 2018. Photo: Hugh Hamilton
As with many big opportunities, there are also big challenges involved. Constructing modern theatre spaces inside heritage building is not an easy task. We mustn't forget, Tasman argues, that "restoring the Wharves to be suitable for a theatre is a huge undertaking". He goes on to explain that "the wharves themselves were purpose built for loading and unloading goods, they were not designed to be theatres. They are industrial in nature and were built fit for purpose. Their location on the water adds added complexity as it means that they are subject to movement due to water and wind."

"They are fragile buildings made of timber not metal," says Tasman. Therefore, much of the work on the current building involves repairing the floors and timbers. There is a lot of steel reinforcement and re-piling that is being done to strengthen its structural core.

"Our job as heritage architects is to maintain the distinct character of the building," says Storey, "And to ensure that any proposed changes do not interfere with its heritage values".

"We are like the heritage guardians," he jokes.

Want to find out more about the history of the Walsh Bay precinct? Download the free walking guide here and discover the area and all its hidden gems for yourself.