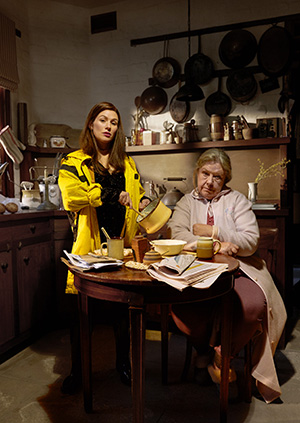 Martin McDonagh is among the most celebrated Irish playwrights and screenwriters of the 21st century. If his name doesn't ring any bells, his work certainly will.
In his own words, McDonagh's writing "walks that line between comedy and cruelty", and his works span the gamut of what great theatre and film can be: delightful, dramatic and dangerous.
This year, STC is thrilled to present
The Beauty Queen of Leenane
, the pitch-black comedy starring Yael Stone and Noni Hazlehurst.
As the cast wraps up rehearsals, we take a look at ten things you should know about Martin McDonagh.
1. HE WAS ACTUALLY BORN IN LONDON.
Although he's known as one of the most acclaimed Irish playwrights alive today, McDonagh is actually British. The reputation as an Irish playwright was no doubt drawn from his many plays that take place in County Galway, where he spent childhood summers with his Irish parents.
2. HE'S ONE OF THE INNOVATORS OF 'IN-YER-FACE' THEATRE.
The new wave of theatre that emerged in the 1990s was experimental and extreme, designed to confront, offend and shock sensibilities – all McDonagh staples.
The Beauty Queen of Leenane
is considered an archetype of the genre, which also includes Sarah Kane's
Blasted
(1995) and Anthony Neilson's
Penetrator
(1993).
3. IN 1997, HE WAS THE ONLY PLAYWRIGHT TO HAVE FOUR PLAYS RUNNING SIMULTANEOUSLY ON PROFESSIONAL LONDON STAGES.
Other than Shakespeare, that is.
4. THE BEAUTY QUEEN OF LEENANE WAS HIS FIRST HIT.
The Druid Theatre Company staged the original production that shot McDonagh to fame and won four Tony Awards.
5. HIS FIRST SIX PLAYS ARE ACTUALLY TWO TRILOGIES.
The Beauty Queen of Leenane
,
A Skull in Connemara
, and
The Lonesome West
are The Leenane Trilogy, while
The Cripple of Inishmaan
,
The Lieutenant of Inishmore
, and
The Banshees of Inisheer
form The Aran Islands Trilogy.
6. THE 2008 BLOODY COMEDY IN BRUGES WAS HIS FEATURE DIRECTORIAL DEBUT.
It also earned McDonagh an Academy Award for Best Original Screenplay.
7. HE'S THE WRITER, DIRECTOR AND PRODUCER BEHIND THREE BILLBOARDS OUTSIDE EBBING, MISSOURI.
The darkly comic tale of revenge earned BAFTA Awards and Gold Globes for McDonagh, as well as Academy Awards for its stars Frances McDormand and Sam Rockwell.
8. BOTH THE ROYAL COURT AND THE ROYAL NATIONAL THEATRE REFUSED TO STAGE HIS CONTROVERSIAL, TONY AWARD-WINNING PLAY THE LIEUTENANT OF INISHMORE.
With its flagrant satire of the Irish Republican Army (IRA) and their widespread terrorist attacks, the two theatres feared they would be targeted by IRA members. It was the Royal Shakespeare Company, in 2006, that finally staged the play.
9. HE HAS PLANS TO REUNITE WITH IN BRUGES STARS COLIN FARRELL AND BRENDAN GLEESON.
While McDonagh hasn't given away much, he has revealed he's currently writing a screenplay that will see the celebrated trio return to Ireland in a different era.
10. FINALLY, HE'S DATING ONE OF THE MOST BELOVED WOMEN ON TELEVISION, PHOEBE WALLER-BRIDGE.
The small-screen superstar known for the Emmy-sweeping show
Fleabag
also writes, directs and produces a slew of successes including BBC's
Killing Eve
and Channel 4's
Crashing
.
Today, McDonagh has firmly established himself as a Hollywood heavyweight, and a mainstay of theatres worldwide. Head back to where it all began for him with STC's production of
The Beauty Queen of Leenane
, the blisteringly cruel and bitingly funny debut by this brilliant and outrageous writer.
The Beauty Queen of Leenane
, 18 Nov – 21 Dec 2019, Roslyn Packer Theatre.
Seeing the show? Let us know your thoughts. Tag @sydneytheatreco and #sydneytheatreco