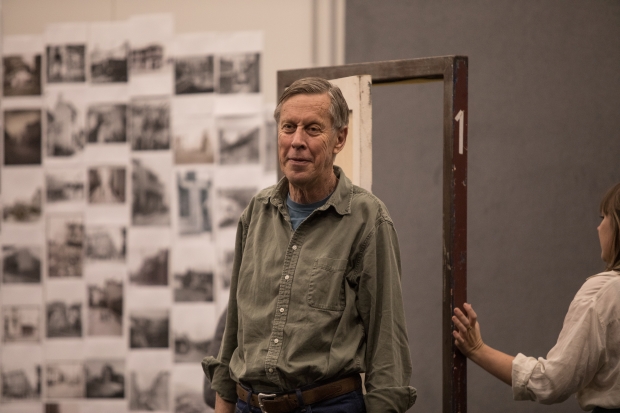 So many Sydney Theatre Company patrons have shown remarkable generosity during the early stages of the COVID-19 crisis. In addition to ensuring the survival of the company during this period, STC is also highly conscious of the difficult circumstances now faced by the many freelance, contract and casual workers who are the mainstays of the arts industry – and in particular artists.
That is why our fundraising drive has asked our tickets holders and donors to consider making a donation to the Actors Benevolent Fund of NSW, a charity that can provide direct support to artists and other theatre professionals. In operation since 1944, the ABF has a simple mission statement:
"Through compassionate and confidential support, we help entertainment professionals throughout NSW maintain their health, dignity and ability to work."
Bruce Spence, who will be familiar to STC audiences from his performances in A Cheery Soul, The Harp in the South, Part One and Part Two, and The Secret River amongst many other productions, is the ABF's current chairperson.
Bruce says that he was particularly attracted to the ABF because of its lack of partisan affiliation. "The Actors Benevolent Fund is a non-political organisation," he says, "we really see ourselves as more of an aid group." Crucially, and despite its name, the fund supports people from all aspects of the performing arts industry, "including writers, directors, backstage crew, stage managers and folk like that" says Bruce.
The Fund helps people in the performance industry who are unable, for whatever reason, to pay specific expenses. "The way we often work is that they [the arts worker] send us their bill and we pay it," says Bruce. In general these payments go towards basic living costs: "we offer to assist in paying for registration of automobiles, we offer assistance for medical costs, we also assist them if they really need something for their rent." The fund also distributes food vouchers that recipients can use at supermarkets.
The ABF survives on the generosity of donations and supports individuals across a wide spectrum of professions and situations. Traditionally they have been focused on helping, "[performers] who find themselves, through no fault of their own, in really hardened circumstances, difficult circumstances. As a result of injury, or sickness or old age, or a variety of things like that". Unsurprisingly, that remit has recently expanded.
"Things really turned topsy turvy when the COVID-19 restrictions came in and all the theatres went dark. Overnight we had actors, crew and theatre practitioners out of work," Bruce says. "We immediately refocused ourselves."
He says this crisis hits performers particularly hard because the industry is already a precarious one, and in most cases people's side jobs have also been affected. "Most actors who find themselves unemployed often have a part time or casual job on the side so they can keep their heads above water, but under these circumstances those very casual jobs no longer exist as well." Many theatre and performance practitioners do not qualify for the government's Job Keeper initiative and are therefore even more vulnerable to the financial impacts of the crisis.
Bruce says that the Fund has already received an influx of donations since the crisis started, from bodies like the City of Sydney, as well as a number of personal donations — many of which were given anonymously — and they are still in the process of reaching all the people doing it tough at the moment.
"Right at the beginning of COVID-19 restrictions, when people were put out of work, we had a steady stream of folk applying but it wasn't a substantial one," says Bruce.
"A lot of theatre industry people are quite proud and many of them do feel that the ABF is a fund that's there for people worse off than themselves. … its taken us awhile for us to persuade them that they are in this situation as well and they need to swallow some of that pride. Because we do know for certain that some of them are not in a good situation."
Bruce says applying for help from the ABF is as simple as filling out a form on their website that asks simple questions ("previous employment" and "do you have an agent?"). "Just about all of the people that have come to us, we have been quite satisfied that they are legitimately involved in the industry," he says. Bruce also points out that they've also helped NIDA students in the past.
Throughout the COVID crisis, Bruce says that STC patrons have been conspicuous in their support and willingness to give, though this isn't a new phenomenon: "We're really saying thank you to Sydney theatre goers and the generous donations they have made to all those historic bucketings that they have given when they've come to see a show one evening," says Bruce.
"We are immensely grateful for them and we do appreciate it"
As the future of the performing arts in Australia remains precarious, Bruce is frank about the best way to help: "Now, more than ever, that money is important," he says.
"We're very careful because we have limited funds. This is going to be a long haul. It looks very much like theatre is probably going to be one of the last industries to go back. We see this lasting us possibly 12 months. We know that whatever funds we have, they have to last that long."
Make a donation to the Actors Benevolent Fund here.
Apply for assistance from the Actors Benevolent Fund here.