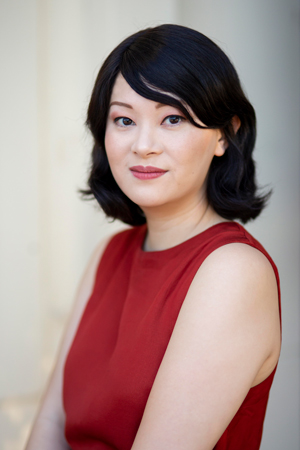 Michelle Law is many things: a defier of assumptions, a prodder of prickly spots, a questioner of so-called 'norms'. She's a celebrated writer and actor, a multi-award-winner, and an increasingly recognisable face in the Australian media scene. Her work touches everything from culture and race, to sexality and relationships, dissecting our social conventions and expectations with skill, wit and courage.
In 2016, she skewered straight male privilege in Life As A Straight White Man (MTC). The following year she delivered a staunch challenge to our ideas of Australian domestic life with Single Asian Female (La Boite Theatre). She also co-created, co-wrote and co-starred in the bitingly honest series Homecoming Queens. Now, Michelle lands at STC for a creative workshop of her new play, Top Coat, as part of our Rough Draft program. The week-long intensive gives theatre makers the opportunity to develop and experiment with new works. They are paired with a dramaturg and director, and have access to actors, creatives, and rehearsal space.
Top Coat is, explains Michelle, "a body swap farce about race, representation and privilege in modern Australia"—a more on-the-nose Freaky Friday with the racist overtones purposefully left in. In fact, the film and its references to 'Eastern magic' are noted in the play. In Top Coat, the pair of body swappers are Trang, "a first generation Vietnamese actress and nail salon worker" and her client, Kate, "a wealthy, powerful, white commissioning editor at the country's multicultural broadcaster." In Kate's body, "Trang must find a way to navigate living in a new body, in a new world, where she is finally in the driver's seat".
For Michelle, this story has never been more relevant, and telling it never more necessary.

"We're at a tipping point when it comes to conversations about race in the arts. [Those conversations] are now bursting to the surface. I think that's due to a number of factors. COVID-19 has shed light on the vital role the arts plays in our lives; during lockdowns we've relied on TV shows, books, music, video games… more than ever, we're aware that stories are key to our survival."

"The global Bla(c)k Lives Matter movements are [also] emboldening us all to demand more of the structures and institutions—including in the arts—that have so long served the powerful and upheld inequity."

These ideas have led to more concrete discussions on 'symbolic annihilation'. That is, what happens when the media fails to create content that reflects the diversity of our lived experience—a discussion that Michelle does not shy away from in Top Coat.

"There's this assumption that cisgender, heterosexual, able-bodied whiteness is the "norm" or the "base" from which all other existences diverge. Once you're aware that minority people are consciously and unconsciously erased, underrepresented and misrepresented, you can start to ask why."

Actively preventing this erasure is, according to Michelle, crucial to making our media (and by extension our culture) less White-washed.

"What we see on our screens and stages informs culture. And while monocultures can be tangibly dangerous and boring, among other things, they're also arrogant and entitled. What gives you the right to centre your own culture and people at the expense of all others? What makes you inherently better? What makes you the best person for the job? That's what Top Coat strives to explore."

At the end of this month, Michelle and Top Coat head for our Rough Draft program. It's a week of creative development that Michelle hopes will give the play new shape and direction.

"I'm hoping to go hard and churn out a new draft by the end of the week. I'm also very excited for the reading, so I can get a sense of the characters and world in order to work on a polish beyond Rough Draft."

In part, Top Coat was chosen for the Rough Draft program because it speaks to universal truths about class, race and privilege, and engenders powerful conversations about our social norms. But, while the characters in Top Coat might learn a lesson or two, Michelle is quick to remind us that our own reality falls far short of this ideal—at least for now.

"Top Coat is almost a fairytale in this sense: in an ideal world, what could things look like?"
Rough Drafts are supported by Girgensohn Foundation
Top Coat has been commissioned with the support of the Malcolm Robertson Foundation
---
Tune in on Fri 28 Aug at 6.30pm AEST for the free, 15 minute live-streamed performance of Top Coat. Book your ticket here to receieve an email reminder, and catch the whole performance live on Facebook.
---
Photo: Tammy Law