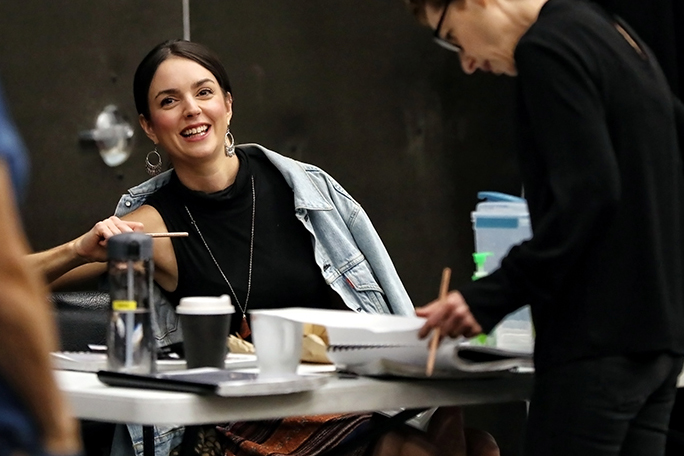 Running for almost 12 years and made possible by donor support, STC's Rough Draft program provides playwrights with a rare opportunity: submitting a new, unproduced play to a rigorous and intensive week of development with the help of a paid team of actors, a director and STC's Literary Manager Polly Rowe.
Each Rough Draft ends in a showing where members of the public are invited to experience a moved reading of the work in progress. Though Rough Drafts do contain a performance element, the focus is much more on the process than the end result. Writers are invited to try out new ideas and hear what their words sound like in a theatrical environment. The program has seen a huge variety of work and has resulted in many plays that have gone on to the STC Mainstage, including Kylie Coolwell's Battle of Waterloo, Van Badham's Banging Denmark and STC's upcoming premiere of Angus Cerini's Wonnangatta.
As Literary Manager, Polly assists STC's Artistic Director with programming (choosing which plays should be performed when), facilitates a number of the company's creative initiatives (The Patrick White Fellowship, The Emerging Writers' Group) and can often be found in the rehearsal room, working with playwrights to help their work to shine.
Ahead of Rough Draft #47 taking place next month – the live reading will be available to stream on social media on 10 October – Polly sat down with us to discuss the program's history and why a chance to experiment is so important for playwrights.
---
Tell us about the Rough Draft program, when and how did it start?
When I started as Literary Manager back in 2007, Cate and Andrew [Blanchett / Upton, then co-Artistic Directors] were talking a lot about wanting a space for artists to experiment and try new things. We conceived Rough Draft as a space for theatre artists to experiment. It was about putting teams together and seeing what they came up with. Over the years, it's changed and grown according to the programming objectives and the tastes of the Artistic Director, their interests, and who's around on artistic staff. The thing I like about the program is that it's both consistent and greatly flexible. We do three or four a year and have done so for 12 years but, beyond that, everything is up for grabs: the artists that we work with, how they work, what stage of development the work is at. It can be something really experimental or used as a showcase for a work that's really close to being done.
What takes place during a Rough Draft week?
Before the week begins I will usually have spent a lot of time discussing the piece with the writer and director. Sometimes the writer will have a pass at the script before we get into the room on Monday morning. On that first day, we'll start with a full read through of the script [as it stands] with the actors and director then go from there. We'll spend time talking about the script, the ideas that it throws up, the character journeys and the story structure. We might spend some time mapping out the play on a white board or the director might spend time working with the actors on the floor. At some point the writer will usually go off and start rewrites based on the discussions that have taken place in the room. Then they bring rewrites back to the room. It's a busy week, it's energetic and it's a lot of work – the writers often look a little bit dazed by the end. But it's incredibly exciting and a great opportunity to get other theatre brains on their play… and hopefully closer to production.
'Dramaturgical support' is a key component of the Rough Draft week and acting as a dramaturg is one of the main roles you perform as Literary Manager. Can you explain what a dramaturg does?
Dramaturgs are experts in theatrical storytelling. We work in different ways and fulfil different functions in the theatre making process, depending on the needs of the project. I tend to do most of my work in collaboration with the writer prior to rehearsals. I'll read and respond to drafts and support the writer to write the play they want to write.
And the week ends with a public showing of the script?
Yes, getting an audience in to listen to the writing is a critical part of the process. It's a really good opportunity for the writers to get a real sense of what they've written. The writing comes alive when you hear it with an audience and I think it sparks a writer's imagination in a new way. They start to understand the rhythms of it. It's a bit like listening to a song on your headphones versus hearing it out in the world, in a shop or in a club or wherever – it feels different doesn't it?
The Australian arts and performance industry is doing it very tough right now – so your job, helping produce new Australian theatre, must feel particularly important?
Storytelling is so crucial, isn't it? It's how we make sense of the world. It's how we make meaning, and sometimes, it's how we escape the reality of our world. I feel very honoured to be working with amazing writers who are grappling with this very strange moment in history and creating stories that are relevant to our changing world.
Rough Drafts are supported by Girgensohn Foundation.
---
Tune in on Sat 10 Oct, 4pm AEST for the free, 20 minute live-streamed performance of Fat Fatima. Book your ticket here to receieve an email reminder, and catch the whole performance live on Facebook.