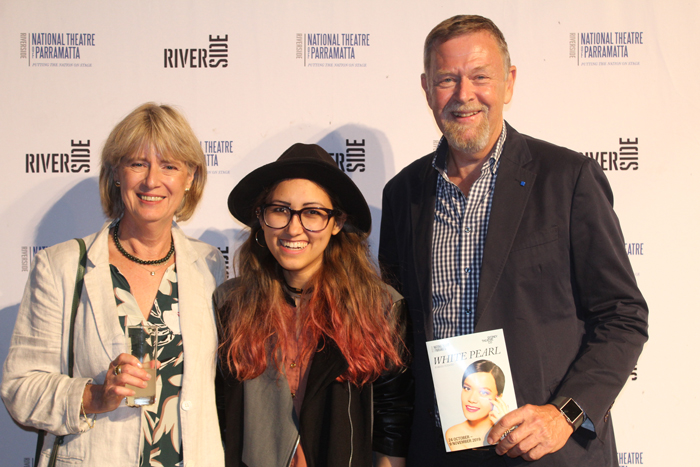 Ingeborg and Thomas Girgensohn with Anchuli Felicia King (STC's Patrick White Playwrights Fellow) at the opening night of Felicia's 2019 play White Pearl at Riverside Theatres, Parramatta.
Through the Girgensohn Foundation, Thomas and Ingeborg have been committed STC supporters for over two decades. After subscribing for many years, the Girgensohns became further involved with the Company as donors, and over this time have enjoyed supporting a wide range of STC initiatives. More recently, Thomas and Ingeborg chose to celebrate their relationship with STC by including a legacy gift to the Company in their Will.
Throughout the performing arts sector, Thomas and Ingeborg are known for advocating for the importance of bringing rarely-heard Australian stories to the stage. At STC, they have played a crucial role in allowing the Company to commission new works by regularly donating to our Artist and Artform development programs. They bring open minds and great enthusiasm to each project they support, and have formed deep and genuine relationships with actors, directors and writers. STC's Resident Artists have particularly benefited from Thomas and Ingeborg's commitment to investing in the next generation of theatre-makers, and over the years they've very much become part of the STC family.
Thomas and Ingeborg spoke to us about their love for theatre, their interest in new plays that reflect the many voices and histories in Australia, and their passion for supporting emerging theatrical talent.
---
How would your friends and loved ones describe you?
We have never asked them. Therefore we cannot give an answer to this interesting question!
What is one thing that people might be surprised to learn about you?
We have collected all our theatre programs from 1975, now numbering about 450.
Why do you think live theatre is important?
It's alive. You see skilled performers using only facial expressions, body language and the spoken word, no camera tricks. It is real. There is an immediate connection between the audience and the actors. The actors sense the audience's mood and react to it. No two performances are the same. You feel part of the whole scenario. It is a more tangible and impactful experience than film or TV.
What's the most memorable on-stage moment you've seen in our theatres?
Four plays come to mind. Some years ago Copenhagen by Michael Frayn (2002), When the Rain Stops Falling by Andrew Bovell (2009), and more recently Switzerland by Joanna Murray-Smith (2014) and The Bleeding Tree by Angus Cerini (2017). Those plays combined excellent writing, brilliant performances and perfect production. Memorable theatre.
If you could choose and cast a play for the STC mainstage, what would it be and who would star?
We would love to see more Australian plays reflecting our cultural diversity. There are a lot of young playwrights and actors who deserve to be given the opportunity to show their talent on the STC mainstage. Apart from this, The Pillowman by Martin McDonagh, an important play reminding us why democracy is worth preserving. We would love to see Richard Roxburgh play the tormented man.
Why did you first get involved with supporting STC?
We have been theatre-goers since we were very young. Theatre was an obvious choice for us when selecting one field of the arts that we both love to lend our support to. STC is the leading theatre company in Australia and sets a high standard. Their reach and impact on audiences is substantial, therefore the quality of work has to be maintained at the highest achievable level. Additional financial support has to come from philanthropy.
What other organisations do you choose to support and why?
Our Foundation supports organisations in the areas of health, the arts and education – all of which are fundamental to a well-functioning society. We primarily provide seed money for new projects which have the potential to grow and establish long term results. An example is STC's Rough Draft script development program, which allows theatre-makers the opportunity to try out news ideas, collaborations and ways of working. Increasingly, the Rough Draft program is a pathway for new plays to be programed for STC's mainstage.
Why do you feel it's important to support the arts?
The arts are not a luxury. Art is created worldwide and reflects diverse cultures and societies. It can be entertaining, challenging, inspiring or uncomfortable. The arts are unique to humans and encourage critical thinking. Sharing stories is as fundamentally human as eating and drinking. Art contributes to our quality of life and plays an important role in health by contributing to our physical wellbeing, and in education by stimulating mental growth.
What would you say to a fellow theatre lover who is considering making a gift to STC now, or donating through their Will?
The arts and cultural sector is facing an emergency situation. Private and philanthropic support is now more needed than ever to keep theatres afloat. Lack of funding will obviously result in fewer productions, lesser quality or even complete theatre closures. For all of the reasons above, we cannot let this happen. We encourage all those who can to consider supporting!
Please help support STC continue to be one of the largest employers of theatre workers and artists in Australia as we emerge from this crisis. With the significant loss of box office income that we are so reliant on, it will be your donations that will directly shape the kind of theatre and the kind of opportunities we can offer now in the future.
Your support will keep our community of artists, theatre makers and audiences intact. Please consider donating to Sydney Theatre Company here.